The World According to Wes
Director Wes Anderson talks to Jacob Weisberg as his latest film, Moonrise Kingdom, comes to theaters.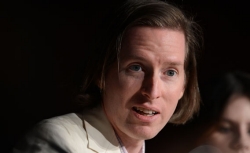 It's an open question who's more obsessive: Wes Anderson or his most ardent fans. The director's meticulously crafted, off-kilter features have won over legions of filmgoers who now get to go to town on a new Anderson movie.
Moonrise Kingdom, a 1960s period piece about a couple of 12-year-olds who run away, opens in the U.S. this week. The film features Anderson regulars Bill Murray and Jason Schwartzman alongside Edward Norton, Bruce Willis, Tilda Swinton, and Frances McDormand.
In the run-up to its premiere at the Cannes Film Festival, Anderson sat down with Slate's Jacob Weisberg for a lengthy interview about everything from how he cast the child actors, Jared Gilman and Kara Hayward, at the center of Moonrise Kingdom to why he loves working with Bill Murray. Anderson also explains why he is drawn to stop-motion animation and why he might choose rabbit for his last meal.
You can listen to the entire interview in this player and read a complete transcript below.
Welcome to "Conversations with Slate." In this episode, Slate group editor in chief, Jacob Weisberg, talks with Wes Anderson, director of the new movie Moonrise Kingdom.
Jacob Weisberg: Wes, thanks for joining me on "Conversations With Slate."
Wes Anderson: Thanks, Jacob. Thank you for having me.
Jacob: We're here in your lovely office in Paris. You're a Texan who's gone completely French, haven't you?
Wes: I'm never mistaken for French by anybody around here. I don't speak it. I'm trying, but so far, I don't think I pass.
Jacob: You're pretty much the opposite of George W. Bush in every way at this point. You don't have a Texas accent either.
Wes: No, not really. My parents are not from Texas. It never quite rubbed off on me. My mother gets a Texan accent in certain circumstances, but it's not their default.
Jacob: To be a little more serious about it, you're an American artist who's been living here. Obviously this is a great tradition of expatriate Americans living here. Why are you here working and living in Paris?
Wes: Really, I live in New York. I'm here for certain stretches. I love to come here. I'm sure I ended up here for the traditional expatriate reasons that you're suggesting—just being interested in the literary and movie history of Paris. I love living here because I feel like it's an adventure for me to be here, even though it's still very exotic for me.
Paris is a place where, for me, just walking down a street that I've never been down before is like going to a movie or something. Just wandering the city is entertainment.
Jacob: It's interesting in terms of your relationship with Hollywood, though, because you make a kind of personal film that's an artist film—the term "auteur" might be used here—but that's really gotten squeezed out of the American movie production system in a lot of ways. They're not as big as big budget films, but they're not as small as the kind of independent films that get made.
Is it easier in some ways to do that from abroad?
Wes: I don't know. The new movie I have, we made in America. I've made movies in different places. We did an animated movie in England. That's Fantastic Mr. Fox. I did one that we shot in Italy and one we made in India. They're all American-based productions.
StudioCanal here in France is a part of this new production, but the main partner that we had from the beginning is Focus, which is part of Universal. It's a boutique thing, but it's a movie studio as far as any of that goes.
I don't really feel too disconnected from that. That's the way my movies have always been done. I don't know what is in store for the movie business any better than anybody else does, but it does seem like my kind of movies are a little trickier than it used to be—or maybe a lot trickier.
Still, the filmmakers that I already know I'm interested in who have been making movies in this sort of range are still working. I don't know what it's like for somebody new coming into this right now. It may be much harder. That's just me speculating; I'm not sure.