The Music Club, 2016
Here's an eight-hour, 125-song playlist for listening back on the year.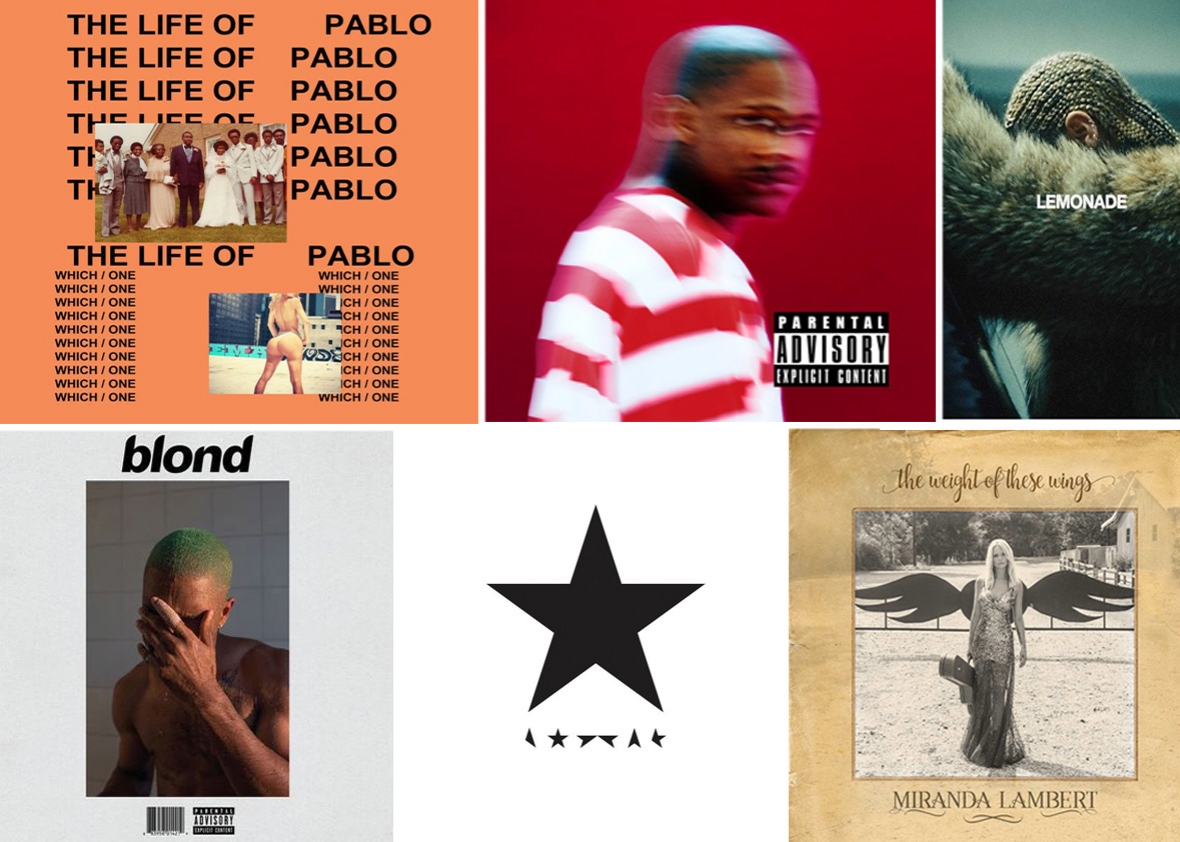 There is always so much more to talk about. Ann mentioned a few great musical moments from film and television. One of my favorites came subtly near the end of the "Juneteenth" episode of Donald Glover's Atlanta, a series that advances the portrayal of hip-hop culture on TV by bounds beyond the fictionalized memorialization in The Get Down or the glam-mythmaking of Empire. Hell, it's just advanced TV by bounds, period. In this case it reached back into music history: After Glover's Earn and his semi-estranged partner Vanessa (the shining Zazie Beetz) endure a punishing afternoon at a bougie party, they depart to the sound of Sam Cooke's "Chain Gang." That singularly odd 1960 hit simulated the clanks and grunts of chained prisoners on work detail (with obvious echoes of slavery) with a bizarre cheeriness. The cue on Atlanta seemed to comment on both the previous scenes and the song, saying, "These false smiles we're forced to wear as we try to get over and still get demeaned, they go way back. They go on and on."
I've never been as much of a fan of Glover's rap act Childish Gambino, but 2016's "Awaken, My Love!" also mobilized his backstory smarts to great advantage, making a convincing synthesis of Sly Stone and Parliament-Funkadelic. An epic year for him, a butterfly bursting head-first from its chrysalis.
Also on a retro tip, don't forget the way Netflix and Marvel's Luke Cage series updated not only the filmic legacy of blaxploitation, but its funk-soul side too. Music supervision was by A Tribe Called Quest's Ali Shaheed Muhammad, and we should note with a smidge of collegial pride that showrunner Cheo Hodari Coker comes out of the ranks of music scribes. (Who else would name every episode of his action series after a Gang Starr song?) In the faux Harlem soul club that's one of the show's main locations, it showcased performances by Raphael Saadiq, Faith Evans, Charles Bradley, the late and very lamented Sharon Jones, soul veterans the Delfonics, and many more.
Like Chris Molanphy, I loved the Irish musical melodrama Sing Street. My fondness was partly for its loving tribute to and satire of '80s music. More so, it was for its uncommonly realistic (for a rather unrealistic movie) sketch of the way so many people become musicians—as an escape from bleakness and loneliness, and out of loving imitation of their heroes, at first seeming blatant and clumsy but then, with growing assurance, discovering a voice and above all a joy all their own. It's an uneven ride, but now that it's streaming, I bet I'll take it again before the new year.
And, although its second season is still finding its feet, I have to shout out TV's brave little fighter for left-field small-screen musical theater, Crazy Ex-Girlfriend, for the absurd heaps of pleasure it continues to provide. One highlight of the 2016 portion of Season 1 was the bisexual–coming-out song of the goofy small-town lawyer Darryl Whitefeather, the Huey Lewis pastiche "Gettin' Bi." Even as his younger staff winces over the TMI at an office meeting, Darryl casually dismantles the myths that maintain bi invisibility ("aren't you just gay?/ why don't you just go gay all the way?" "one more thing, I'll tell you what/ being bi does not imply that you're a player or a slut") while struttin' his dad bod to cheesy '80s sax. With apologies to Ani DiFranco, has bisexuality ever had such an upbeat anthem? It wasn't politically correct—it was politically bedecked. And Darryl's subsequent romance with "White Josh" is one of the sweetest, no-big-deal same-sex relationships on TV ever.
In lieu of going on, I'll leave you with my thanks again, and a little parting gift: My eight-hour, 125-song musical yearbook on Spotify. There's something for everyone and something everyone will hate (how many playlists include both Aphex Twin and Tim McGraw?), but I hope it offers some discoveries listeners can bring into the daunting year to come.