The Music Club, 2014
Entry 2: We are all pop stars now.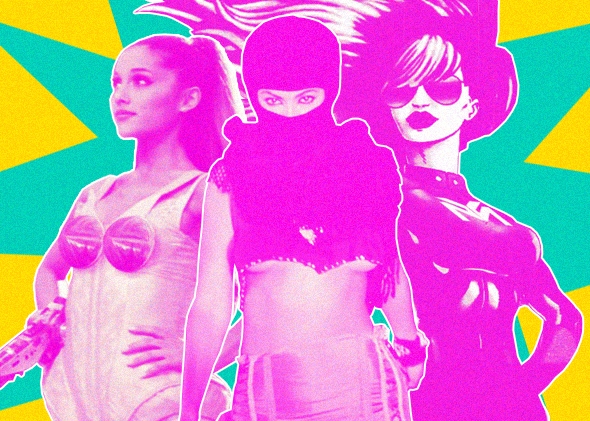 I'm very psyched to join you all and discuss the highs and lows of music in 2014—a calendar year that I am genuinely surprised Taylor Swift hasn't found a way to subsidize, Infinite Jest–style, and rename "1989, on Sale Now at Target." Although given 1989's staggering sales numbers, I'm guessing at this point the only living human who does not yet own a copy of Swift's album is Katy Perry. (Or El-P?)
In 2014, the pop world finally got to experience something that sales-hungry magazine covers seem to prematurely prophesize every half-decade or so: THE YEAR OF THE WOMAN. I'll leave most of the number-crunching to you, Chris, but to me the most striking statistic came in early fall, when the top five spots in Billboard's Hot 100 were all occupied by solo female artists for six consecutive weeks—a first in the chart's 56-year existence. But in that statistic, the word solo is as interesting to me as female. When people cried ~*Girl Power*~ in generations past (and generations lovingly recycled this year by '90s babies like Iggy Azalea and Charli XCX), the image that usually sprung to mind was that of the girl group. As far back as the chart dominance of the Supremes, the Shirelles, and the Shangri-Las in the early '60s, the girl group provided a potentially radical space for female empowerment and call-and-response advice, but these structures had infamous shortcomings, too. Even when they presented themselves as enclaves of solidarity, most girl groups were still hierarchies; it was all too clear to see who was the leader of the pack and who were her disposable, poorly miked minions. (Just ask Darlene Love. Or the discarded members of Destiny's Child. Or the genius behind the Tumblr Poor Michelle.)
But as you point out, Carl, the current crop of female pop stars—Iggy, Ari, Nicki, Charli, Jessie, Rita, and even Bey—give us a revamped, millenified vision of female solidarity. The pop charts this year often reminded me of an all-female version of Super Friends: already established, cartoonishly larger-than-life personalities briefly hopping franchises and joining forces to fight society's most formidable villains (haters, shitty boyfriends, people who believe billionaires must always be perfectly behaved on elevators). None of these women have to conform their personalities or outfits to fit the larger group; everyone gets her turn to shine. In some ways, it felt like the pop world is only now catching up on a cultural shift that's been happening for the past few years in movies and on TV, where BFF power duos (Tina and Amy; Abbi and Ilana) and all-female ensemble casts (Girls, Bridesmaids, Pitch Perfect) are quickly becoming a new (and marketable) norm.
But I also think this shift reflects one of the most liberating things about social media: We're living in a moment when everyone is free to craft her own, artfully exaggerated online persona, expressing herself in ways she sometimes can't IRL. Twitter and Instagram have democratized stardom, not so much in the sense that they've given us unfiltered glimpses into celebrities' lives (most 2014 career: Beyoncé Instagram Photoshopper), but in the way that normal people now know what it's like to present themselves to the world like celebrity brands—they have "fans" for just being themselves. It's almost as though we're all pop stars now. (Or Kardashians, at the very least.)
Which means that we're intimately familiar with something that used to only plague actual famous people: haters. Perhaps to combat the psychological toll that anonymous Internet trolls have taken on our collective consciousness, one of pop's most persistent motifs this year was self-love—whether it came in the form of Taylor Swift's world-beating don't-read-the-comments anthem "Shake It Off," Beyoncé and Nicki Minaj's remix of "Flawless" (as well as their just-released sequel from Minaj's Pinkprint, "Feeling Myself"), or Kendrick Lamar's surprisingly upbeat, Isley Brothers sampling "i." When it first came out in September, that last song was probably the most divisive of the bunch; a lot of people expected Lamar to spew the same flavor of venom he did on his already legendary "Control" verse and took an up-tempo song with a chorus proclaiming "I love myself" to be the very definition of going soft. Not so fast, though. Over the past couple of months, in the wake of nationwide protests asserting the simple human worth of Michael Brown and Eric Garner's lives, "i" has come to feel like an increasingly barbed statement, even its own kind of protest song. As the writer Britt Julious very eloquently put it on Twitter: "To be black and alive and happy and thriving is a radical act." So says "i."
Kendrick Lamar was, perhaps, the only man in Taylor Swift's life this year (she admitted she knows every word to "Backseat Freestyle," and he copped to loving "Shake It Off"; buddy sitcom K. Dot & Tay hopefully coming in 2015), not that it seemed to bother her. Swift's blockbuster 1989 is obviously the year's biggest (if least surprising) success story; with more than 1.2 million copies sold in its first week, it had the highest-selling debut of any album since 2002. Personally, I'm lukewarm on 1989 as a whole, but I think its highlights were some of the best singles this year, especially the possible subliminal Starbucks jingle/current No. 1 song in America, "Blank Space." Swift has always been at least a little more self-aware than her surprised award show face leads you to believe, but "Blank Space" is the moment we're getting full-on meta-Taylor: In both the song and the cartoonishly Kennedy-esque video, she embodies the crazy ex-girlfriend role in which the media has cast her so completely and outlandishly that it becomes its own kind of provocation.
To me, the "Blank Space" video is basically the Citizen Kane of ironic misandry, a fourth-wave feminist fad that Amanda Hess articulately womansplained in a Slate article a few months ago. Which leads me to ask: What comes after the Year of the Woman? Much as we've seen the lie of "post-racial America" completely unravel this year on the streets of Ferguson and New York City (as well as on the pop charts), will pop's tides eventually turn back to male dominance? What would a post-feminist pop world even look like? Are we already living in one? I'm not sure I have an answer for any of these questions, which makes me very relieved to be kicking them to the answerer-of-the-unanswerable, Ann Powers.
My top 20 albums and singles are below. Now if you'll excuse me, I've got to go spend some serious headphones time with Nicki Minaj's grandly minimalist, unexpectedly moody Pinkprint, which on first listen is sounding like the perfect bookend to this year of female dominance.
Albums
1. Frankie Cosmos, Zentropy
2. Run the Jewels, RTJ2
3. St. Vincent, St. Vincent
4. Angel Olsen, Burn Your Fire for No Witness
5. Perfume Genius, Too Bright
6. Lana Del Rey, Ultraviolence
7. Todd Terje, It's Album Time
8. Perfect Pussy, Say Yes to Love
9. Jessie Ware, Tough Love
10. Aphex Twin, Syro
11. Jenny Lewis, The Voyager
12. One Direction, Four
13. The Hotelier, Home, Like Noplace Is There
14. FKA twigs, LP1
15. A Sunny Day in Glasgow, Sea When Absent
16. Young Thug & Bloody Jay, Black Portland
17. Sharon Van Etten, Are We There
18. Spoon, They Want My Soul
19. Parquet Courts, Sunbathing Animal
20. Mary J. Blige, The London Sessions
Songs
1. Tinashe, "2 On"
2. Taylor Swift, "Blank Space"
3. Charli XCX, "Boom Clap"
4. Sia, "Chandelier"
5. iLoveMakonnen, "Tuesday"
6. Rae Sremmurd ft. Nicki Minaj, "No Flex Zone (Remix)"
7. FKA Twigs, "Two Weeks"
8. Perfume Genius, "Queen"
9. Future Islands, "Seasons (Waiting on You)"
10. Katy Perry, "Birthday"
11. Beyoncé ft. Nicki Minaj, "Flawless (Remix)"
12. Drake, "0 to 100"
13. Demi Lovato ft. Cher Lloyd, "Really Don't Care"
14. Father John Misty, "Bored in the USA"
15. Röyksopp, "Monument (The Inevitable End Version)"
16. Parquet Courts, "Content Nausea"
17. Ariana Grande ft. Iggy Azalea, "Problem"
18. Shamir, "On the Regular"
19. Jenny Lewis, "Just One of the Guys"
20. Becky G, "Shower"