A Brief History of Taylor Swift and Kendrick Lamar's Admiration for Each Other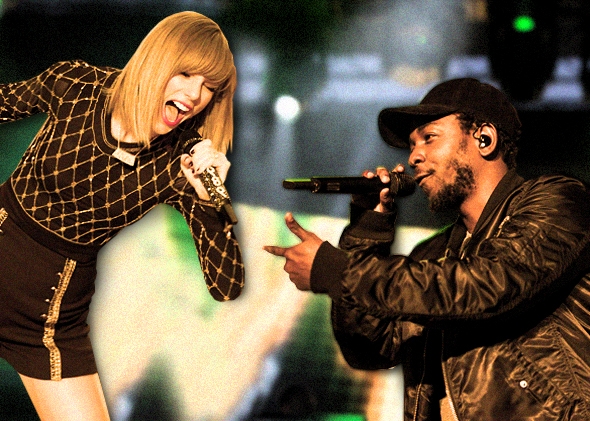 Back in January, you might've noticed Taylor Swift in the front row at the Grammys putting her famously awkward dance moves on full display while Kendrick Lamar performed "m.A.A.d city" with Imagine Dragons:
Almost a year later, it seems that this was only the beginning of the ways the two stars would express their mutual admiration for each other. In her September Rolling Stone cover story, Swift revealed her trick for how to "immediately go from feeling victimized to feeling awesome": playing Kendrick's "Backseat Freestyle," a song she says she "knows every word [to]."
I appreciate Taylor Swift for supporting not only my music but just the hip-hop culture … There's really no gap. It's music and it feels good. Some people always try to lock it down and categorize it for one particular listener. But it moves all, even people from other genres.
Lest anyone think Lamar's appreciation for Swift stops short of her music, this week Lamar reaffirmed his praise for Swift and singled out "Shake It Off" in particular ("I love that song, I ain't playin' "). In an interview with The Fader, he even sang part of the song:
The next morning, while appearing on a Dallas radio show, Lamar was asked to freestyle over the "Shake It Off" instrumental. Naturally, he delivered ("K. Dot, you know that he's hot/ I can do rhythm, hip-hop/ I can do pop"):