On the Front Lines of the Terrifying California Freeway Wildfire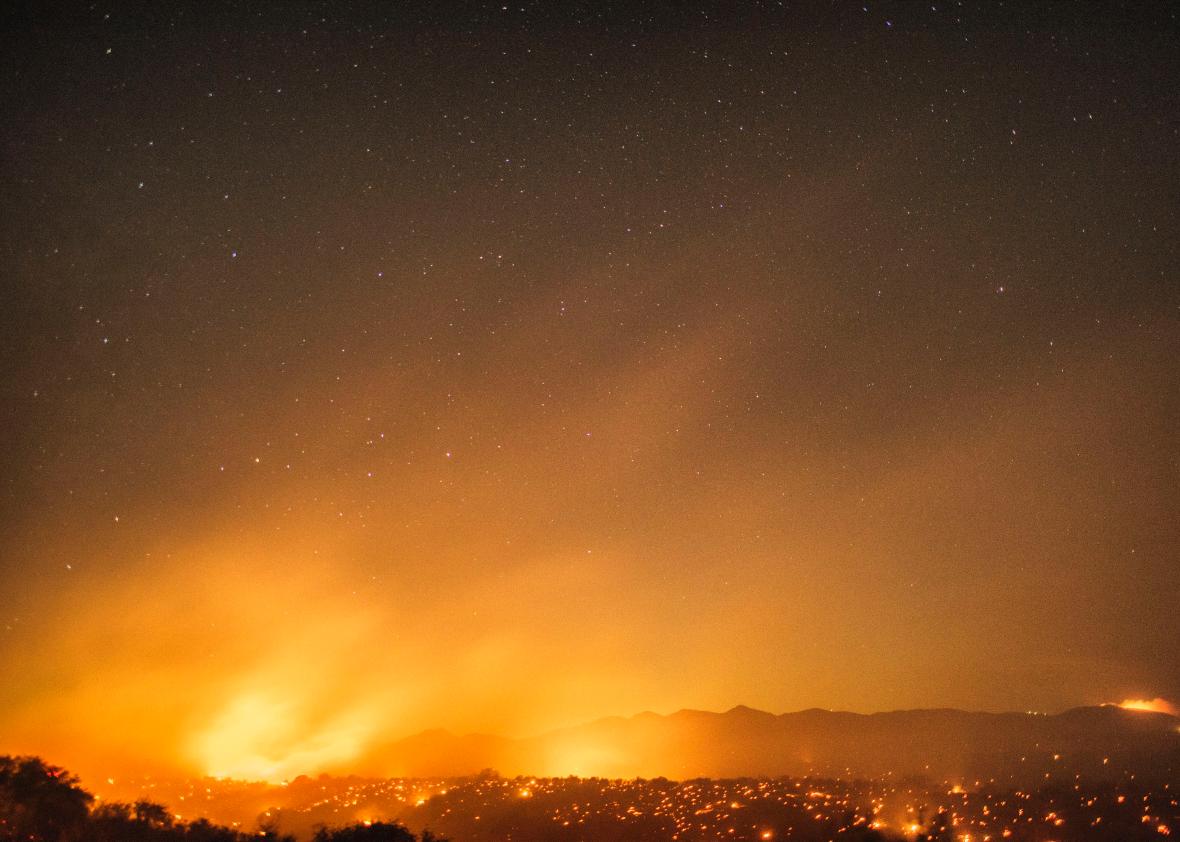 On Friday evening, Grace Taylor and her parents were returning to their Southern California home after celebrating her sister's 21st birthday in Las Vegas. The traffic on I-15 began came to a standstill, and she could see smoke and flames ahead. After two hours, they were still stuck on the freeway, wondering what to do next.
Then things started getting surreal. "We saw a bunch of big rigs covered with the fire retardant, splattered in pink," said Grace, 16. Her father, Sean, made sure their car stayed in the far left lane, as far as possible from the quickly growing wildfire that was burning through the brush and grass along the right side of the freeway.
"I figured, we'll have a buffer of those three other lanes," said Sean, "in case those people start running." Sean also formulated a bail-out plan, in case they needed to ditch their car: "We were going to jump over those retaining walls and cross the freeway to get out," he said. "It was very 'Walking Dead.'"
Five drones were spotted flying around the scene soon after the fire began, complicating efforts to limit the fire's spread and grounding firefighting aircraft for about 25 minutes—the third time just this month in San Bernardino County alone that firefighting had to be delayed due to drone activity.
Despite a full-out assault by 1,000 firefighters, 22 fire trucks, 6 tanker aircraft, and 3 helicopters, the fire expanded from 50 acres to 3,500 acres—more than four times the size of New York City's Central Park—in just a few hours. Then it jumped the freeway, creating an apocalyptic scene. "I've never seen anything like this before," said California Highway Patrol Officer Steve Carapia. People in vehicles closest to the flames told the Los Angeles Times they ran for their lives. Thankfully, the Taylors made it home safely. Watching the news that evening, they recognized vehicles that had passed them—and had ended up burning—including a boat trailer.
In total, the North Fire burned through 30 vehicles on I-15 on Friday night, and dozens more in the nearby community of Baldy Mesa, at the top of Cajon Pass just northwest of Los Angeles. Unseasonable rains helped control the fire on Saturday, and the freeway was mostly reopened by midday after repair crews resurfaced the melted road and replaced burned guardrail.
In the midst of the worst drought in centuries, wildfires in California have entered a scary new phase. Warming winters have morphed fire "season" into what is now essentially a year-round menace. This year's outlook was especially dire, and it looks to be turning out as predicted.
Wildfire photographer and Southern California native Stuart Palley (who shot the images in this slideshow and other breathtaking images Friday night) has trained with U.S. Forest Service firefighting crews to gain access to the front lines. Palley has chosen his profession in part to document California's new reality, gaining inspiration from the 1993 Laguna Beach fire and the 2003 and 2007 firestorms in San Diego that burned hundreds of homes as they descended into the city. Given what state officials are calling worst fire conditions in California history, Palley thinks its only a matter of time before something like that happens again. "Yesterday, I think, was a good dress rehearsal."
For Maryam Rizvi, who lives only a few miles from where Friday's fire crossed the freeway, it was a tense day. "To see it from your house and see the fire actually getting closer and closer and see the smoke consume your neighborhood, it's a really helpless feeling," Rizvi said. "We had no idea what we would do. We were just praying they would be able to contain it."
As she waited to hear news from her aunt and uncle, who were stuck on the freeway until 4 a.m. during the fire, Rizvi contemplated her relationship with the environment. "It's a really sick feeling in the pit of your stomach," Rizvi said, to see the fires and realize a place she knows so well was being irreversibly changed. "It's just going to keep getting worse."
This post has been updated with further information.