Your News Companion by Ben Mathis-Lilley
Giuliani: De Blasio Must Apologize to NYC Cops
Former New York City Mayor Rudy Giuliani doesn't blame Mayor Bill de Blasio for the murder of two police officers in Brooklyn last week. But de Blasio should still apologize to the NYPD for creating "an impression with police that he was on the side of the protesters," the former mayor said on CBS News' Face the Nation. "Mayor de Blasio, please say you're sorry to them for having created a false impression of them," Giuliani said. "You did create a false impression of them. Say you're sorry. Say you didn't realize. Say you didn't realize you have ... a nonwhite police department, in terms of majority."
On Fox News, Giuliani said that he feels "uncomfortable" that police officers turned their backs on de Blasio while he was eulogizing officer Rafael Ramos on Saturday. But at the same time, "I think at this point I have to say, he's bringing it on himself," Giuliani said.
Advertisement

Giuliani also doubled down on his accusations that President Obama was guilty of fostering anti-police sentiment across the country. The Washington Post had previously said that Giuliani's claim was so inaccurate it deserved "four Pinocchios." But Giuliani said Sunday the key to his claim was how many times Obama has appeared next to Rev. Al Sharpton. "If he would like to have a poster boy for hating the police, it's Al Sharpton," Giuliani said. "Actions speak louder than words. You put Al Sharpton next to you, you just told everyone, 'I'm against the police.' "
Meanwhile, New York City Police Commissioner William Bratton struck a different tone, telling CBS News it was "very inappropriate" for officers to turn their backs on de Blasio at the funeral. Still, on NBC News, Bratton warned the "rift" between the mayor and police officers "is going to go on for a while longer," and added that "they really do feel under attack, rank-and-file officers and much of American police leadership." This attack, he added, is coming "from the federal government at the highest levels."
The Longest War in American History Is Officially Over
This is it. After more than 13 years and the death of around 3,500 foreign troops, including 2,224 American soldiers, the United States and NATO officially ended the war in Afghanistan on Sunday. It was a symbolic event that marked how Afghan forces will now be charged with battling the escalating Taliban insurgency. But of course, this is not the end of foreign presence in Afghanistan. Around 18,000 foreign troops, including some 10,600 Americans, will be staying in the country with a more narrow focus on counterterrorism and training Afghan soldiers under a new, 2-year mission named "Resolute Support," notes the Wall Street Journal. It marks a sharps drawdown from a peak of 140,000 troops seen in 2010, when President Obama ordered a surge.
"We are not walking away," International Security Assistance Force (ISAF) Commander General John Campbell said after a flag-changing ceremony in Kabul, according to Bloomberg. A small audience at the headquarters of the NATO mission saw how the green-and-white flag of the ISAF was replaced with another one that was nearly identical for the Resolute Support mission. Mission "Resolute Support will serve as the bedrock of an enduring partnership" between NATO and the country, he added. Campbell also paid tribute to those who died fighting the insurgency. "The road before us remains challenging but we will triumph," he said.
Advertisement

The ceremony marked the transition from a combat mission to a "noncombat mission in a combat environment" with a definition that "remains as unclear as Afghanistan's future," notes Stars & Stripes.
In a sign of the continuing strength of the Taliban insurgency, the base where the ceremony was held was on high alert Sunday amid fears of new attacks. "Nonresident staff was told to stay home, and facilities like shops and coffee bars were closed for the day," notes the Wall Street Journal. Taliban spokesman Zabihullah Mujahid characterized Sunday's event as a "defeat ceremony," reports the Associated Press. "We will fight until there is not one foreign soldier on Afghan soil and we have established an Islamic state," he added.
No Sign of AirAsia Plane Lost Over Stormy Java Sea Waters With 162 On Board
Update: More than 15 hours after Flight QZ8501 dropped off the radar, there was still no sign of the AirAsia Indonesia jet that disappeared over the Java Sea on Sunday. The plane was travelling from Surabaya, which is Indonesia's second-largest city, to Singapore. When night fell most of the search-and-rescue teams were pulled back, although some boats were still in the area, reports Reuters.
The Airbus A320-200 was operated by the Indonesian affiliate of regional budget airline AirAsia, which is based in Malaysia. The Malaysia connections means that for many the comparison with Malaysia Airlines Flight 370, which disappeared with 239 people on board in March, seem inevitable. The New York Times notes that "while it seemed premature to make such comparisons, the Indonesian authorities could not explain Sunday why the AirAsia jet disappeared from radar screens about 40 minutes after leaving the Indonesian city of Surabaya around 5:30 a.m."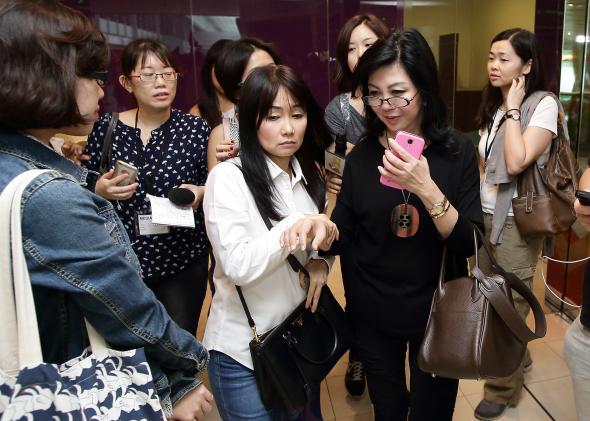 Advertisement

Family members waiting for news at the Surabaya airport are naturally getting increasingly distressed as the hours roll on. "A few hours ago many of the relatives at the crisis center in the airport still seemed calm—glued to their phones, perhaps trying to find any news of the plane or stay in touch with friends and loved ones," notes the BBC. "But more than 12 hours since the plane took off they are looking increasingly worried."
Malaysia and Singapore have sent search and rescue teams to help with the efforts while Britain, South Korea and Australia all offered to assist. Any search efforts are likely to be slowed down by the bad weather in the area, according to CNN. "At this time, search and rescue operations are being conducted, under the guidance of National Search and Rescue Agency Republic of Indonesia (BASARNAS)," AirAsia said in a statement posted on its Facebook page.
Tony Fernandes, the head of AirAsia, traveled to Surabaya and said the focus should be on the families, notes the Associated Press. "We don't want to speculate but right now of course the plane has been missing for 12 hours and there's a deep sense of depression here," said Fernandes, who founded the airline in 2001. "This is a massive shock to us and we are devastated by what has happened. It's unbelievable."
I am touched by the massive show of support especially from my fellow airlines. This is my worse nightmare. But there is no stopping.

-- Tony Fernandes (@tonyfernandes) December 28, 2014
A correction was issued with the nationality of the 155 passengers, including 16 children and one infant, on board the plane. The vast majority were Indonesians, plus three South Koreans, one Malaysian, one British national and his two-year-old Singaporean daughter. The French national who was first listed as a passenger was actually the co-pilot, who was traveling alongside an Indonesian captain and five cabin crew.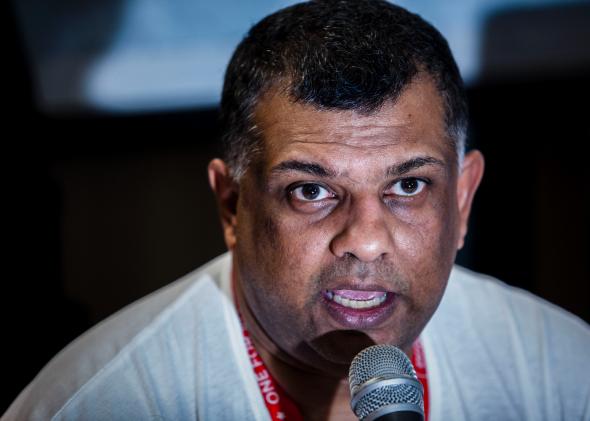 Also, while airline officials first said the pilot had 6,100 flying hours, Fernandes later clarified that was with AirAsia. In total, the captain had more than 20,500 flight hours. Airbus issued a statement saying the plane had been delivered in October 2008 and had an accumulated 23,000 flight hours.
Original post, December 28 at 1:58 a.m.: An AirAsia flight traveling from the Indonesian city of Surabaya to Singapore has lost contact with air traffic control and is officially missing. Flight 8501 last made contact with air traffic control in Jakarta at 6:17 p.m. eastern, about an hour before it was scheduled to land. Before losing communication, the pilot had requested to alter the designated flight route due to bad weather. "The aircraft was on the submitted flight plan route and was requesting deviation due to enroute weather before communication with the aircraft was lost while it was still under the control of the Indonesian Air Traffic Control (ATC)," AirAsia said in a statement posted on its Facebook page.
There were 155 passengers aboard the plane, including 138 adults, 16 children and one infant. There were also two pilots and five cabin crew on the plane. The passengers and crew were mostly from Indonesia, with three South Koreans and one each from Singapore, Malaysia, and France.
The Airbus 320-200 never sent a distress signal, Reuters reports. The plane had been flying at 32,000 feet and requested to fly at 38,000 feet to avoid clouds. The plane is presumed to have gone missing over the Java Sea "between Tanjung Pandan on Belitung island and Pontianak, on Indonesia's part of Kalimantan island," notes the Associated Press.
AirAsia is a Malaysia-based budget carrier that is popular across Southeast Asia and has a "very good" reputation for safety, according to CNN. Both Indonesian and Singaporean authorities have launched search-and-rescue operations, almost 10 months after the disappearance of Malaysia Airlines Flight 370.

Man Who Shot John Paul II Lays Flowers at his Vatican Tomb
The Turkish man who attempted to assassinate Pope John Paul II in 1981 visited the Vatican on Saturday and laid flowers on the late pontiff's tomb. Mehmet Ali Agca visited the tomb 31 years to the day after the then-pontiff visited Agca in prison and forgave him. Agca appears to have been aware of what a stir his visit would cause and called Italian daily La Repubblica on Saturday to announce he had arrived at the Vatican for the first time since the assassination attempt, reports Voice of America.
A Vatican spokesman emphasized there was no reason to prevent the visit considering there are no legal issues pending against Agca, reports the Associated Press. John Paul II intervened directly to obtain Agca's release in 2000. A brief video of his visit was broadcast on Italian television and can be heard mumbling, "A thousand thanks, saint," and "Long live Jesus Christ."
Advertisement

Vatican officials also denied for a second time Agca's request to meet with Pope Francis, notes the BBC. "He has put flowers on the tomb of John Paul II. I think that is enough," Vatican spokesman Federico Lombardi told La Repubblica.
Hundreds of Cops Turn Backs on NYC Mayor de Blasio at Funeral for Slain Officer
Thousands of New York police officers attended the funeral Saturday for Rafael Ramos, one of the two police officers killed in Brooklyn last week, and they were joined by colleagues from across the country for what the New York Times says was "one of the largest send-offs in the history of the department." At a time of increased tension between police and the communities they serve, many felt the need to express support for the cops. But it was clear that requests to leave politics out of Ramos' funeral in Queens had fallen on deaf ears as soon as New York Mayor Bill de Blasio got up to speak.
Hundreds of police officers who were outside the church turned their backs to the monitors that were broadcasting the service as soon as de Blasio took the podium. The move was a stark illustration of how tensions between police officers and de Blasio have not cooled a week after police officers turned their back on the mayor at the hospital after the shooting.
Advertisement

Before the funeral started, a sign reading "Dump De Blasio" was held up as the mayor entered the church.
The sign came out a day after a coalition of retired police officers hired a pilot to fly across the city with a message: "De Blasio, Our Backs Have Turned To You," notes the New York Post.
Inside the church, there was "polite applause" for the mayor, according to the Guardian. "Our hearts are aching, we're feeling this physically," de Blasio said. "All of this city is grieving … for so many reasons but the most personal is that we've lost such a good man." The New York Daily News says de Blasio was "emotional" as he described the NYPD as "the finest police force in the country."
Vice President Joe Biden, New York Gov. Andrew Cuomo, and NYPD Commissioner Bill Braton also spoke at the service.
Biden was the first to speak and praised both Ramos and his partner Officer Wenjian Liu. "Being a cop was not what they did, it was who they were," Biden said, according to USA Today. He then addressed the police officers at the church: "You all joined for essentially the same reason. There was something about you that made you think that you could help. That you had a duty." And in what seemed to be a thinly veiled reference to the tensions between the mayor and police, Biden said, "I believe that the police force in this incredibly diverse city will show the nation how to bridge any divide."
For his part, New York Gov. Andrew Cuomo called the shootings "an attack on all of us" and said that "threats against New York's police are an insult to law-abiding New Yorkers and they will not be tolerated."
North Korea: Obama is "Reckless … Like a Monkey in a Tropical Forest"
North Korea called President Obama "a monkey" in the country's latest lashing out against the United States, the country it blames for repeated disruptions of its Internet service over the past few days. North Korea's very limited Internet and 3G mobile phone networks were down again Saturday evening, reports Reuters, citing China's official Xinhua news agency. This latest outage came shortly after North Korea's top governing body—the National Defense Commission—said Obama was personally to blame for the release of the movie.
"Obama always goes reckless in words and deeds like a monkey in a tropical forest," an unnamed official said in a statement published by the official Korean Central News Agency, reports the BBC.
Advertisement

North Korea once again rejected accusations it was behind the hacking of Sony Pictures but blamed Obama for pressuring the studio to release The Interview, which it described as a "dishonest and reactionary movie hurting the dignity of the supreme leadership of the DPRK [North Korea] and agitating terrorism." Pyongyang also accused the United States of acting like a bully, notes the New York Times. "The United States, with its large physical size and oblivious to the shame of playing hide and seek as children with runny noses would, has begun disrupting the Internet operations of the main media outlets of our republic," according to the statement.
This is hardly the first time North Korea has used insulting language to talk about foreign leaders. The Associated Press explains:
Earlier this year, the North called U.S. Secretary of State John Kerry a wolf with a "hideous" lantern jaw and South Korean President Park Geun-hye a prostitute. In May, the North's official news agency published a dispatch saying Obama has the "shape of a monkey."
Saved by the Bell's Dustin Diamond Arrested After Reportedly Stabbing Someone in Bar Fight
These are strange times in the life of former sitcom star Dustin Diamond—a.k.a. Screech in the 90's show Saved by the Bell. The 37-year-old Diamond was arrested in suburban Wisconsin on Friday after reportedly stabbing someone with a switchblade during an argument at a bar. Here's more from CNN:
According to a police statement released Friday afternoon, the stabbing took place late Thursday night during an argument in the Grand Ave Saloon. Diamond and his 27-year-old girlfriend left the bar in an SUV, but police stopped the vehicle and took both into custody, police said. The knife was recovered in the vehicle, police said. The victim's wounds were not life-threatening and he was recovering at home, police said.
Advertisement

Son Pays Off His Parents' Mortgage for Christmas
If you're experiencing a bit of a post-Christmas hangover in the warm and fuzzy, feel-good department, look no further—there's a video for that. On Christmas Day, Joe Riquelme, creator of the successful Videoshop editing app, gave his parents a Christmas to remember. Riquelme casually hands his parents an envelope with this present inside:
Xbox and Sony's PlayStation Networks Down Christmas Day in Apparent Hack
In a Christmas Day buzzkill for those who found a new Xbox or PlayStation under the tree, the game systems' online networks went down in an apparent hack. A group called Lizard Squid claimed responsibility for connectivity problems faced by users of Microsoft's Xbox Live and Sony's PlayStation Networks.
We're aware that some users are having issues logging into PSN - engineers are investigating

— PlayStation (@PlayStation) December 25, 2014
Our engineers are continuing to work hard to resolve the network issues users have experienced today. Thanks for your continued patience!

— Ask PlayStation (@AskPlayStation) December 26, 2014
"To make the most of the Xbox and PlayStation consoles, players have to connect to the internet in order to reach the console manufacturers computer servers," according to the BBC. "The outage has stopped people accessing some of the core services, such as registering a new account, connecting with other people to play the same game and connecting to entertainment channels via the console."
Advertisement

Microsoft's Xbox network has 48 million subscribers and Sony's PlayStation more than 110 million, according to the BBC. "Both companies acknowledged the difficulties experienced by users on what is presumably a heavy day for online gaming by recipients of new game consoles," the Washington Post reports. "But it was difficult to determine how widespread the outages were."