Your News Companion
Tracy Morgan Settles With Walmart Over Deadly 2014 Limo Accident
Tracy Morgan settled his lawsuit against Walmart on Wednesday, bringing to a close the legal dispute over a fatal car crash that left the actor seriously injured when a Walmart truck crashed into a limo he was riding in. The terms of the settlement were not disclosed. "Walmart did right by me and my family, and for my associates and their families," Morgan said in a statement.
While the sum is not known, there are a number of factors in the case that indicate Walmarts payout could be sizeable. The Walmart tractor-trailer that rear-ended the limo, according to the criminal complaint, was driving over the speed limit and the driver hadn't slept in more than 24 hours. The impact killed another passenger in the limo, comedian James McNair, almost immediately; Morgan and two others were seriously injured. Morgan has been slow to recover from what his lawyers say was a traumatic brain injury and the comedian-turned-actor's return to work is far from certain.
Rick Santorum Announces Second Presidential Bid Joining an Already Crowded Republican Field
Former Pennsylvania Sen. Rick Santorum announced on Wednesday he's giving running for president another shot, after winning 11 states during the 2012 GOP nomination battle before succumbing to Mitt Romney. The 57-year-old evangelical conservative has found support in the past from the Republican party's socially conservative base but has never quite been able to move voters—and contributors—beyond that core to threaten for the nomination.
Santorum is hoping he can build upon his 2012 showing, but the former senator is entering an already crowded Republican field with double-digit candidates and a trio of like-minded conservatives in Texas Sen. Ted Cruz, former Arkansas Gov. Mike Huckabee, and neurosurgeon Ben Carson, who all need to capture the same bloc of voters in order to be competitive.

Advertisement

"Mr. Santorum hopes outreach to lower-income Americans, combined with his base of support among evangelical Christians and the party's most conservative voters, will propel him ahead of better-funded candidates with establishment backing," the Wall Street Journal reports. "The strategy builds on his 2012 bid as a lunch-bucket conservative with a populist economic tone and a focus on social issues, an image that appealed to voters who felt eventual nominee Mitt Romney was insufficiently conservative."
Santorum's first challenge is going to be entrenching himself in the top 10 in GOP polling. Last week, Fox News, which hosts the first primary-season Republican debate, announced it would cap the number of participants at 10 to avoid potentially having to squeeze 20-odd podiums on stage. Polling earlier this month showed the two-term senator with just a percentage point or two of support, just enough to put him in 10th among likely Republican candidates.

Nebraska Legislature Bans Death Penalty Over Governor's Veto
Members of Nebraska's unique unicameral legislature are elected and conduct business on a nonpartisan basis, but the state's voters lean strongly Republican, and 35 of the legislature's 49 current members are registered Republicans. Though Omaha.com's wording on the subject is ambiguous, it appears that 18 of those Republicans voted for the abolishment bill when it passed 32-19 on May 21, while 16 of them voted to override the veto Wednesday. The AP wrote earlier this month that the alliance of legislators voting for the ban includes "conservatives who oppose the death penalty for religious reasons, cast it as a waste of taxpayer money and question whether government can be trusted to manage it."
Advertisement

Switzerland Enabled FIFA's Corruption for Years. Why It Stopped Now.
FIFA President Sepp Blatter does not like being called a dictator. But, in his 27 years as the most powerful man in the world's most popular sport, one thing he has had in common with the Muammar Qaddafis and Hosni Mubaraks of the world is that he's enjoyed the immunity and secrecy provided by Swiss law. Until now.
Wednesday morning, Swiss police arrested some of FIFA's highest-ranking officials—not including Blatter—at a hotel in Zurich where they had gathered for the group's annual meeting. The police were acting on indictments from the U.S. Department of Justice for charges including money laundering and racketeering.
Advertisement

On the same day, Swiss authorities announced they had opened their own investigation into the controversial decisions to award the 2018 World Cup to Russia and 2022 World Cup to Qatar and had seized documents at FIFA's headquarters in Zurich. This marks a turning point in what has long been a cozy relationship between FIFA and the country that has been its home since 1932.
Switzerland is home to 65 international sports associations, including FIFA, the International Olympic Committee, and the global bodies governing basketball, hockey, gymnastics, cycling, and volleyball. Sports associations including FIFA bring in more than a billion dollars a year in revenue to the country and employ about 2,000 people. There are good and legitimate reasons for sports organizations to have their headquarters in Switzerland: it's located in the center of Europe, has a highly educated workforce and advantageous tax laws, the IOC is there, and it's generally a pleasant place to live. But for a group as breathtakingly corrupt as Blatter's FIFA, his home country's hands-off regulatory climate and opaque legal system has historically offered its own advantages.
As nonprofit associations, sports bodies based in Switzerland aren't required to provide financial data and are exempt from many of the nation's anti-corruption laws. One Swiss lawmaker calling for reform has noted contemptuously that that a multibillion-dollar global organization like FIFA "still has the same status as a Swiss mountain village yodeling association."
One of the best-known examples of the Swiss approach was a 2010 court ruling in which FIFA officials, including former President Joao Havelange, were found guilty of taking millions of dollars in bribes from a marketing company but then allowed to walk free after agreeing to return the money under a deal that protected their anonymity. The details of the deal only became public knowledge when five media outlets successfully sued to have the gag order lifted two years later.
Calls for reform began to gain traction after December 2010, when FIFA's executive committee, meeting in Zurich, made the decision to award World Cups to Russia and Qatar, sparking immediate accusations of corruption in the voting process. That's when Swiss Federal President Micheline Calmy-Rey, who was due to open the organization's annual congress several months later, began to take the problem more seriously. "[He] realized there was a reputation issue for Switzerland," said Jean-Loup Chappelet, a professor of public management focusing on athletics at the Swiss Graduate School of Public Administration. "[Athletics] is small in terms of money and employment, compared to the banks, but the reputation issue is big because sport and [soccer] is so big."
This was around the same time Switzerland was also taking steps to improve the international reputation of its financial sector, including an agreement to relax its notoriously strict banking secrecy laws in the wake of the global financial crisis and a move to freeze assets held by toppled dictators including Mubarak and Qaddafi.
In 2012, Switzerland's Federal Sports Office released a report calling for "more robust action" by Swiss authorities to combat corruption. This was at a time when Switzerland was preparing a (since abandoned) bid for the 2022 Winter Olympics.
Last year the Swiss parliament passed a law designating heads of sporting federations like Blatter and Bach as "politically exposed persons," a designation—usually used for politicians—that allows for more scrutiny of movements of money between bank accounts held in Switzerland.
Eric Martin, chairman of Transparency International's Swiss chapter, says that law, nicknamed "Lex FIFA," was more symbolic than anything else. The real test for whether Switzerland is finally tackling sports corruption is a bill under consideration that would make private corruption a criminal offense.
Swiss law considers private corruption, including bribes not involving public officials, under a legal category called "unfair competition." In practice, this means that under the current laws, prosecutors can open a case only if there's a complaint, which is rare in corruption cases.
It does happen sometimes. After an internal investigation, FIFA asked authorities to investigate the 2018 and 2022 World Cup decisions, but the association is awkwardly being treated as the aggrieved party in this case—as well as the body being investigated—leading to reasonable suspicions that senior officials will again be let off the hook. If private corruption were made a criminal matter, prosecutors would be given much wider latitude to look into the many allegations of high-level bribery within soccer's governing body.
"It's very important that the Swiss parliament will now approve this new legislation," Transparency International's Martin says. "Private corruption is as damaging as the corruption of public officials and it has to be prosecuted in the same manner." Martin is optimistic that the media attention surrounding this week's arrests will increase the bill's chances of passage.
No matter what happens, FIFA is unlikely to pick up and leave—most countries already have similar corruption laws, and a Swiss base has other advantages—but after decades of turning a blind eye, Switzerland may finally be making life difficult for one of its most powerful citizens.
You Don't Need to Think Bernie Can Win to Take Him Seriously
Bernie Sanders formally kicked off his campaign for president Tuesday by calling for a "political revolution." Later, while talking with reporters, the self-styled socialist's rhetoric soared a good deal closer to Earth. "I fully concede that I get into this race as a major underdog," Sanders said, before adding: "We're going to do better than people think. And I think we've got a shot to win this thing."
Sanders is already proving correct on the first count. His nascent campaign has gained more steam in its first month than many expected it would in its first year. As the Washington Post points out, the Vermont senator's presidential campaign now has more support than those of Lindsey Graham, Bobby Jindal, Carly Fiorina, and John Kasich combined. Sanders is polling at 7.4 percent in the RealClearPolitics rolling average of national Democratic surveys, a figure that is sure to climb as pollsters' continue their slow acceptance of a 2016 world without Elizabeth Warren and Joe Biden—a development that will leave the declared support of roughly a quarter of Democratic voters up for grabs.
Advertisement

The [New York] Times, for example, buried [Sanders' official April] announcement on page A21, even though every other candidate who had declared before then had been put on the front page above the fold. Sanders's straight-news story didn't even crack 700 words, compared to the 1,100 to 1,500 that Marco Rubio, Rand Paul, Ted Cruz, and Hillary Clinton got. As for the content, the Times' reporters declared high in Sanders's piece that he was a long shot for the Democratic nomination and that Clinton was all but a lock. None of the Republican entrants got the long-shot treatment, even though Paul, Rubio, and Cruz were generally polling fifth, seventh, and eighth among Republicans before they announced. …
Other major news organizations ignored Sanders as nearly as they could a sitting U.S. senator who entered the presidential race. ABC's World News Tonight gave his announcement all of 18 seconds, five of which were allotted to Clinton's tweet welcoming him to the race. CBS Evening News fitted the announcement into a single sentence at the end of a two-minute report about Clinton.
One thing you wouldn't know from the ongoing coverage: Sanders' polling is actually in the neighborhood of the GOP's current second tier of Rand Paul (9.2 percent), Mike Huckabee (8.6 percent), Ted Cruz (8.6 percent,) Ben Carson (7.4), and Chris Christie (5.4 percent). Yet those guys have had no trouble securing their fair share of media coverage. With the possible exception of Carson, they are all taken seriously by the press.
Now, it really would take a miracle for Sanders to overcome Hillary Clinton—by some metrics the most dominant nonincumbent in history—to win the nomination, and that's information that reporters have both the right and the responsibility to share with readers. The problem isn't that the media isn't treating Sanders like a legitimate presidential contender; the problem is that they're failing to treat him like a legitimate candidate.
That's a distinction worth making, particularly given all the digital ink spilled on the GOP hopefuls that also fall short of full-fledged contender status. Like Sanders, Paul, Cruz, and even Huckabee have no credible path to their nomination, let alone the White House. But unlike Sanders, all three are taken largely seriously by the national political press, and for good reason: They have significant bases. Paul gives a voice to libertarian-leaning conservatives, Huckabee to many evangelicals, and Cruz to some combination of the two. They don't need to win their nomination to be worth covering seriously.
Sanders doesn't have the super PAC money, campaign infrastructure, or the political allies he'd need to win the nomination, but he's clearly offering a worldview shared by a sizeable chunk of America. We don't need to pretend he has a chance to knock off Clinton to acknowledge that.
St. Louis County Police Chief Eloquently Criticizes St. Louis County Police System
During the chaos that followed Michael Brown's August 2014 death in Ferguson, Missouri, St. Louis County police officers engaged in a number of controversial tactics—confronting groups of nonviolent protesters with military equipment, failing to wear identifying name tags in violation of commonly accepted police standards, harrassing journalists, and more. (St. Louis County's law enforcement groups include municipal forces like the Ferguson Police Department as well as the wider county force.) State Gov. Jay Nixon's Aug. 14 decision to bring in Missouri Highway Patrol officers to help manage protests was credited by some with de-escalating tensions that had been created in part by the aggression of the St. Louis County police, who were led by Chief Jon Belmar.

In the months since, something of a consensus has emerged in Missouri that many black Ferguson-area residents have legitimate grievances against St. Louis County's judicial and law enforcement systems, in which authorities raise money for their small municipalities (and for their own compensation) by issuing huge numbers of fines for minor or officer-fabricated infractions. On May 8 the Missouri Legislature passed a bipartisan fine reform bill that Nixon is expected to sign. The consensus about the necessity of reform, it now appears, is so wide that it includes none other than St. Louis County Police Chief Jon Belmar! From the Huffington Post:
St. Louis County Police Chief Jon Belmar called the reform effort a "positive that came out of a tragedy." While noting that roughly half of the dozens upon dozens of police departments in St. Louis County were "legitimate" in his view, Belmar said that there were many that didn't exist for the right reasons. The county has so many police departments that it's impossible for him to even know the name of every police chief, Belmar said ...
Belmar acknowledged that the protests in Ferguson have given a voice to populations that had been overlooked in the past.
"If you went to a very affluent area in St. Louis County, how long do you think a program would last where speed cameras were put up on arterial roads coming into subdivisions, and people were given letters saying they were going to be arrested? It would last about five hours," Belmar said. "You know that and I know that, and that's part of the problem. Yet in areas that are not as affluent, and where folks really are struggling with issues of poverty and education and crime and everything else that goes along with it -- unemployment -- they don't have the ability really to voice that opinion. They can't leverage change. So that's a good thing that's come out of all this."
Advertisement

Huffington Post reporter Ryan Reilly, who wrote the story quoted above, was actually one of the journalists infamously arrested in Ferguson in August (by a group of officers that reportedly included St. Louis County personnel) for the dubious offense of working at a McDonald's near the area of protests. The world turns.

Judge Reprimanded for Saying Some "Girls" Are "Temptresses" Who Are "Asking For It"
On Tuesday the Alaska Commission on Judicial Conduct issued a formal complaint against Nome Superior Court Judge Timothy Dooley. The complaint accuses Dooley of serious judicial misconduct—including misogynistic comments in the courtroom—which could lead to public sanctions like suspension or even dismissal. Among the most gallingly sexist accusations outlined in the complaint:
In a sentencing hearing, Dooley said: "Has anything good ever come out of drinking other than sex with a pretty girl?"
In a sentencing hearing where the victim was a 14-year-old girl, Dooley said: ''This was not someone who was, and I hate to use the phrase, 'asking for it'. There are girls out there that seem to be temptresses. And this does not seem to be anything like that."
When asking jurors whether they could hear a soft-spoken female witness, Dooley said: "I'm sorry folks, but I can't slap her around to make her talk louder."
Advertisement

The complaint also notes several bizarre remarks Dooley made regarding religion and culture:
In a civil trial with unrepresented litigants, Dooley said: "I'm gonna enforce these oaths and they're enforceable with a 2-year sentence for perjury. And I'd be the sentencing judge. I also have a medieval Christianity that says if you violate an oath, you're going to hell. You all may not share that, but I'm planning to populate hell."
At a sentencing hearing, Dooley stated: "What you've done with this young girl, it's a strange thing, routinely done in Afghanistan where they marry 6 year-old girls. In our society, and in the society of the local tribal communities, supposed to be totally forbidden."
Dooley, who was appointed by Gov. Sean Parnell in March 2013, lived a rugged, adventurous life before he donned the judicial robes. In his earlier life, he worked as a firefighter, a logger, a coal shoveler, a miner, a farmer, a rancher, and a substitute Japanese teacher. He also worked on an oil rig, at a sawmill, and as a bear and wolf patrolman around an oil pipeline.
If the commission declines to relieve Dooley of his judicial duties, Alaska voters will have another opportunity to do so soon. Dooley faces a retention election in 2016.
India's Deadly Heat Wave
One of the worst heat waves in recent history is underway in India, with BBC News reporting that more than 1,000 people have died in less than a week. The Hindustan Times reports that most of the victims are construction workers, the elderly, or the homeless. Local governments are calling for drinking water camps and public education campaigns with heat safety tips—measures that aren't likely to help much. In India, most people dying from the heat are likely too poor to afford to take a break from work to cool down.
In the hardest-hit areas, temperatures have been up to 10 degrees Fahrenheit above normal for several days during what is usually the hottest time of the year. In New Delhi, temperatures were so hot—reaching 113 degrees Fahrenheit—they melted the roads. In Hyderabad, 26 of 31 days this month have been or are forecasted to be hotter than normal. According to India's Meteorological Department, the temperature hit a stunning 117 degrees Fahrenheit on Tuesday at Titlagarh in Odisha—the hottest temperature nationwide, and just 5 degrees below the country's all-time record.
Advertisement

But at least these places had a "dry heat," and overnight temperatures have been falling into the 80s. Along the coast, temperatures were slightly lower, but much higher humidity levels created a punishing heat index that persisted throughout the night. In Mumbai, for example, the heat index bottomed out just below 100 degrees Fahrenheit, and only for a few hours overnight Wednesday. In severe heat waves, oppressively hot overnight temperatures are extremely deadly, because there's just no chance for overheated bodies to cool off.
That means the "misery index"—a creation of Web developer Cameron Beccario that factors in both heat and humidity—is off the charts nearly nationwide.
Next to parts of the Amazon River basin, coastal India typically experiences the highest heat indexes of anywhere on the planet. And global warming is making it worse. A recent study in Nature Climate Change showed that increasing heat stress is already limiting India's labor capacity—the ability for humans to do work outdoors—with side effects including fainting, disorientation, and seizures. According to a separate study, heat stress will be increasingly deadly in the years to come. With more than 250 million farmers, nearly as many as the entire population of the United States, this is a recipe for disaster.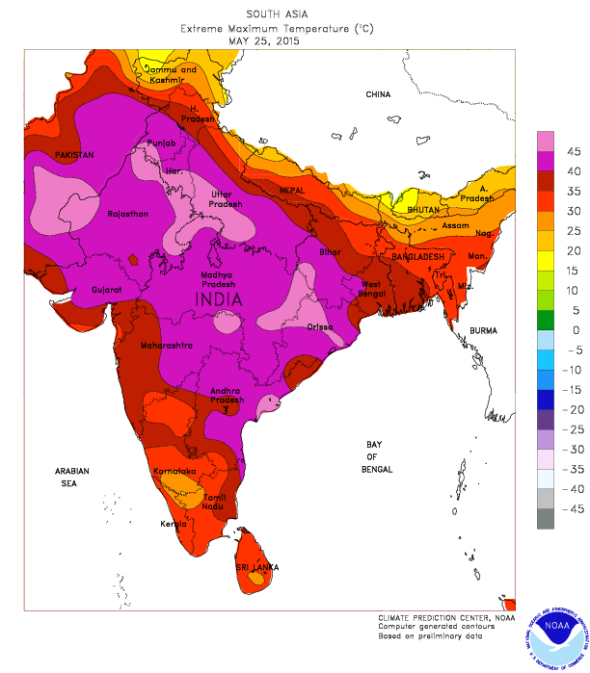 Conditions like this—horrible heat, and the vast majority of people without access to air conditioning—will continue until the monsoon season arrives in early June. The Indian monsoon is, in my opinion, the most important weather forecast in the world, and the outlook for this year's rains isn't great. With so many farmers dependent on the rains­—which produce 70 percent of the year's total rainfall in just four months—the monsoon is sometimes called "India's real finance minister." Though the rains are expected to arrive on time this year, the seasonal total could disappoint for reasons similar to last year's failure: A growing El Niño and an unfavorable distribution of heat in the Indian Ocean could stifle thunderstorms. Should the monsoon's northward progression stall out like last year's, India could have several more weeks of scorching heat to come.
Rand Paul Blames Republicans for ISIS, Bobby Jindal Counters by Blaming Democrats for ISIS
Asked whether he was concerned that a potential rival for the nomination such as Senator Lindsey Graham would target him for being an isolationist on international affairs, Mr. Paul said that people like Mr. Graham helped add to the chaos in the Middle East.
"ISIS exists and grew stronger because of the hawks in our party who gave arms indiscriminately, and most these arms were snatched up by ISIS," Mr. Paul said on MSNBC's "Morning Joe."
Advertisement

Louisiana governor and fellow presumptive 2016 candidate Bobby Jindal took offense to this and, in keeping with his previously established campaign focus of mostly just issuing kooky statements that piggyback off of news being made by more relevant political figures, responded with a kooky press release.
It's one thing for Senator Paul to take an outlandish position as a Senator at Washington cocktail parties, but being Commander-in-Chief is an entirely different job. We should all be clear that evil and Radical Islam are at fault for the rise of ISIS, and people like President Obama and Hillary Clinton exacerbate it.
Politics! To be fair to Jindal, despite his statement's hysterical/superfluous capitalization of "radical" and questionably shoehorned reference to Hillary Clinton, it does come much closer than Paul's claim to reflecting the reality that, while short-sighted United States foreign policy in the Middle East has no doubt contributed to the region's state of heavily armed instability, the people who are most responsible for creating ISIS are probably the thousands of morally debased extremist murderers who actually created ISIS.