Even a Chinese Firewall Can't Stop Donald Trump From Tweeting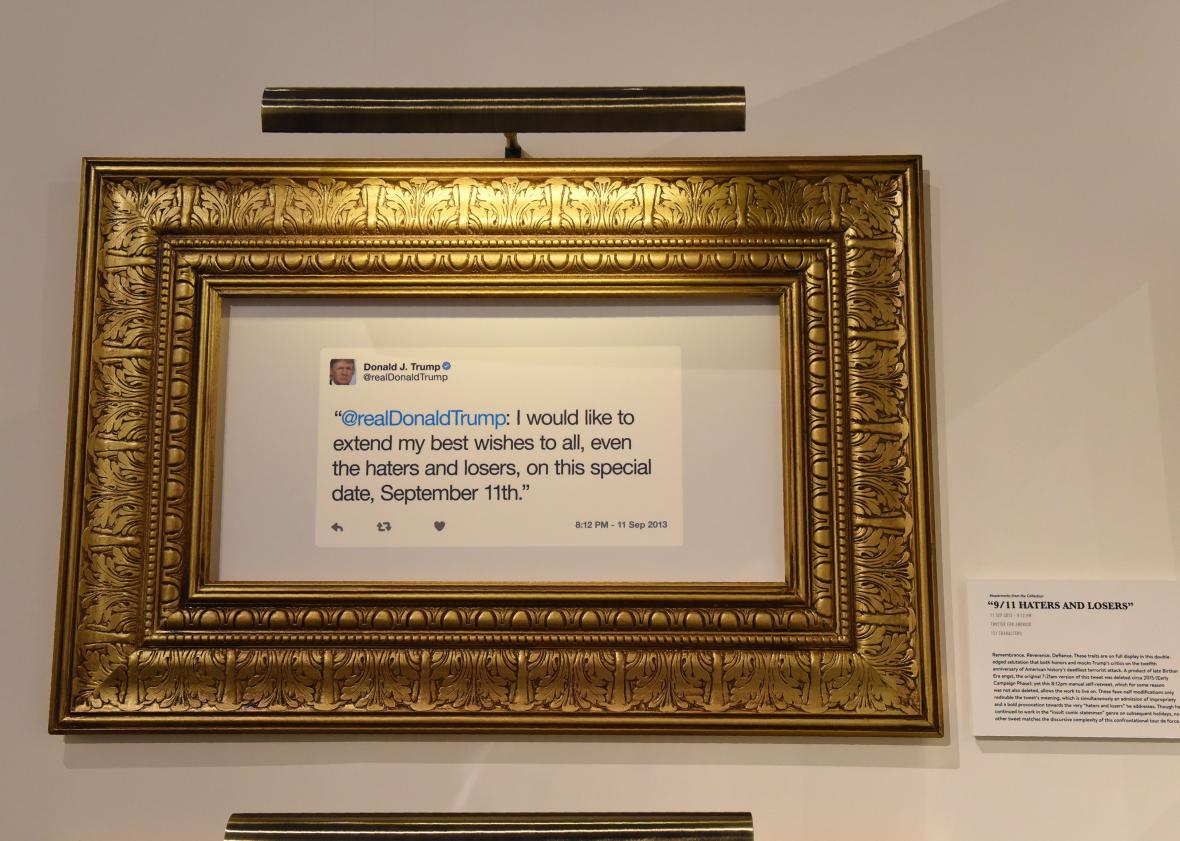 Donald Trump has maintained an active Twitter presence during the first half of his tour of Asia. His feed over the last few days reads like a travelogue documenting all of the cool things he's done abroad, interspersed with self-praise and the usual haranguing of Democrats.
The countries the president has traveled to so far—Japan and South Korea—are allies with few to no restrictions on internet use. But China, the next stop on his trip, is notorious for its Great Firewall that blocks many major websites, including Facebook, YouTube, and, yes, Twitter. That raised an unlikely but tantalizing possibility for the 68 percent of Americans who, according to an ABC/Washington Post poll, find the president's tweets "inappropriate," the 65 percent who find them "insulting," and the 52 percent who find them "dangerous."
However, several anonymous officials told the Associated Press that Trump will be able to satisfy his Twitter habit in China despite the restrictions, and Chinese Vice Minister of Foreign Affairs Zheng Zeguang assured reporters on Friday that they "should have no reservations about Mr. President's ability to keep in touch with the outside."
There are a number of options for foreigners in China who want to penetrate the firewall to access sites largely unavailable to citizens. Tourists and visitors can take advantage of the Wi-Fi at some select international hotel chains or data roaming services. Academics, business people, and other longer-term sojourners often download virtual private network apps and services, which allow users to route their web traffic outside of the country. Yet reports suggest China has been cracking down on these loopholes.
It's unclear what exactly Trump's workaround will be. Neither the AP's sources nor White House itself is willing to divulge the details. Yet Quartz notes that the president will likely use sophisticated satellite links and government-issued phones to both access Twitter and ward off hackers that lurk in China's cellular networks.
Trump has used Twitter in the past to ridicule and scold China for everything from North Korea to trade relations:
I am very disappointed in China. Our foolish past leaders have allowed them to make hundreds of billions of dollars a year in trade, yet...

— Donald J. Trump (@realDonaldTrump) July 29, 2017
China just hacked our federal government & stole gov. workers' information. Why do our leaders let China get away with this?! No respect.

— Donald J. Trump (@realDonaldTrump) June 5, 2015
..North Korea is a rogue nation which has become a great threat and embarrassment to China, which is trying to help but with little success.

— Donald J. Trump (@realDonaldTrump) September 3, 2017
It'll be interesting to see if he changes his Twitter tune once he lands in Beijing.
This post was updated to clarify how virtual private networks are used in China.
Future Tense is a partnership of Slate, New America, and Arizona State University.