Netizen Report: LGBTQ People Face Online Censorship and Threats in Egypt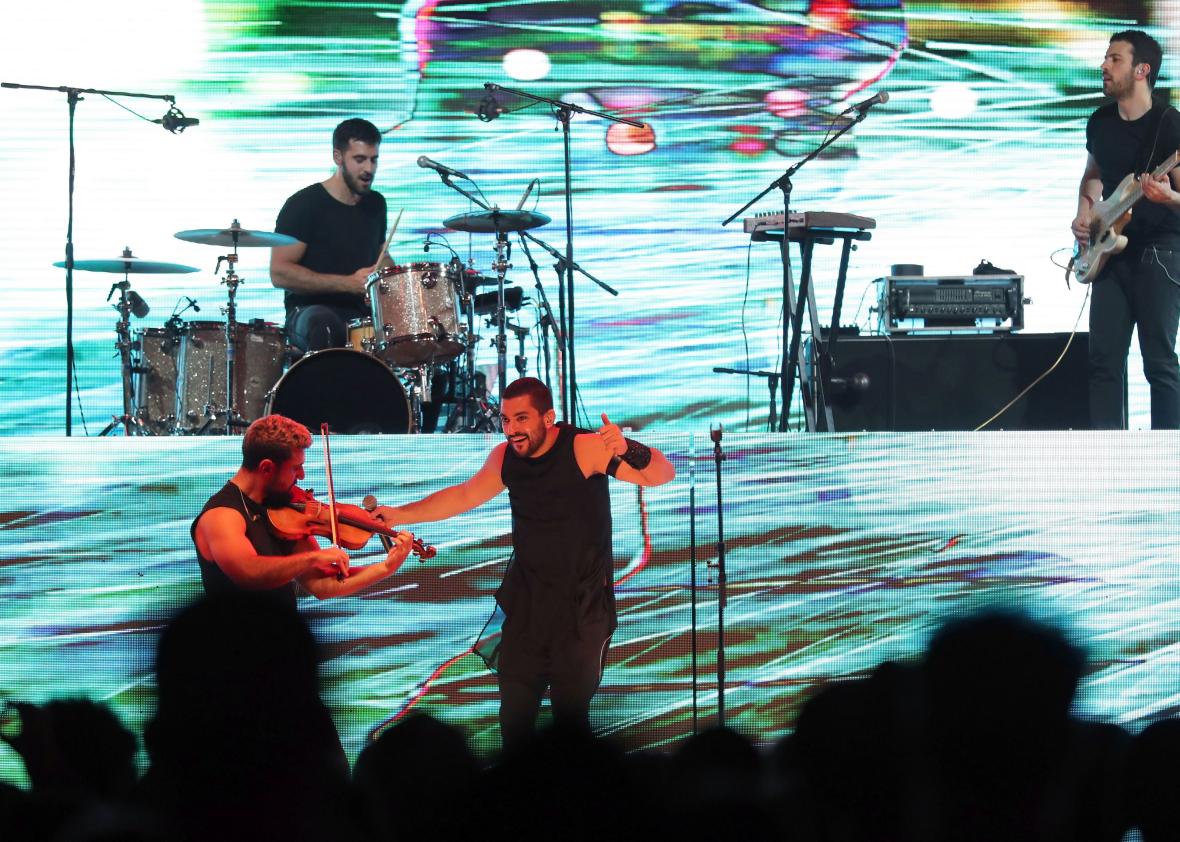 Egypt's broadcast regulator, the Supreme Council for Media Regulation, has banned all forms of support to the LGBTQ community, allegedly to "maintain public order." The move came after a rainbow flag was raised at a concert of the Lebanese band Mashrou' Leila in Cairo on Sept. 11. The band supports LGBTQ rights, and its lead singer, Hamed Sinno, is openly gay.
Egyptian authorities arrested dozens of concertgoers and have since launched a criminal investigation into the incident.
Censorship and criminalization of speech supporting LGBTQ rights is not uncommon in the Middle East and North Africa. One of the MENA region's first LGBTQ magazines, My.Kali, launched in 2007 and is currently blocked in Jordan. Although the online magazine has been blocked there since July 2016, a recent inquiry ignited a wave of media attacks against the magazine and the country's LGBTQ community. This prompted Jordan's media commission to issue a new order in July 2017 banning My.Kali because it does not have a license to operate. Under Jordan's press and publication law, online media are required to register with the authorities. The magazine continues to publish on Medium.
In response to threats the LGBTQ community in the MENA region faces, dating app Grindr is expected to launch new security features for its users in the region. The features include a passcode and a "discreet app" icon. Although these features have been welcomed by LGBTQ rights groups in the region, users of Grindr and other apps may continue to face threats. In Egypt in particular, police are known to entrap people using such apps. Recently, Amnesty International reported that six people were arrested for "debauchery" through online dating applications in Egypt's latest crackdown on the country's LGBTQ community.
Catalonia's referendum triggers arrests, online censorship
In the days leading up to the Oct. 1 referendum on Catalonia's independence, Spanish authorities used several different methods to censor internet access. More than 140 domains supporting the referendum remain blocked following a court order, including the Catalan National Assembly. Police raided the offices of puntCAT, the domain registry that manages the .cat domain, seizing computers and arresting the head of IT for sedition.
The .cat domain is popular, and .cat sites not related to the referendum have not been affected, despite the raid. However, .cat domains that are about the referendum, such as refoct.cat (still operational here), have been shut down. The court order also allows authorities to block future content related to the referendum publicized on social networks by any member of the Catalonian government. Another order required Google to remove an app from the Play Store used to spread information about the vote.
Israel targets Palestinians with predictive policing technology
Researchers in Palestine wrote about the development of a computer algorithm used by Israeli police to monitor and target Palestinian speech on social media, particularly on Facebook. This "predictive policing" system targets Palestinians "based on a probability created by a machine." The authors argue that "[w]hile some western analysts suggest collecting neutral data or building neutral algorithm models as a way to circumvent abuse and discrimination, such recommendations do not resonate in a context of prolonged military occupation."
Independent media groups stage blackout in Belgrade
More than 100 Serbian media outlets and NGO websites staged a blackout to protest media control and intimidation by tax authorities following the closure of the independent weekly magazine Novine Vranjske. The magazine was forced to shut down in September after facing pressure from state authorities for its investigative journalism.
Google is giving governments more user data
Google reported receiving an all-time high of 48,941 requests for user data from governments in the first half of 2017, the largest number the company has received since it began disclosing this information in 2011. The company complied with 65 percent of the requests it received, which affected more than 54,000 accounts.
Future Tense is a partnership of Slate, New America, and Arizona State University.