Right-Wing Trolls Misidentify the Las Vegas Shooter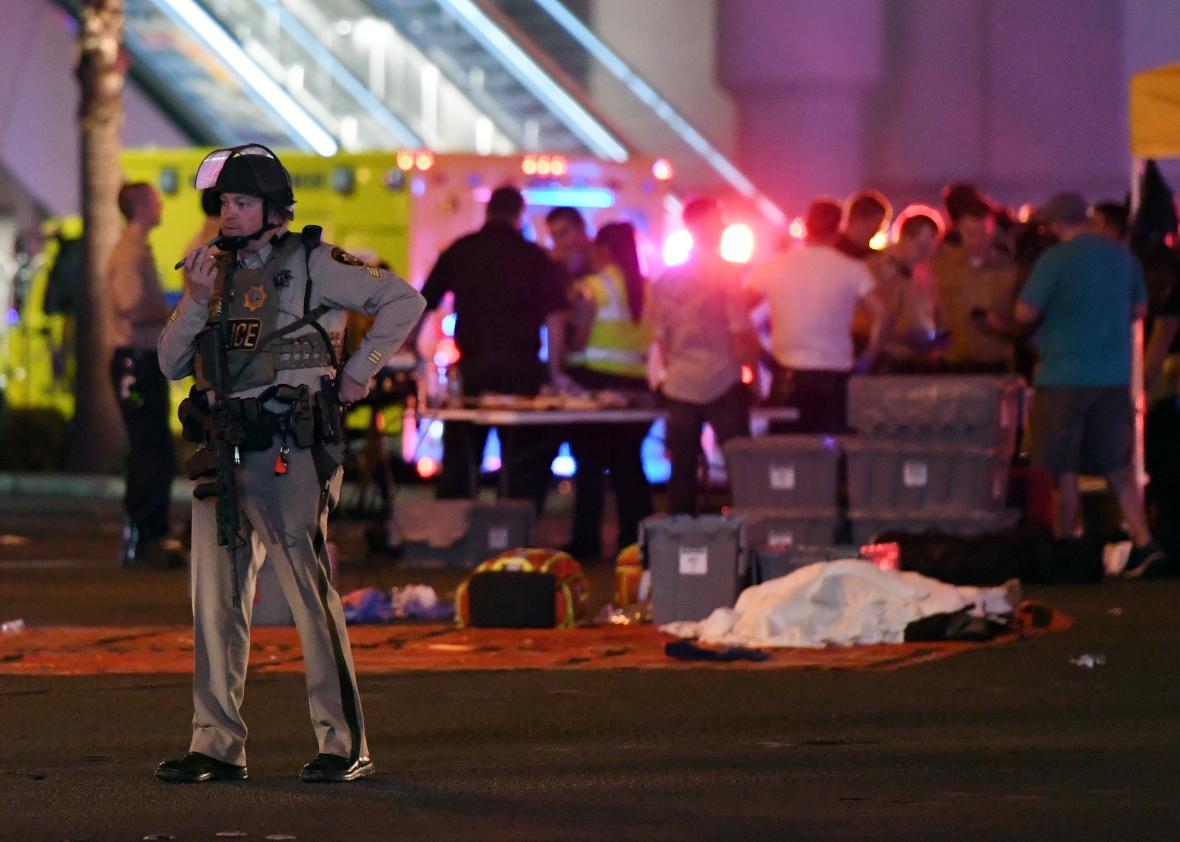 In their eagerness to frame the horrific Las Vegas shooting on Sunday night as a product of leftist anti-Trump zeal, cybertrolls have been pushing false rumors about the identity of the mass murderer.
The Las Vegas Police Department disclosed Monday morning that the alleged shooter was 64-year-old Stephen Paddock, though they have not yet established a motive. Hours before the announcement, however, online commenters were falsely fingering various people on sites like 4chan. The Gateway Pundit, a pro-Trump blog that the White House credentialed in February, even reported one of the rumors as fact, misidentifying a man named Geary Danley as the shooter.
Geary Danley received particular attention from trolls. He seems to have been caught up in the online storm because he shares a surname with, and may have been married to, Marilou Danley, a woman whom police were investigating as a roommate of Paddock's. (Officials later announced that they do not believe she was involved.) Right-wing snoops doxxed Marilou and found a Facebook page that appears to be Geary's and reveals that he probably leans left—the account has liked pages such as "Liberal Progressive Democrats" and The Rachel Maddow Show. Commenters on 4chan's "Politically Incorrect" board took these unverified details and ran with the narrative that Geary Danley was an anti-Trump nut who turned violent.
Unfortunately, early this morning we were briefly surfacing an inaccurate 4chan website in our Search results for a small number of queries. Within hours, the 4chan story was algorithmically replaced by relevant results. This should not have appeared for any queries, and we'll continue to make algorithmic improvements to prevent this from happening in the future.
Conservative trolls also heaped scorn on Marilou Danley, emphasizing her Asian roots and claiming that she is associated with "Filipino ISIS." (Her descent is not currently known.) AltRight, a site run by white nationalist Richard Spencer, suggested that she may have convinced Paddock to convert to radical Islam based on flimsy reporting.
Social media has been used to wrongfully identify mass murderers in the past. Reddit users notoriously launched a digital manhunt for the Boston Marathon bombers in 2013, plastering pictures of a innocent student named Sunil Tripathi, who had gone missing and was actually dead, across the internet. In the wake of the 2015 massacre at Umpqua Community College in Oregon, 4chan users were likely trying to fool the media into using the photo of popular music reviewer who bore a passing resemblance to the actual shooter. A TV news show then actually did end up using the wrong picture. And in 2016, after a shooting that killed five police officers, Dallas police released the photo of a suspect on Twitter. Yet the photo linking him to the crime remained on the internet long after he was cleared.
Though these past instances of misidentification were more a product of carelessness than politics, the Danleys' ordeal is still a cautionary tale. The internet is the perfect megaphone for clumsy vigilantes looking to spread rumors supporting their political positions, and people can get hurt in the process.
Future Tense is a partnership of Slate, New America, and Arizona State University.