Netizen Report: U.S.–Iran Tensions Rise Over Cyber Conflict, Human Rights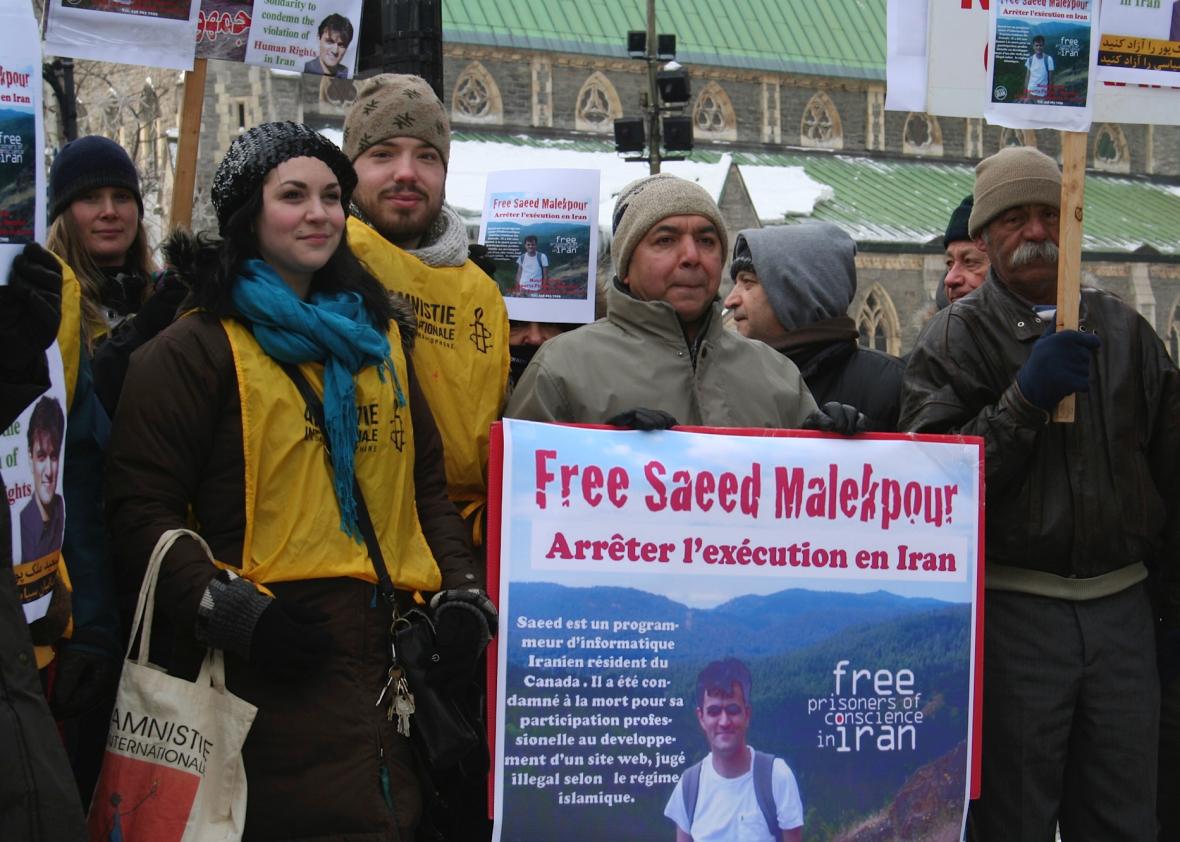 At a panel on U.S. tech sanctions in Iran, London-based Iranian Internet researcher Nariman Gharib asked State Department representative Emily Norris about the department's efforts to pressure the Iranian government to free imprisoned Iranian bloggers and entrepreneurs. Norris responded:
[T]here are over 900 political prisoners in Iran, so we can't call out each of them by name, but we [can]… call on the Iranian government to release those political prisoners. ... Our main recourse in highlighting these cases, in addition to sanctions, is to call on the international community and call on the Iranian government through UN mechanisms….It's really important for us from the State Department to hear from activists and [nongovernmental organizations] who know what's going on so we can highlight these cases and talk about them.
So one section of the U.S. government appears eager to support the work of independent Iranian technologists. But the U.S. has also dedicated substantial resources to interfering with Iranian government technical infrastructure and preventing the Iran from doing the same in the States.
Last week, the Department of Justice indicted seven Iranians who allegedly helped carry out cyber attacks against US computer systems that controlled things including a dam in New York state and parts of the U.S. financial sector. (In Future Tense, Lily Hay Newman explained "Google dorking," a technique reportedly used by one of the hackers.)
According to the Washington Post, this marked the first time that the government has charged state-sponsored individuals with hacking to disrupt the networks of key U.S. industries. Further investigations into the work and background of the hackers reveals that they may also have been part of government operations to deface the website of former Iranian presidential candidate and Green Movement leader Mehdi Karroubi.
Death toll rises yet again for secular Bangladeshis
A 28-year-old law student was murdered by three assailants in Dhaka, Bangladesh, on April 7. The young man was most likely targeted for his critiques of religious conservatism in the blogosphere and on Facebook. Nazimuddin Samad was a student of law in the Jagannath University who had served as an organizer with Ganajagaran Mancha, the group that has been demanding justice for the war crimes of 1971 and the banning of religious politics in the country. In 2013, his name appeared on a list of 84 bloggers and activists accused of writing against Islam by conservative Muslim clerics.
Egyptian authorities may be exploiting two-step verification
Technical researchers in Egypt are reporting that multiple high-profile human rights activists have been targeted by government surveillance mechanisms that exploit two-step verification processes for online platform logins on sites like Facebook, Yahoo, and Hotmail.
For these and other services, users are often given the option of using a mobile phone number as a second way to prove or cross-reference their identity. If a user forgets her password, she can ask the company to send a code to her mobile that she can then enter into the platform to verify her identity. In Egypt, however, thanks to strong state control over telecommunications infrastructure, it appears that state actors have been attempting to access activists' accounts by selecting the "forgot password" option, intercepting the code sent to the activist's mobile phone, and then resetting the password and effectively taking over the account. Learn more about what is happening from Cairo-based digital security expert Ramy Raoof.
Kazakh authorities use Facebook to police speech
Two Kazakh citizens are facing legal challenges due to their activities on Facebook. Journalist Alexander Baranov has been charged with libel for a post alleging that his employer mistreated workers and was involved in illegal activity, an accusation that could leave him responsible for paying nearly $29,000 in damages. Another woman was fined about $185 for alleging on Facebook that criminal activity was taking place in an apartment next to her.
Future Tense is a partnership of Slate, New America, and Arizona State University.