Important Question: What Does This Impending Blizzard Mean for Drones?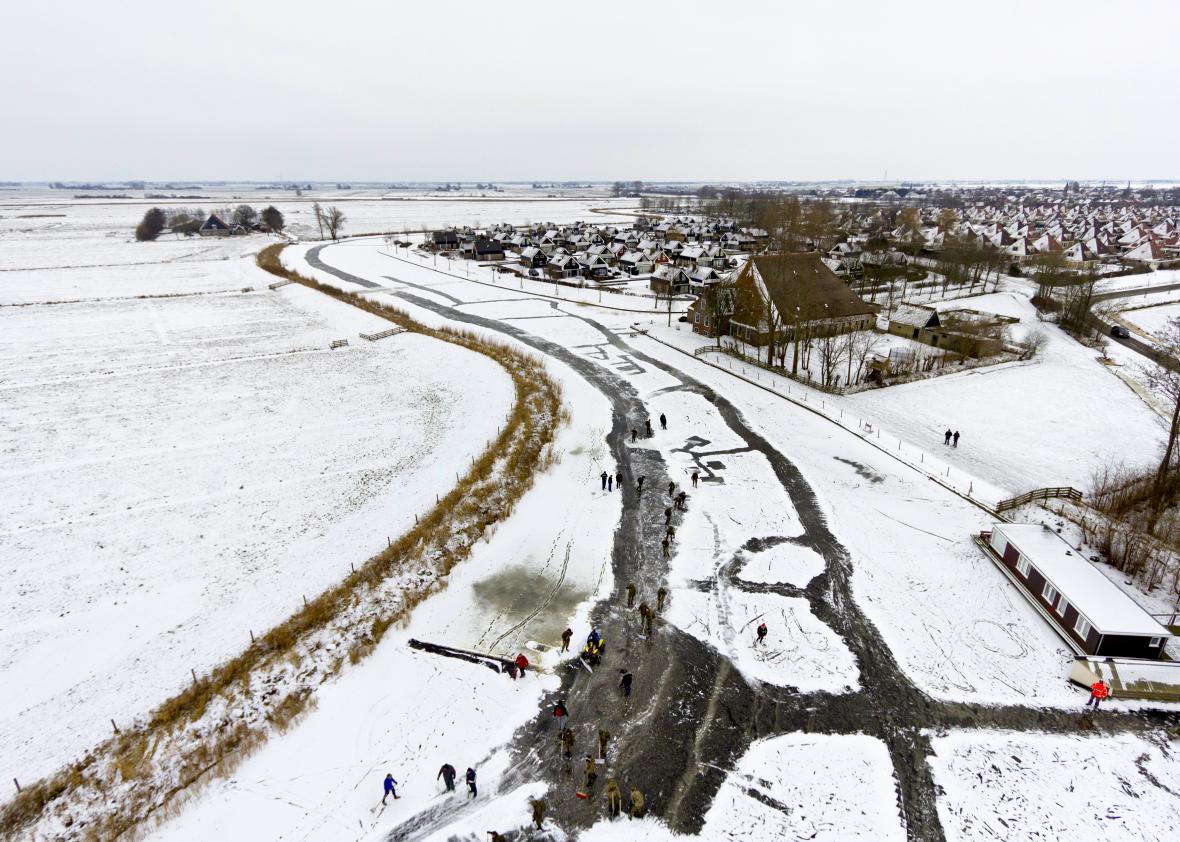 The Biggest and Scariest Snowstorm in Human History, 2016 edition, is underway, and there's one big question on everyone's minds: What does this impending blizzard mean for drones? As a public service, I'd like to address this question, so that the rest of you can turn your attention to other matters, like stocking up on booze and snowpants.
Should I use my drone in a snowstorm?
Probably not—and almost certainly not if the snowstorm in question is the sort of epochal deathstorm the East Coast is expecting this weekend. The Federal Aviation Administration's guidelines for responsible drone usage state that an airborne drone should remain within the operator's line of sight at all times, and that operators should avoid flying in "adverse weather conditions." So, no, you should not try to fly your drone into the maw of a mammoth, visibility-impeding snowstorm.
Aw, come on, the snow isn't that bad! I think it's probably safe to fly my drone in it.
Whatever you say, Eddie Rickenbacker! But the FAA might think differently. Rather than rely exclusively on your own judgment in this situation, you should check whether the FAA has issued any temporary flight restrictions that might affect your flight plan. Brendan Schulman, vice president of policy and legal affairs for the dronemaker DJI, told me over email today that the company's new GEO system—currently in beta—"will help operators make smart decisions based on live airspace data including FAA temporary flight restrictions"; if you own or operate a DJI drone, you should probably check it out. You should also examine your local laws and regulations before launching your drone into a snowstorm. Some cities—Chicago, for example—prohibit the use of drones during inclement weather. Finally, unless you are a happy-go-lucky millionaire with plenty of money to burn, you might want to consider the very real possibility that you will damage, destroy, or lose your drone by sending it up into a blizzard.
So I'm trapped inside a snowdrift. (Long story.) Can a drone help get me out?
Perhaps not directly, but there are drones of there that can certainly help human rescuers locate and aid snowbound individuals. Brendan Schulman told me in an email that DJI's "new XT thermal camera for the Inspire drone can help locate people trapped under snow even if they aren't visible." I wrote about drone-mounted thermal imaging last year, and I can confirm that not only are thermal drone cameras great tools for helping rescue teams do their jobs in low-visibility situations, they can also help you identify who's got the hottest hot chocolate on the block.
My town is in a shambles! Can drones help us rebuild?
In a manner of speaking, yes. Utilities companies, for example, can use drones in bad-weather situations to inspect power lines and identify problem areas, often more quickly than human inspectors could do so. Basically, drones can be very good at providing close-up views of failure points. Last year, for instance, my friend's ceiling sprung a major leak because a mountain of snow had accumulated on her building's roof, and the super didn't notice the snow and clear it in time to avoid major structural damage. If he had flown a drone up to the building's roof, he might have felt compelled to rouse his lazy butt, climb the stairs, and start shoveling before the roof caved in.
Can I use my drone to shovel my driveway?
Unless you have a really big drone or a really small driveway, then, no, probably not. That being said, if there is anyone out there who has successfully attached a snow shovel to a quadcopter, give me a holler!
How much will Slate pay for a candid drone photograph of Old Man Winter?
Slate isn't really in the market for paparazzi photographs of mythical figures, thanks; and depending on where you live, local regulations might forbid you from using your drone to photograph imaginary characters without their explicit permission.
I'm out of booze and snowpants! Can a drone deliver some to my house?
Yes. Place your order now, and Amazon Prime Air will show up at your doorstep at some point within the next 5 to 10 years.
This article is part of a Future Tense series on the future of drones and is part of a larger project, supported by a grant from Omidyar Network and Humanity United, that includes a drone primer from New America.
Future Tense is a partnership of Slate, New America, and Arizona State University.