Netizen Report: Thai Man Charged Under Royal Insult Law for Mocking King's Dog on Facebook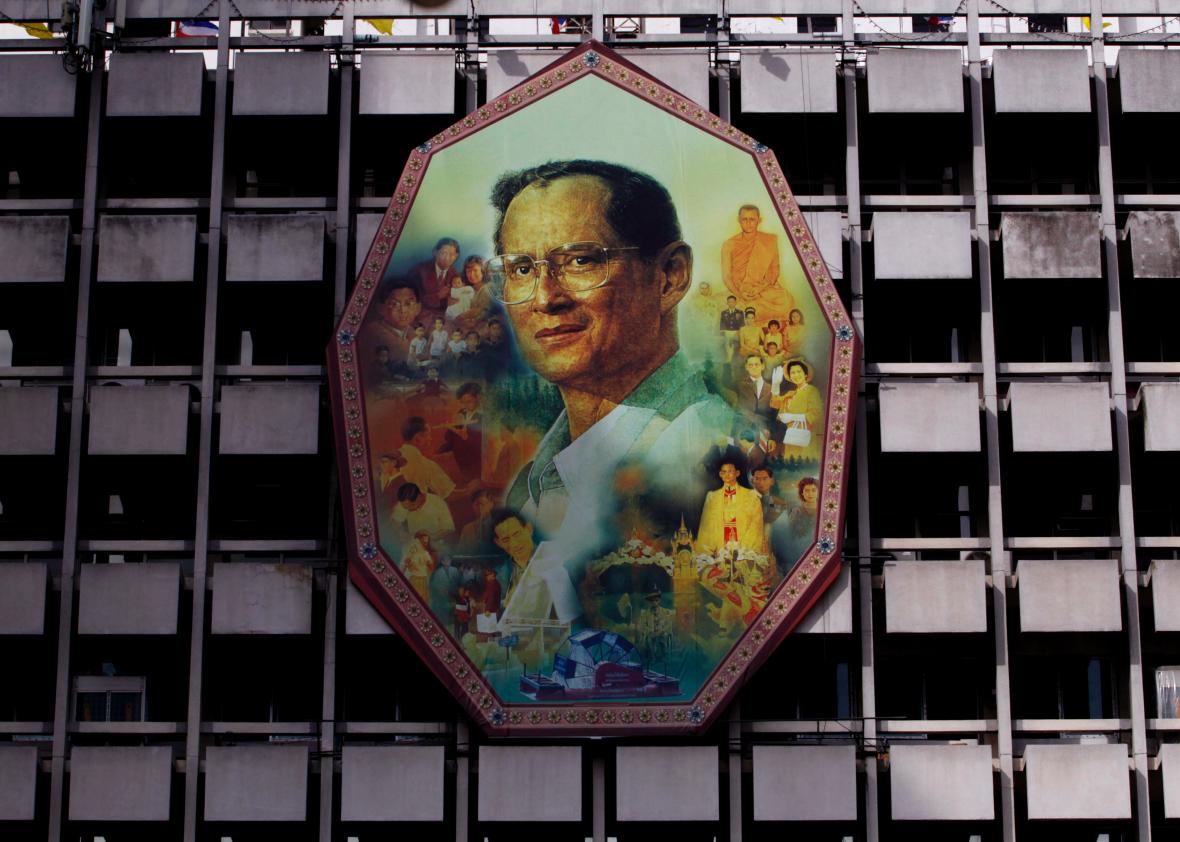 This week saw an uptick in the use of sedition charges by Southeast Asian nations to quell dissent on social media platforms: In Thailand, a factory worker was detained and charged under the country's anti-sedition law for sharing on Facebook an infographic pointing to evidence of corruption in a government building project. Authorities added to this a second charge under Thailand's infamous "royal insult" or lèse-majesté law, alleging that the man had mocked the king's dog on Facebook. Following his arrest, the 27-year-old was held incommunicado in an unknown location, until a stranger believed to be a security officer informed his mother of his whereabouts. He could face up to 27 years in prison if found guilty.
Local media report that the man belongs to Thailand's Red Shirt group, one of the political groups demanding the restoration of civilian rule in the country. Supporters have reason to believe that hundreds of members of the red-shirt Facebook group will also be charged with the lèse-majesté law for clicking like on pictures and content allegedly defaming the Thai monarchy.
Since the military coup in 2014, offenses under the lèse-majesté law have been judged by military courts, which allow no appeal. In August 2015, a Thai military court sentenced a man accused of defaming the Thai monarchy on a social network to 30 years in jail. The ruling is the heaviest jail term ever recorded for a lèse-majesté case.
In a separate case, a Malaysian man was arrested in a police raid for insulting on Facebook the royal family of Johor state, reportedly expressing his unhappiness with the Johor sultan's decision to ban vaping in the state by the start of 2016. If found guilty, he faces 18 months in jail or a maximum fine of $460 for sedition.
Tales of torture from Ethiopia's jails
A group of Ethiopian netizens returned to court this week to face charges under the country's Anti-Terrorism Proclamation. The defendants, who include human rights advocate and academic Zelalem Workagenehu and his friends Yonatan Wolde and Bahiru Degu, have each already spent 1.5 years in detention for allegedly applying to attend a workshop on communication, social media, and leadership, which was later canceled.
Members of the group have faced violations of their human rights and due process over the course of their detention. After judiciary officials revoked the license of their attorney, they were left with little choice but to defend themselves in court.
They also have faced inhumane treatment and torture while in prison. Bahiru reported being beaten, stripped, and forced to drink his own urine in detention, while Zelalem was detained for 41 days in an extremely cold room known as "Siberia." Both were apparently forced to confess under duress. Bahiru also stated that the investigators threatened him, saying, "We will cut your blood vessels and kill you. We are the police, the prosecutors, the judges, the intelligence and all are ours; you will be jailed for 20 years."
Their case provides more evidence that the human rights violations faced by the Zone9 bloggers, who were jailed for 18 months under the anti-terrorism law but ultimately acquitted, were not unique. The Ethiopian government continues to abuse its power by using this the Anti-Terrorism Proclamation not to fight violent extremism, but to silence those who are working to improve the human rights conditions in their country.
U.N. leader warns against Pakistan's cybercrime bill
U.N. special rapporteur for freedom of expression David Kaye is speaking out against a cybercrime bill that will soon be brought to a vote before Pakistan's National Assembly. He is joined by leading human rights organizations worldwide. A coalition statement authored by Human Rights Watch explains that the bill "empowers the Pakistan Telecommunication Authority to order service providers to remove or block access to any speech, sound, data, writing, image, or video, without any approval from a court. By omitting judicial oversight, the Bill, if passed, would write a blank cheque for abuse and overreach of blocking powers."
China's World Internet Conference draws heads of state, tech CEOs, and plenty of criticism
China's second World Internet Conference is currently underway in the city of Wuzhen. In the wake of recent violent extremist attacks in Paris and elsewhere, it is anticipated that China will use the event to discuss cybersecurity and to promote "Internet sovereignty," or the idea that governments have the right to control their country's Internet space and regulations.
Reporters Without Borders has called for a boycott of the conference. "These conferences have had no credibility ever since the first one, whose real aim was to ensure that Internet companies wanting to operate in China fall into line," said RSF's Asia-Pacific lead Benjamin Ismail. Indeed, with global tech giants including Alibaba, Baidu, Apple, and Google in attendance, there will likely be plenty of off-record negotiating alongside formal conference events. Bill Bishop, author of the Sinocism blog, speculated on the real value of the event for technology companies, asking: "[W]hich US internet execs will be bootlicking at the Internet conference in Wuzhen?"
Social media services are back in Bangladesh (for now)
Bangladesh brought its four-week ban on social messaging apps to an end this week. Over the course of the ban, a lack of coordination between agencies led to confusion, resulting in a 90-minute Internet outage nationwide that the telecommunications minister chalked up to a "misunderstanding." The various bans have also been harmful for Web-based entrepreneurs who rely on platforms like Facebook for marketing and outreach.
Private platforms proved vital in Venezuela's elections
The Internet was critical to public discussion about candidates in Venezuela's landmark parliamentary elections held Dec. 6, in which voters turned out overwhelmingly in favor of the opposition. Despite low bandwidth and reported Internet outages, digital platforms including YouTube and Periscope facilitated the circulation of information, according to Global Voices' Marianne Diaz.
Future Tense is a partnership of Slate, New America, and Arizona State University.