Future Tense Event: Come Watch October Sky with Dr. France Córdova in Washington, D.C.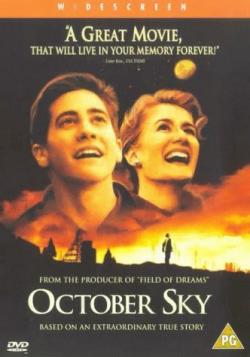 Dr. France Córdova, director of the National Science Foundation, invites you to join her to watch October Sky. The 1999 film, which helped launch Jake Gyllenhaal's career, is about how the Soviet Union's Sputnik satellite triggered a new era of scientific innovation in America.* Gyllenhaal plays a West Virginia miner's son eager to reach for the stars as a rocketeer. An inspirational tale of determination and ingenuity, October Sky captures the human side of the space age.
Future Tense and the National Science Foundation will be screening October Sky at 6:30 p.m. on Dec. 2 at Washington, D.C.'s Landmark E Street Cinema at 555 11th Street NW. This is the latest installment of our "My Favorite Movie" series, in which leaders in technology and science fields screen films they love and lead short discussions about them after.
If you would like to attend, please RSVP to futuretensedc@gmail.com with your name, email address, and any affiliation you'd like to share. You may RSVP for yourself and up to one guest. Please include your guest's name in your response. Seating is limited.
Correction, Nov. 18, 2015: This post originally misspelled Jake Gyllenhaal's last name.
Future Tense is a partnership of Slate, New America, and Arizona State University.