This Drone Shoots Fireballs—for a Good Cause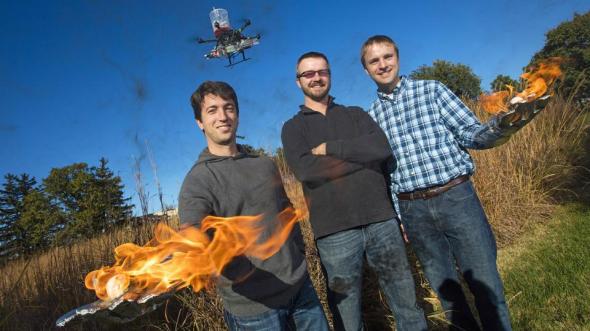 We here at Slate are committed to bringing you the Internet's finest coverage of drones and fires. But I fear my reporting on this important topic may have left you with the impression that the only flame-related thing drones can do is interfere with aerial firefighting efforts. But hark! A new prototype drone can shoot tiny fireballs—and that's a good thing.
This munificent and pyromaniacal drone comes from Nebraska, which continues to lead the nation in fireball technology. Researchers at the University of Nebraska–Lincoln, seeking new ways to combat the devastating wildfires that have become increasingly common in Plains and Western states, are working on a project called the Unmanned Aerial System for Firefighting, which offers a new method of igniting and monitoring prescribed burns in remote and hostile terrain. By deliberately setting fire to grasslands under relatively controlled circumstances, land management personnel can preemptively neutralize flammable areas and make it harder for wildfires to spread. And that's where the fireballs come in handy. (As a side benefit, this tactic can also check the spread of the sorts of invasive species that I wrote about Wednesday.)
Leslie Reed at UNL Today, a news service at UNL, writes that the UAS-FF, which has not yet been tested in the wild, carries a payload of small plastic balls filled with potassium pergamanate powder. Once the drone reaches the target, it injects the balls with liquid glycol and drops them to the ground. By the time the balls land, they are ablaze with a "chemical reaction-based flame." Take that, grasslands! And take that, wildfires! And take that, The Human Torch!
It's with this sort of project that drones can really add value: not to replace human labor, but to ease and improve the performance of difficult and dangerous tasks. The UAS-FF promises to give conservation personnel a means of igniting prescribed burns more cheaply than if done by helicopter, and more safely than if done by hand. "The idea is to provide a safe mechanism for people to perform fire management tasks with less risk and higher efficiency," UNL professor Sebastian Elbaum told UNL Today. I suspect that the idea was also that little flying robots are cool and that fire is fun to play with. Drones! And fires! The story continues!
This article is part of a Future Tense series on the future of drones and is part of a larger project, supported by a grant from Omidyar Network and Humanity United, that includes a drone primer from New America.
Future Tense is a partnership of Slate, New America, and Arizona State University.