Drones Hit the Slopes to Record Skiers in Action—for a Fee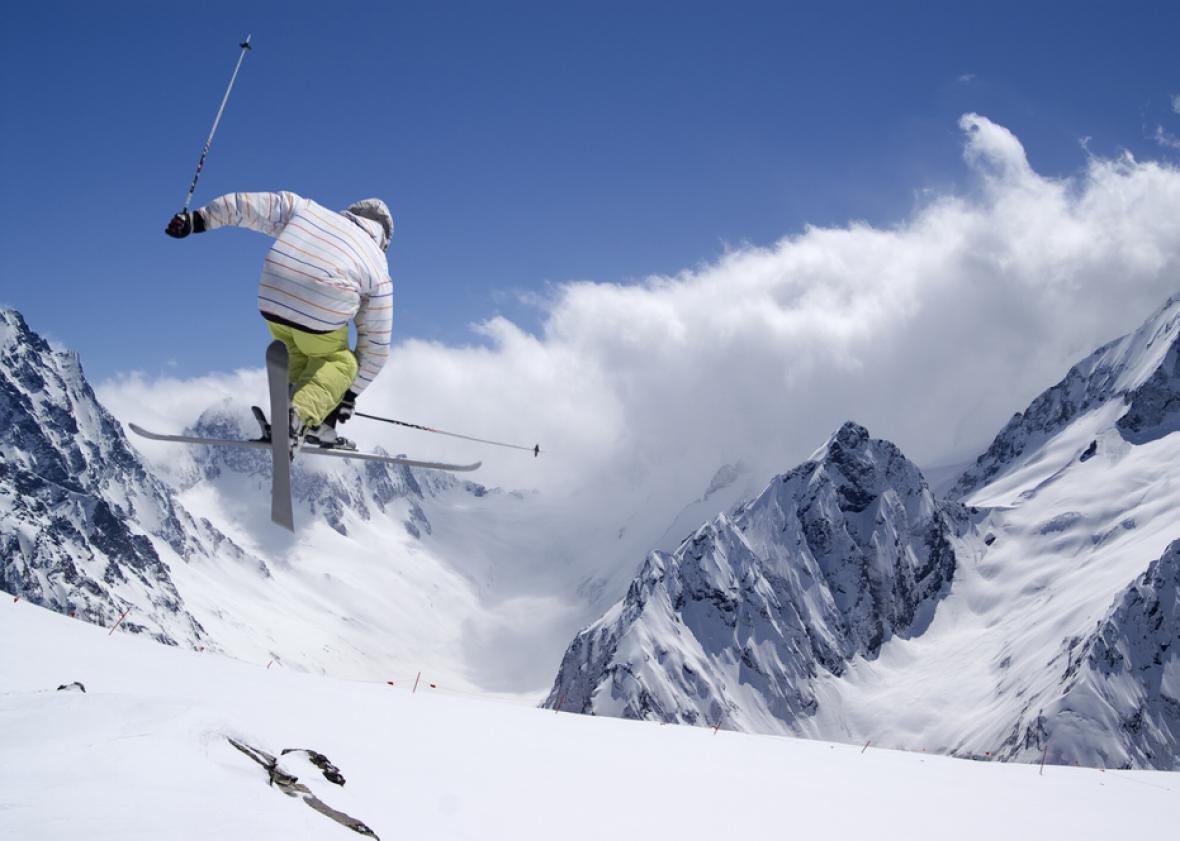 Other than synthetic insulated jackets, weed, and incessant use of the word pow, there's nothing that serious skiers and snowboarders enjoy more than filming themselves on the slopes. I go skiing for a week every year, largely against my will, and spend most of that week standing at the base of the slope watching other, braver people finish their runs. In recent years I've noted a massive increase in the number of skiers and snowboarders who are channeling inner Warren Miller by affixing miniature cameras to their ski helmets. These ski-nematographers (sorry) can use these cameras can capture every single turn, jump, and wipeout—and, if necessary, to record an impromptu last will and testament. What's not to like?
But, in the words of the classic snowboarding musical Annie Get Your Gun, anything a head-mounted camera can do, a drone can do better. Lance Benzel at the Colorado Springs Gazette writes that the Copper Mountain and Winter Park ski resorts in Colorado are planning to deploy drones to film customers' runs during the upcoming ski season. (Other ski areas have been mulling similar plans.) In conjunction with a California-based drone-photography startup, the resorts will create designated "Drone Zones" in which guests can pay between $100 and $200 to have camera-equipped drones take aerial footage of themselves on the slopes. Customers will get three chances to display some sick moves, and then about 24 hours later will receive an edited version of their snowy exploits, which they can then take home, watch once, and subsequently consign to cerebral oblivion.
Basically, this is a new twist on those cameras at theme parks that film you at the moment you're descending from the apex of a roller coaster. And it's a perfect example of the right way to integrate drones into action-sports photography. I've written before about how camera-equipped drones might eventually transform the way we watch and train for sports. I think that drone photography will be most immediately applicable for individual outdoor sports like skiing and snowboarding, where flashy and daring moves are not only encouraged but celebrated; and where structural impediments—being on a cold and snowy mountain, for instance—impose constraints on filming.
A skier wanting to film her run has three basic options: Put a camera on her head, hire a helicopter, or find cameramen who can accompany her down the slope and keep pace with her. The head-mounted camera is the best of these options, and, even so, an unbroken first-person viewpoint can get monotonous after awhile. Drone photography can bring skiers the benefits of those other two options at a fraction of the cost. Dedicated skiers could use these videos to study their form, identify flaws, and devise strategies for improvement. Less dedicated skiers can just and dub a Whitesnake song over the footage and fool everyone into thinking that they're much more gnarly than they really are.
I like how the resorts are rolling this out, too. Not everyone wants to have a drone tracking their every move, which is why it's smart to limit this initiative to a specific area and to the people who are willing to pay for it. Segregating the drones to a specific section of the resort limits the likelihood of a malfunctioning device falling from the sky and braining some unsuspecting laggard struggling to keep up with the rest of the ski school. (I have to imagine that "Drone Zone" participants will be made to sign legal waivers before participating.) The Drone Zone initiative is currently on hold pending U.S. Forest Service approval. (Cape Productions, the California company that will be providing the drone photography, has already received an FAA exemption that allows it to deploy drones for commercial purposes.) But I predict that it'll only take a couple of seasons before the advantages of aerial ski photography become known and stints in the drone zone become as popular as spending $7 for a Budweiser in the lodge.
This article is part of a Future Tense series on the future of drones and is part of a larger project, supported by a grant from Omidyar Network and Humanity United, that includes a drone primer from New America.
Future Tense is a partnership of Slate, New America, and Arizona State University.