Netizen Report: U.K. Spied on Human Rights Organizations in Egypt, South Africa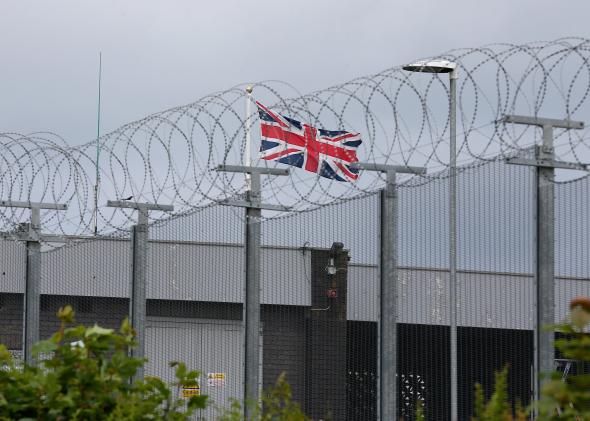 The Netizen Report offers an international snapshot of challenges, victories, and emerging trends in Internet rights around the world. It originally appears each week on Global Voices Advocacy. Ellery Roberts Biddle, Weiping Li, Hae-in Lim, and Sarah Myers West contributed to this report.
The U.K. Investigatory Powers Tribunal revealed that U.K. intelligence agency Government Communications Headquarters, or GCHQ, spied on two international human rights organizations, the South African Legal Resources Centre and Egyptian Initiative for Personal Rights. Both NGOs now are involved in a legal challenge against GCHQ, arguing the agency acted unlawfully and violated its own secret procedures.
The Egyptian Initiative for Personal Rights has long defended the rights of Egyptians to express themselves freely and without fear in public spaces both online and off. The tribunal found that the organization's Internet communications were intercepted, accessed, and then unlawfully "retained for materially longer than permitted." The news was disheartening for privacy and free expression advocates in Egypt, who typically focus on the surveillance activities of their own government. Authorities in Egypt routinely target advocates in this sector, often on grounds of preserving national security in the face of increasingly powerful violent crime groups.
In a decision that Privacy International described as "astonishing," the tribunal did not find that GCHQ's interception of the NGOs' communications was itself unlawful. Instead, it was GCHQ's failure to follow its own secret procedures that resulted in the unlawful conduct.
Privacy International has appealed the case to the European Court of Human Rights.
Got a dirty mouth? Then stay off WhatsApp.
WhatsApp users in the United Arab Emirates may want to watch their language while using the app: Under new rules, people swearing online at others could be fined 250,000 UAE dirhams (about $68,000) and even jailed. The Federal Supreme Court recently overturned a case where a man was fined 3,000 dirhams (about $816) after being convicted of swearing at another person on WhatsApp—the court found the punishment to be too weak.
The right to be forgotten, Kremlin-style
Russia's parliament gave initial approval for a new law that would emulate the EU's rules on the "right to be forgotten," requiring search engines to remove outdated or irrelevant personal information from search results on request from users. The law would depart from the EU regulation in one important respect: It would force search engines to remove information about a person even if it is in the public interest. Yandex, Russia's biggest search engine, is opposing the bill. Global Voices' Tanya Lokot previews what the Russian Internet might look like if the bill becomes law.
Kenyan blogger still missing after nearly two years
Kenyans have been tweeting about the mysterious fate of blogger and former AFP correspondent Bogonko Bosire. The author of the controversial Jackal News blog disappeared almost two years ago after publishing a series of reports on the International Criminal Court case against former President Uhuru Kenyatta. Bosire has not been seen since September 2013.
Thai man sentenced to 25 years in jail for "defaming the monarchy"
Thai Facebook user Tiensutham S. was arrested and sentenced to 50 years in prison for "defaming the monarchy" in several Facebook posts written between July and November 2014. His sentence was reduced to 25 years after he confessed to these crimes.
Singapore authorities order teen video blogger to be evaluated for autism
Singaporean blogger Amos Yee was arrested and now has been sent to rehabilitation for a video he posted criticizing the nation's founder, Lee Kuan Yew, shortly after Lee's death. Yee has been charged with offending the religious sentiments of Christians and circulating obscene material and may soon be evaluated for autism. His case has sparked a heated debate over the role of free expression in the Asian city-state.
No more mobile for foreigners in North Korea (at least for now)
North Korean mobile provider Koryolink issued a notice saying that 3G Internet service will no longer be available in the country. Koryolink, which is the country's sole provider of mobile Internet service, offered no information on when services would be available again. North Koreans have no access to the global Internet, but foreign residents and visitors have historically been able to use mobile SIM cards. The reason for the service cut remains unclear.
U.N. Working Group calls for release of Syrian Web developer
The United Nations Working Group on Arbitrary Detention issued a position on the situation of Bassel Khartabil (aka Safadi), a Web developer and transparency advocate who worked with Creative Commons, Mozilla, and other open-Web organizations. Khartabil has been jailed in Syria since March 2012. The working group considers his detention "arbitrary" and has called for his immediate release.
Better late than never, Bing hops on encryption train
Microsoft announced that it will begin encrypting Bing searches by default. This means that Microsoft will let advertisers know that the traffic came from a Bing search, but the precise search term will not be disclosed. Microsoft acknowledged that "this change may impact marketers and webmasters, [but] we believe that providing a more secure search experience for our users is important." Google and Yahoo made encrypted search defaults in 2011 and 2014, respectively.
Future Tense is a partnership of Slate, New America, and Arizona State University.