Netizen Report: Jailed Ethiopian Blogger Asks John Kerry for Justice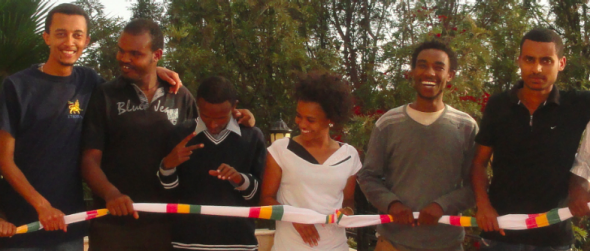 The Netizen Report offers an international snapshot of challenges, victories, and emerging trends in Internet rights around the world. It originally appears each week on Global Voices Advocacy. Ellery Roberts Biddle, Lisa Ferguson, Weiping Li, Hae-in Lim, and Sarah Myers West contributed to this report.
It has been one year since Ethiopian authorities arrested nine bloggers and journalists in association with the Zone9 blogging collective, a group of recent university graduates who wrote about political challenges in their country and worked to help Ethiopians understand their constitutional rights. The government's case against the bloggers, who were charged under the Anti-Terrorism Proclamation, focuses on their use of secure communications tools and online platforms in what the government called an attempt to "overthrow, modify or suspend the Federal or State Constitution by violence, threats or conspiracy."
Ethiopia has a mandate (and large amounts of aid money) from the United States and other Western governments to maintain a security stronghold in the Horn of Africa, where the threat of violent extremist groups such as Al-Shabaab is a persistent concern. But apart from countering these threats, the Ethiopian government has also used this scenario as a justification for punishing its most vocal critics, among them journalists like Eskinder Nega, Reeyot Alemu, and the Zone9 bloggers.
To be honest with you, how much time I will be spending in prison is not the most pressing issue on my mind right now. ... It is not that I don't appreciate the earnest assistance being forwarded to the development process in my country. It is just that I strongly believe effective monitoring of such assistance can only be employed where there is a government accountable to its people. It is ironic that the world's top recipient of development assistance is without effective monitoring and accountability. …
I understand the difficulty you face in striking a balance between maintaining security and stability and promoting democratization in your foreign policy. ... As US national interests are built on core values of liberty and democracy, I have hope and confidence that you will adopt a new stance that forges a clearer relationship between any form of assistance and the democratization process.
Natnael's original letter can be read on Global Voices. Global Voices writers and advocates from Azerbaijan, Croatia, Cuba, Iran, Kenya, Mexico, and beyond created a video to mark the anniversary of the bloggers' arrest:
Signals drop as Guatemalans call for president's resignation
Tens of thousands of Guatemalans demonstrated in the nation's capital last Saturday demanding the resignation of President Otto Perez Molina and Vice President Roxana Baldetti, in the wake of a massive corruption scandal that allegedly involved Baldetti's secretary. Multiple protesters posted photos of strange devices set up around the capital, which several local sources say are high-resolution cameras used to monitor the protests. Mobile phone signals were blocked, preventing protesters from communicating over social media. It remains unclear whether the outage was a strategic move to diminish their efforts or merely a system overload.
Vietnam's social networks are lively, despite strict Internet laws
According to a report by pro-democracy party Viet Tan, Vietnamese netizens are increasingly turning to social networks to express their views on social and political issues, despite stringent restrictions on free expression in the country.
Future Tense is a partnership of Slate, New America, and Arizona State University.