Netizen Report: Can Tibetan Users Trust Facebook?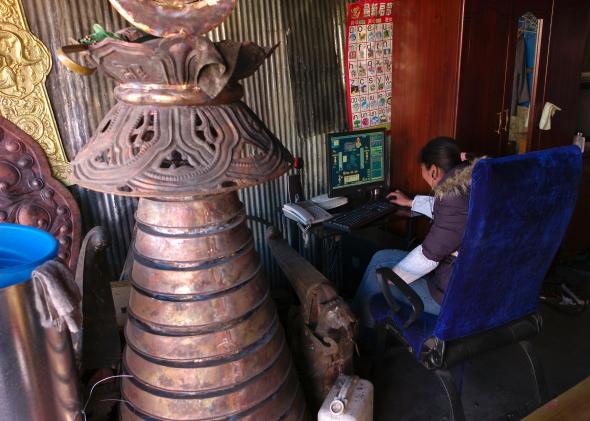 Global Voices Advocacy's Netizen Report offers an international snapshot of challenges, victories, and emerging trends in Internet rights around the world. This week's report begins in Tibet, where social media censorship appears to be on the rise. At the end of 2014, Facebook deleted a link to a video of a self-immolation protest by Buddhist monk Kalsang Yeshe in front of a Sichuan province police station.
The incident attracted attention both inside and outside China, in part because many Chinese netizens use Facebook as a means of avoiding the censorship they face on Weibo. An anonymous Facebook employee reportedly told Voice of America that the post was flagged by an unknown number of users and was deleted for its graphic content rather than for political reasons.
Tsering Woeser, the Tibetan blogger who posted the video, recently questioned whether Facebook's actions may been politically motivated: The video was taken down shortly after Facebook CEO Mark Zuckerberg visited China and was restored after Zuckerberg posted a message in support of free expression in the wake of the Charlie Hebdo attacks.
Although it rarely makes headlines, Tibet faces uniquely difficult circumstances when it comes to Internet censorship and connectivity cuts. Since the late 2000s, bloggers like Woeser have documented shutdowns of both Internet and mobile networks in the region, which routinely follow political protests and social unrest.
China squashes NYT Weibo account
Chinese authorities took the New York Times' Sina Weibo account offline, eliminating the last digital trace of the newspaper in the country. The Times' English- and Chinese-language websites have been blocked in China since October 2012. The Weibo account was deleted along with the accounts of two reporters, one of whom no longer writes for the newspaper.
Internet now qualifies as "public space" in Bosnia and Herzegovina
The Republic of Srpska, known in English as Bosnia and Herzegovina, has introduced a new Law on Public Order, which expands the definition of "public space" to apply to the Internet, including social networks. The legislation prescribes high fines for social media posts that disturb public order or are deemed offensive or insulting. According to authorities, the law will not be applied to criticism of the government. After strong criticism, prison sentences were removed from the law.
Lebanese activist detained for Facebook posting after Saudi king's death
Hisham Zayat, a Lebanese political activist and journalist for Yasour in the south of Lebanon, was detained and questioned by police on Feb. 8 for expressing his thoughts on Facebook about the passing of the king of Saudi Arabia. Police reportedly accessed his Facebook account and removed a post that they considered offensive to the king. Zayat was released immediately after questioning.
Bad romance or not, U.K. doesn't want your revenge
The United Kingdom passed legislation making revenge porn a criminal offense. Anyone who distributes sexual images without prior consent from the subject, and with the intent to cause harm, can now be punished with a fine and up to two years in prison. While revenge porn legislation often include vague provisions that risk criminalizing protected speech, this law includes more targeted provisions that limit the risk that it could be used to target Internet service providers or other Internet companies for handling the images.
Future Tense is a partnership of Slate, New America, and Arizona State University.