Horrid California Drought Gets Worse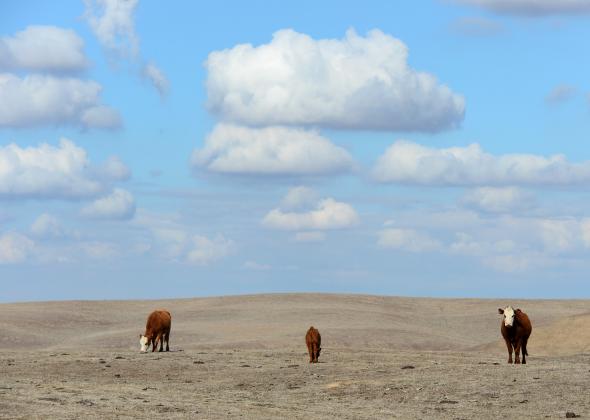 New data released on Thursday from the U.S. Drought Monitor show a massive expansion of the worst level of drought conditions—"exceptional"—into Northern California over the last week.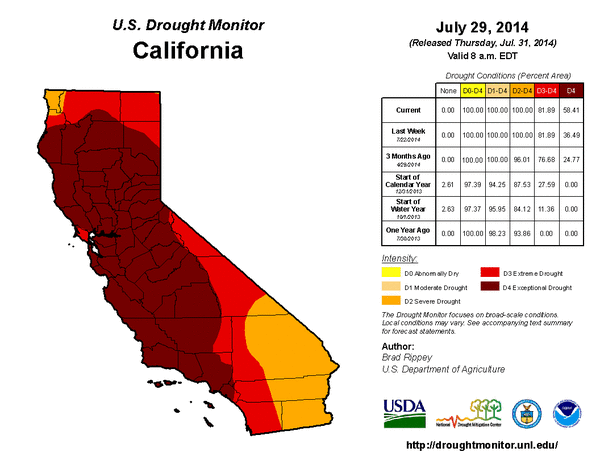 According to Brad Rippey, author of this week's Drought Monitor report, the drought is creating lasting consequences. "California is short more than one year's worth of reservoir water, or 11.6 million acre-feet, for this time of year." For perspective, 11.6 million acre-feet of water is equivalent to 3.8 trillion gallons—enough to provide eight glasses of drinking water per day for everyone on Earth for three years. That's a lot of water.
The news comes after California announced statewide fines associated with water waste earlier this week, after earlier voluntary measures proved ineffective. From Time:
The new rules—the first statewide curbs on water use since the current drought began nearly three years ago—can lead to fines of up to $500 per day for using a hose to clean a sidewalk, running ornamental fountains that do not recirculate water and other wasteful behaviors.
Should the drought get even worse over the coming months—which it may, now that a super strong El Niño is off the table—there isn't any room left to upgrade it now that the official drought scales are maxed out. The painful phase of this drought has begun. It's time for sacrifices.
Farmers: You've had your chance. It's time to submit to restrictions on groundwater pumping, if only to ensure your future survival in the state. Cities: Prepare to pay more for food as a result. It's a best-case tradeoff in a worst-case scenario.
The alternative is ugly: hordes of San Francisco hipsters invading stodgy Marin County, the last bastion of sub-exceptional drought.
Future Tense is a partnership of Slate, New America, and Arizona State University.