Manila Braces for Direct Hit From Dangerous Typhoon

One of the biggest cities in Asia is hours away from a direct typhoon hit.
Typhoon Rammasun—a Siamese word meaning "thunder god"—made landfall in the eastern Philippines late Tuesday local time, with sustained winds of 125 miles per hour. A video posted on Facebook from Sorsogon City—near the point of landfall—showed an intense scene.
On Wednesday, the storm will approach Manila as a slightly weaker typhoon. Rammasun—called Glenda in the Philippines—is quite likely the strongest storm to hit the capital since 2006, when the one-two punch of Xangsane and Durian killed hundreds. Thousands of families were evacuated this week from high-risk areas across the country as Manila—which is about the size of New York City—braced for an impact that could prove to be one of the costliest storms in Philippine history.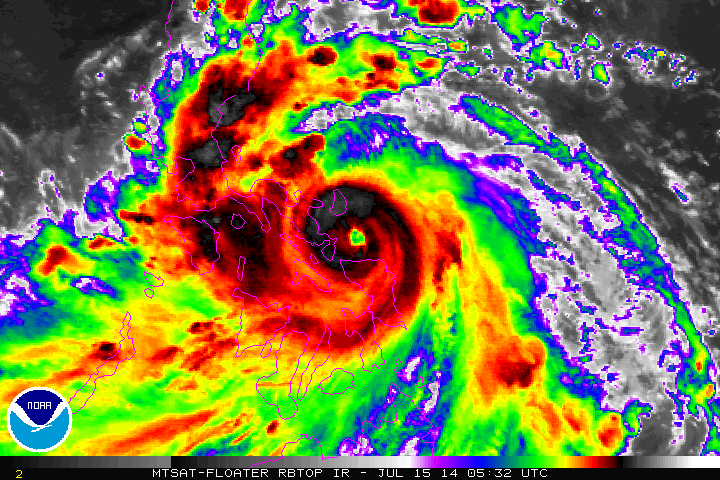 By Wednesday, a foot of rain is possible in Manila, prompting fears of urban flooding and mudslides. PAGASA, the Philippine weather service, predicts coastal storm surge exceeding 10 feet. The agency has placed metro Manila in a Signal 3 warning, the country's highest typhoon warning.
After its impact in the Philippines, Rammasun is expected to rapidly re-intensify and make a second landfall late this week in the Hainan Province of China, and a third landfall this weekend near Hanoi, Vietnam.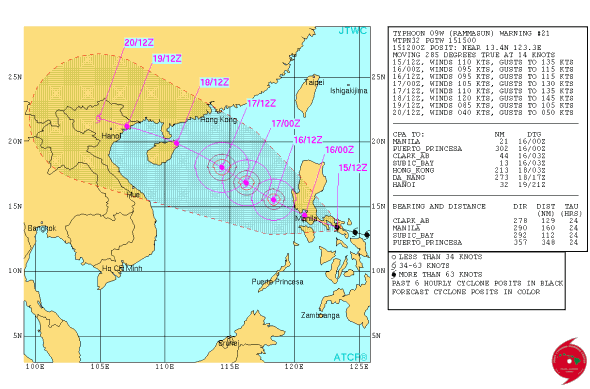 Rammasun is the first typhoon to make landfall in the Philippines since Haiyan last year. Haiyan's landfall in the central part of the country was the strongest ever recorded anywhere on Earth, and its 30-foot storm surge was likely the highest on record for anywhere in Asia. Hundreds of families still living in tents were evacuated earlier this week in preparation for Rammasun's landfall.
Manila is already known for its vulnerability to flooding, which is expected to worsen in the coming decades. As global warming brings rising seas, there are fears the city is sitting at the front lines of future catastrophe. A major U.N. report earlier this year mentioned a link between frequent Philippine typhoon strikes and a reduced ability to adapt to climate change. From the Guardian:
Tens of thousands of people in Manila live in shanty towns that are in the way of the floods. These people will be the most vulnerable. What the IPCC report means is that those areas that are not already flooded when it rains heavily will be in future. Everything will become more extreme. Subsidence will be exacerbated, high temperatures will become unbearable. These days 32C (90F) is common and lots of people still do not have fridges—so food will go off. Climate change will slow down economic growth, further erode food security, trigger new poverty traps and create hotspots of hunger.
Yeb Saño, the Philippines' lead climate negotiator, made headlines last fall when he launched a hunger strike at the U.N. climate summit in protest of continued global inaction on global warming, just hours after Haiyan's landfall.
Future Tense is a partnership of Slate, New America, and Arizona State University.