Netizen Report: Cuba Accidentally Makes U.S. Government-Backed Websites Available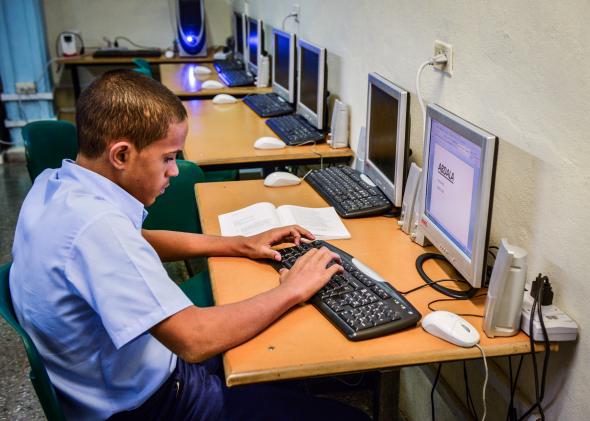 Global Voices Advocacy's Netizen Report offers an international snapshot of challenges, victories, and emerging trends in Internet rights around the world. This week's report begins in Cuba, where authorities unblocked access to a number of websites on June 19, including the sites of U.S. government-led news outlets Radio and TV Martí. But this appears to have been a technical error—the blocks were restored within a day. Established as part of Cold War era efforts to push "objective" news to the island, the Marti radio and television network signals have been blocked on the island since their inception in 1980. It was thus no surprise that the Cuban government chose to block their websites when they came online. Also briefly available was Revólico, a Cuban site much like Craigslist where Cubans regularly (using proxy servers and phone, with help from family in other countries) buy and trade services and tech hardware.
Researchers at Citizen Lab found that the filters placed on the Internet in Iraq are at best ineffective and at worst counterproductive. They tested 1,358 URLs and found that none of the 20 sites that are believed to be associated with the insurgent group ISIS were blocked.
Thuggery: Nine Ethiopians and one Tajik remain behind bars
The investigation into the arrests of nine journalists—including six members of the Zone9 blogging collective—appears to be delayed, after a judge ruled in a hearing on June 14 that police would be given more time to investigate. The cases of three of the detained bloggers—Mahlet Fantahun, Befekadu Hailu, and Abel Wabella—are being handled separately for reasons that are unclear. Their next hearing will take place on June 28.
University of Toronto researcher Alexander Sodiqov, who disappeared in Tajikistan on June 16, was allegedly brought before local state television to appear in a heavily edited video in an attempt to discredit him. Reports from an anonymous resident [link in Russian] that were published by the independent Tajik news agency Asia-Plus suggest Sodiqov is being used to discredit opposition party member Alim Sherzamonov, with whom Sodiqov was allegedly speaking at the time of his arrest.
Six students from and the principal of India's Government Polytechnic College at Kunnamkulam were arrested on accusations of defamation and provocation with intent to cause riots after they published a controversial critique of the country's new prime minister, Narendra Modi, in a college magazine. The students and principal were released on bail. Police confiscated the 400 copies of the publication that had yet to be distributed.
Surveillance: U.K. fesses up on social media spying
The British government's most senior security official, Charles Farr, admitted that the government monitors searches on Google, Facebook, Twitter, and YouTube, including those in supposedly private channels like direct messaging. In his defense of the program, Farr claimed that because the searches involve communicating with servers located outside the U.K., they are deemed external communications that do not require a warrant for interception.
Industry: Twitter a flutter in Russia, Pakistan
Twitter restored access to a series of tweets it had previously removed using its Country Withheld Content tool. The tweets were originally removed on May 18 at the request of the Pakistani government, which claimed they were "blasphemous" or "unethical," according to Chilling Effects. A spokesperson for Twitter said the tweets were reauthorized "in the absence of additional clarifying information from Pakistani authorities."
After a meeting with Russian authorities in Moscow, Twitter executives did not agree to block 12 accounts deemed "extremist" by the Russian government, despite suggestions to the contrary in the lead up to the visit. According to tweets from Twitter's public policy team, the meeting was "productive" and conversations will continue.
Netizen Activism: #LeyTelecom protests continue in Mexico
Mexican citizens have launched a number of acts of protest against a proposed telecommunications law [link in Spanish] that would violate net neutrality, codify censorship, and require service providers to collect and retain user data. Initiatives include a symbolic human chain across Mexico City (#NoMásPoderAlPoder), online protests coinciding with the World Cup under the hashtag #CascaritaXlaPatria, and an alternative technical proposal to the law.
Egyptian rights groups joined together to take a stand against encroaching government surveillance, filing a lawsuit aimed at halting the government's plan to procure social media monitoring software. Described by the Ministry of Interior as a "public opinion measuring system," the software would help "monitor, list, analyze, execute, support, confront, and refute … destructive ideas," such as blasphemy, libel, sarcasm, inviting demonstrations, and spreading rumors.
Future Tense is a partnership of Slate, New America, and Arizona State University.