Dangerous Derecho May Strike Midwest This Evening

The National Weather Service is cautioning that the "potential will exist for a progressive derecho" this evening across the Midwest. It's the greatest threat from this year's severe-storm season since a four-day tornado outbreak in April.
In its midday update, the Storm Prediction Center mentioned this was a "relatively high confidence forecast" and noted a possible upgrade to "high risk" later in the day.​
A derecho is a type of self-sustaining complex of thunderstorms known for its ability to produce impressive straightline (read: non-tornadic) wind damage, knocking down trees and power lines in the process. In an extreme case, tonight's storms may move hundreds of miles towards the Ohio Valley during the overnight hours, with occasional wind gusts exceeding hurricane force (74 mph). Another round of thunderstorms may target the East more directly on Wednesday evening, with models showing a large arcing swath of nastiness from Kansas to the Carolinas, extending northward to New York City and New England.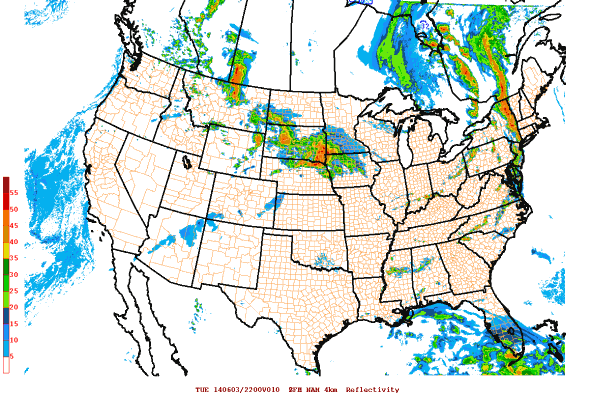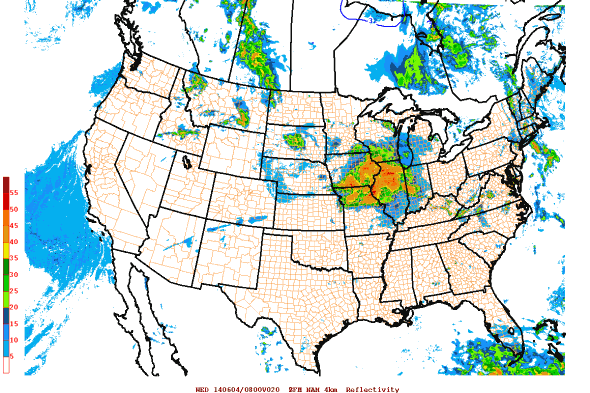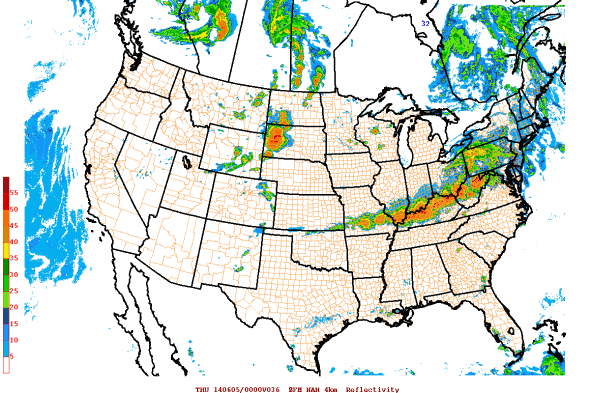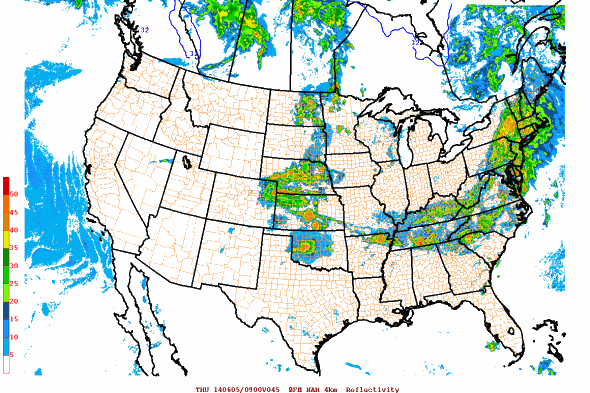 The latest high-resolution version of the NAM model run is showing an area of eastern Nebraska to southern Iowa with wind gust potential exceeding 80 mph from around 7p.m. to midnight this evening, though the storms fizzle out after that somewhat.
You can watch that event start to finish via an impressive radar timelapse:
As the Washington Post's Jason Samenow explains, a record-setting heat wave preceded that event, helping to fuel the wicked storms by providing a continuous supply of hot and humid air along the leading edge of the rapidly progressing storm system. The setup for this week's storms isn't nearly as textbook, but "derecho forecasting remains one of the most challenging tasks facing operational meteorologists today," according to the Storm Prediction Center (whose job it is to forecast them).
Many progressive derechos, in fact, arise in a manner that might best be described as a form of "atmospheric boot-strapping," wherein seemingly random interactions between individual thunderstorm cells—or a loosely organized group of cells—sometimes lead to a much larger, more strongly-organized system.
That sounds like a good premise for a sci-fi book: In a derecho, sometimes the atmosphere spontaneously organizes itself into monstrous death machine capable of wreaking havoc over thousands of square miles. Considering this apparently isn't actually that far from the truth, we'd probably do good to keep an eye to the sky today.
Future Tense is a partnership of Slate, New America, and Arizona State University.