Thanks to a "Rex Block," Winter Is Staying Put in the East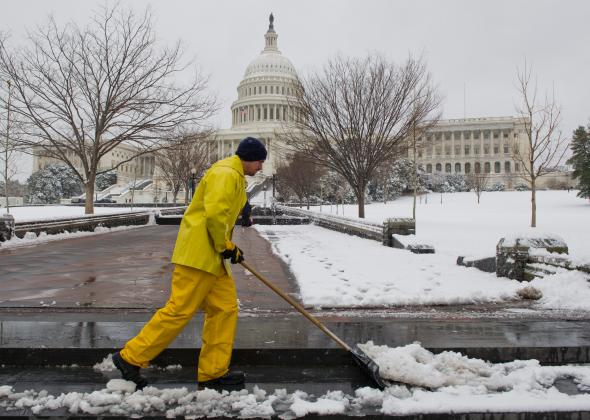 At least that's what the weather models are saying. It's looking increasingly likely that an exceptional late-season Arctic blast will hit in just a few days, adding to the winter fatigue East of the Rockies.
The NOAA Weather Prediction Center is calling it "an interesting late cold season weather pattern." By this time next week, I'll bet some people will be choosing slightly more colorful adjectives.
The forecast shows a "Rex Block"—named after the first meteorologist to crack this particular pattern—currently forming off the West Coast. Blocking patterns are pretty much what they sound like: quasi-stable arrangement of high and low pressure centers that join forces to gum up the works of the atmosphere, freezing in place—and in some cases, amplifying—the weather du jour. In this case, winter.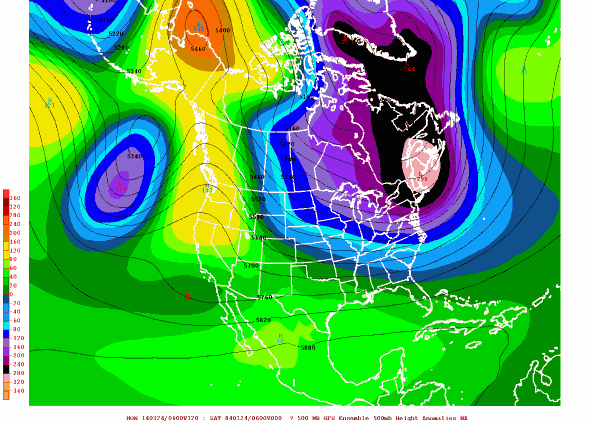 Here's what's happening: High pressure over Alaska—part of the Rex Block—is forcing the jet stream from Siberia up and over the North Pole. That's opening the flood gates for extremely cold air to spill southward out of the Arctic and in through the cracks in your bedroom window. A stable low pressure over the Pacific—the other part of the Rex Block—is acting like an anchor to keep the whole thing in place.
The upcoming pattern is a twist on the "ridiculously resilient ridge" that recently plagued North America for months, plunging California into historic drought. In addition to locking the East into (at least) another week of winter, Rex Blocks in the past have been known for their ability to ignite hot and dry Santa Ana winds. Should the pattern drift farther south, that could turn drought-stricken California into a playground of wildfires. Thankfully, that scenario isn't likely this time around.
However, blocking patterns like this one are also known for their fickle behavior. They could stay in place for three days or 13 days (or more). The most we know right now is that, back East, winter is going nowhere fast.
For now, short-term cold and snow will peak between Monday and Thursday, but could last at least into early April. The good news is, eventually, summer will make it too warm to snow (at least in theory).
And don't get too excited, climate change deniers: Despite the East Coast chill, globally averaged temperatures are still expected to be warmer than normal over the coming weeks. There's really nothing incredibly unusual about an early spring snowstorm on the East Coast, though the cold weather could set a few daily temperature records.
The meteorologists at NOAA's Weather Prediction Center break down this pattern's implications for the United States over the next week:
At the very least, potential exists for unusually far southward extent of some wintry precipitation for late March ... given cold sector temperature anomalies of 10-25 degrees Fahrenheit below normal. At the very most the potential exists for southern/northern [jet] stream interaction to form a late season Midwest to Eastern U.S. winter storm by Tuesday/Wednesday.
Here's what the coming cold air looks like, in map form:
And, of course, it looks like more snow could be on the way, too. If all goes according to what by now can only be considered a deliberate plan by North Pole elves as delayed retribution for Hulk Hogan's 1996 movie Santa With Muscles, we could have quite a snowstorm on our hands:
Thanks in part to the Rex Block, subfreezing weather is now expected next week all the way south of Raleigh, N.C.—site of the most epic winter photo so far this year—nearly a full week after the official first day of spring. Mother Nature, that is just not OK.
In probably the most depressing bit of statistical research I've ever done, I looked up just how cold next week's weather will be, compared to the long-term average. In most cases, high temperatures will be colder than typical lows for late March, and low temperatures will be around what's commonly found in mid-January.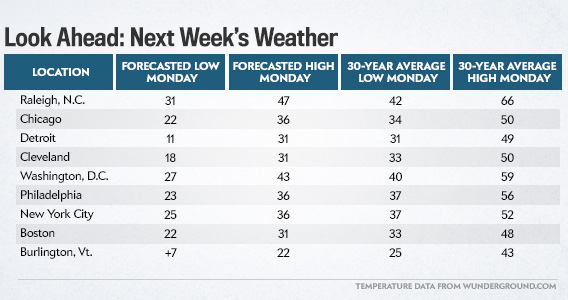 But there's hope: eventually summer will come. Snow in May (editor's note: MAY???) is rare across the Eastern U.S., but it does happen. This week's springtime Arctic outbreak is not unprecedented, as bad as it may seem when you're shoveling your sidewalk for the umpteenth time.
To guarantee yourself finally free from this dreaded winter, here are your magic dates: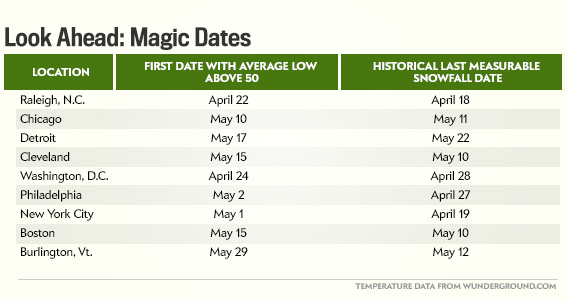 That's right: New York City could still have snow a month from now.
Future Tense is a partnership of Slate, New America, and Arizona State University.