Facebook No Longer Limits Your Gender to "Male" or "Female"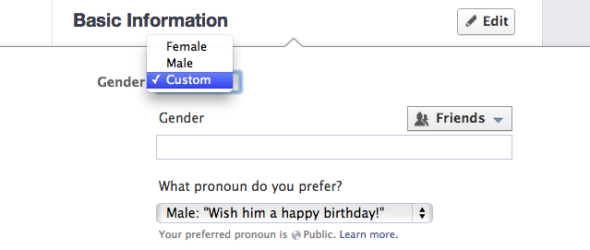 For years Facebook has offered its users two options for declaring their gender on the social network: male and female. Now there's a third option, or rather, set of options. Choose "custom" from the drop-down menu, and you can select from a list of some 50 options, from "agender" and "androgyne" to "trans female," "trans male," "trans person," and "two-spirit."

Facebook further asks users what pronoun they prefer: "her," "him," or "them." And it allows you to apply custom privacy settings to your gender information, so that you can share it, say, only with your friends, or with your friends minus acquaintances.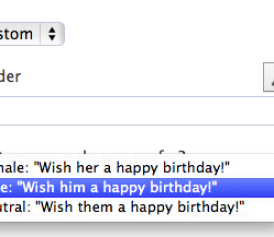 The company announced the change today, and it appears to be effective immediatley. The AP's Martha Mendoza has full coverage. From her story:
"There's going to be a lot of people for whom this is going to mean nothing, but for the few it does impact, it means the world," said Facebook software engineer Brielle Harrison, who worked on the project and is herself undergoing gender transformation, from male to female. On Thursday, while watchdogging the software for any problems, she said she was also changing her Facebook identity from Female to TransWoman.
"All too often transgender people like myself and other gender nonconforming people are given this binary option, do you want to be male or female? What is your gender? And it's kind of disheartening because none of those let us tell others who we really are," she said. "This really changes that, and for the first time I get to go to the site and specify to all the people I know what my gender is."
Future Tense is a partnership of Slate, New America, and Arizona State University.