Infographic: How the Government Exaggerated the Successes of NSA Surveillance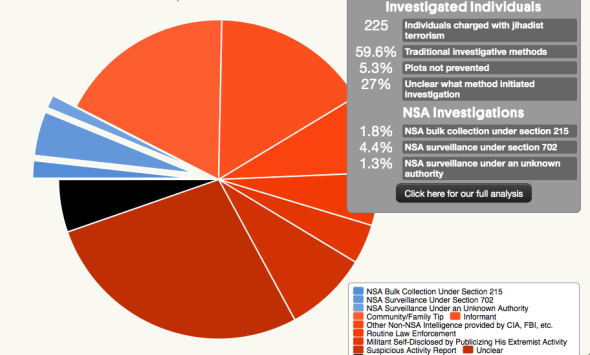 This post originally appeared in New America's Weekly Wonk.
At first, the U.S. government's response to the leaks by Edward Snowden fit in a simple phrase: At least 50 threats averted. That's how President Obama defended the National Security Agency's bulk data collection and surveillance programs back in June 2013. NSA Director Gen. Keith Alexander echoed the president in July, crediting the controversial system with thwarting "54 different terrorist-related activities." A slew of representatives cited that figure, too.
But as time has gone on, things have gotten a little more complicated. Turns out, that number was exaggerated—according to a new report and website that shows the NSA's bulk surveillance programs have had a negligible impact in preventing terrorism in the United States.
The report, released by New America's National Security Program, is an in-depth analysis of 225 individuals recruited or inspired by al-Qaeda or like-minded groups and charged with a terrorism-related crime since 9/11. (Future Tense is a partnership of New America, Slate, and Arizona State University.) It notes that the contribution of the NSA's bulk surveillance programs to these cases was minimal compared with more traditional law enforcement methods, which initiated the majority of cases. The report also found that the collection of American phone metadata has had no discernible impact on preventing acts of terrorism and only the most marginal of impacts on preventing terrorism-related activity, such as fundraising.
But wait, there's more! In addition to presenting its NSA surveillance findings, the National Security Program remodeled its database of homegrown extremists so it's cleaner and easier for researchers, experts, and journalists to use. Click the infographic above to explore the full site.
Future Tense is a partnership of Slate, New America, and Arizona State University.