Come Watch Jaws With Shark Lovers: A Future Tense Event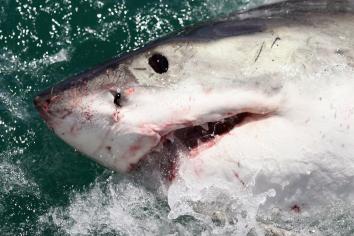 Steven Spielberg's 1975 classic Jaws may have scared a generation out of the water, but it also inspired kids to learn about the ocean and seek to protect the creatures that live there.
That's why Future Tense—a partnership of Slate, the New America Foundation, and Arizona State University—will be screening Jaws on Tuesday, Nov. 19, at 6:30 p.m. at Washington, D.C.'s Landmark E Street Cinema at 555 11th St. Our hosts for the evening will be Nancy Knowlton—the Sant Chair for Marine Science at the Smithsonian's National Museum of Natural History, the winner of the Peter Benchley Award and the Heinz Award, and nominated member of the American Academy of Arts and Sciences and the National Academy of Sciences—and Wendy Benchley, ocean conservationist and president of the Board of Directors of Shark Savers.
If you would like to attend, RSVP to futuretensedc@gmail.com with your name, email address, and any affiliation you'd like to share. You may RSVP for yourself and up to one guest, and please include your guest's name in your response. Seating is limited, so email now to get in on this opportunity to see Jaws in theaters.
This is an installment of Future Tense's "My Favorite Movie" series. Each screening features a leading voice from the realm of science and technology sharing a favored film that can help guide the way we think about the future. Keep an eye on the Future Tense blog and Twitter feed to learn about our all our upcoming events.
Future Tense is a partnership of Slate, New America, and Arizona State University.