Snowden's Email Provider Says Feds' Demand Would've Forced "Massive Commercial Fraud"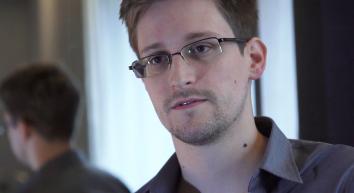 The email service used by NSA whistle-blower Edward Snowden has launched its court fight against the government's surveillance demands.
Attorneys representing Texas-based email company Lavabit filed their opening brief in a case that is believed to be linked to the Justice Department's investigation of Snowden. Back in August, the feds tried to force Lavabit's founder Ladar Levison to turn over private encryption keys to gain access to communications securely stored on his servers. Instead of complying with the demand, which Levison believed could have threatened the privacy of all of his more than 400,000 users, he took the extraordinary step of closing down his service altogether, issuing a cryptic statement saying that he would not be "complicit in crimes against the American people."
Advertisement

Levison was found in contempt of court for his actions. But now he is attempting to fight that charge and get the government's snooping demand deemed unlawful. In the brief filed in the 4th Circuit Court of Appeals Thursday, Levison's attorneys say the surveillance demand was unconstitutional and would have forced him to commit "massive commercial fraud" on his customers and business partners "by lying to them about the security of services that were purchased because of their security." Levison alleges that the government tried to put him under a gag order whereby he would not have been able to inform his customers, business partners, or relevant cryptographic authorities that his encryption keys had been compromised by the government. His defiant stance contrasts with the level of compliance shown by Internet giants such as Microsoft on the issue of helping the government secretly circumvent encryption for surveillance purposes.
Levison says he was willing to turn over information on the individual target's account—but he balked at the encryption key demand, because turning over the company's "cryptographic crown jewels" would have meant compromising all users. The government has claimed in its own legal filings in the case that it was only interested in one account. However, Levison's attorneys say that the feds were in fact keen to "rummage through" all accounts for information that could be related to the suspect who we presume was Snowden. The opening brief quotes the government's search warrant as stating that it wanted to "decrypt data in or otherwise associated with the Lavabit account." The "otherwise associated" in that sentence suggests that the government may indeed have been hoping to trawl through other Lavabit users' data on the hunt for information about Snowden.
The Lavabit case has put the spotlight on the practice of the feds attempting to obtain companies' encryption keys, and the outcome of Levison's appeal could set an important precedent for the controversial practice. As CNET reported earlier this year, whether the government has the authority to force companies to turn over master encryption keys is a sketchy legal area—but that hasn't stopped it from trying.
The government is expected to reply to Levison's brief by Nov. 4.
Future Tense is a partnership of Slate, New America, and Arizona State University.
TODAY IN SLATE
Medical Examiner
Here's Where We Stand With Ebola
Even experienced international disaster responders are shocked at how bad it's gotten.