That Viral Video About the Man With "Amnesia" May Be a Hoax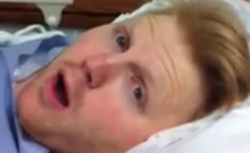 The Internet is ablaze over this video, purportedly showing a man named Jason Mortensen who's woken up from surgery and doesn't remember that the beautiful woman filming him is his wife of six years. It topped the front page of Reddit and has gotten a flurry of coverage from sites like by BuzzFeed and Gawker since then.

But here's the thing: it may not be real.
According to Dr. Larry Squire, a psychologist at the University of California-San Diego who specializes in memory impairment, there are basically two types of "amnesia": The first type, psychogenic amnesia, is a psychiatric condition that can involve retrograde memory loss, but isn't associated with surgery. The second, which is similar to Alzheimer's, can be caused by a loss of oxygen during surgery, but mainly leads to difficulty learning new information. Anaesthesia or oxygen deprivation can cause some retrograde memory loss, but it wouldn't wipe out six years of marriage. "It would not affect something so salient in a person's life," Squire says.

Other circumstantial evidence raises the BS factor on the video. One Reddit user found an old headshot of Mortensen from an audition website. This is the only video uploaded to Mortensen's YouTube channel, which employs the easy-to-remember username "UCx-PiDcTqvNUoyNHY5R7RIA". The video itself raises two questions: why would someone's wife be at the ready to film her husband's first moments of consciousness post-op? And would Mortensen really be wearing a hospital gown with a paw print on its front after recovering from hernia surgery?
This is the stuff of viral catnip, but coming off Jimmy Kimmel's well-executed "twerk fail" hoax, the Internet should take caution with plot lines straight out of a soap opera.

Future Tense is a partnership of Slate, New America, and Arizona State University.