Posted Monday, Jan. 14, 2013, at 1:29 PM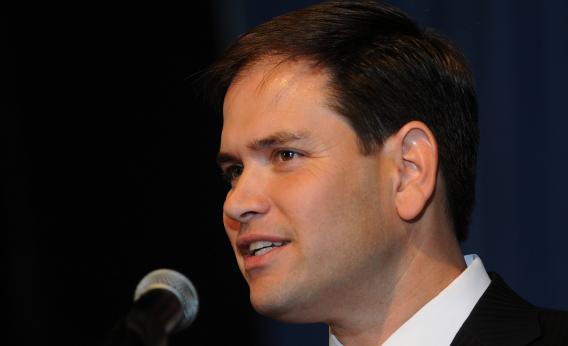 Which Republican will the New York Times mention the most in 2013: Marco Rubio (above), Jeb Bush, Chris Christie, or Paul Ryan?
Photo by Steve Pope/Getty Images
Which heads of state will find themselves out of a job in 2013? Will The Hunger Games: Catching Fire destroy the new adaptation of The Great Gatsby at the box office?
If you think you have a good idea what will happen in politics, culture, and business in 2013, now is your chance to show off. Enter the New America Foundation's fourth annual forecasting contest. (Disclosure: New America is a partner, with Slate and Arizona State University, in Future Tense.) With just 13 multiple-choice questions and a tie breaker, filling out the questionnaire will take only a few minutes—but it could earn you bragging rights (and perhaps a free meal) in early 2014. Entries must be received by Friday, Jan. 18, at 5 p.m. Eastern.