Let's Drink to Ray Guns: Join Us for a Future Tense Happy Hour on Directed Energy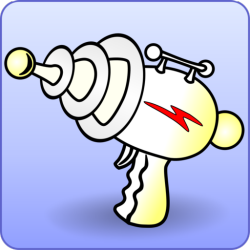 For decades, science fiction has imagined a future full of laser guns, heat rays, and other high-powered energy weapons. A stormtrooper's blaster rifle is still far from reality, but new "directed-energy weapons" like the U.S. military's Active Denial System are bringing a nascent form of sci-fi weaponry to the battlefield.
Want to learn more about this emerging technology and what it means for society? On Tuesday, Jan. 15, at 6 p.m. in Washington D.C., Slate, the New America Foundation, and Arizona State University will host a Future Tense happy hour. Featured in conversation are Spencer Ackerman, national security reporter for Wired magazine's Danger Room blog, and Werner Dahm, director of ASU's Security and Defense Systems Initiative and former chief scientist of the U.S. Air Force.
If you'd like to attend, please email futuretensedc@gmail.com with your name, location, and any affiliation you'd like to mention. You can RSVP for yourself and one guest. Unfortunately, only a limited number of tickets are available. If you receive one, we'll let you know and send you the event address.
Still not sure what directed-energy weapons are? Watch Spencer get zapped with the Active Denial System.
Future Tense is a partnership of Slate, New America, and Arizona State University.