In Praise of Archery Announcer George Tekmitchov, the Unsung Hero of the London Games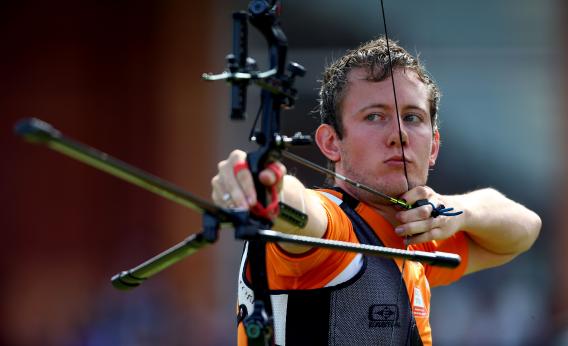 Yesterday, I asked which overlooked Olympics story I should feature in my last Five-Ring Circus blog entry. The people have spoken, and the answer is: not cannon shooting. Instead, I will profile the unsung hero of the London Games, the great George Tekmitchov.
You might not know Tekmitchov's name, but if you watched any of the archery events, you know his voice. Tekmitchov, an American who works as an engineer for Hoyt Archery, was working his sixth consecutive Summer Games as the stadium announcer for men's and women's archery. Equal parts commentator, instructor, and hype man, he embodied everything that makes the Olympics great.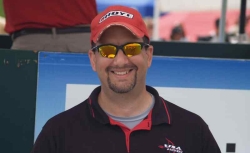 During the first week of the Olympics, when my excitement hadn't yet mutated into exhaustion, I would get up early to watch the live online archery feed. There were no NBC announcers on the feed, so all you heard was the ambient noise and the energetic, knowledgeable Tekmitchov, who maintained a running commentary from the booth as if he were auditioning for a job on SportsCenter.
At first, his announcing seemed really out of place, as if he had gotten lost on the way to a monster truck rally. I kept imagining some little old lady from London waking up early to go see archery because they were the only tickets she could get. Once she settled into her seat, she'd be jolted out of it by Tekmitchov's booming baritone yelling out the score—Eight! Ten! TEEEEENNNNNNNN!—over and over again. But the more I listened, the more I liked his style.
Archery isn't the most dynamic sport to watch in person. You're sitting in the bleachers watching undemonstrative archers shoot at targets that you can't even see. But Tekmitchov—and his occasional partner, an English guy who was also very excitable—made a point of enlivening the proceedings. He was helpful, as in this clip where he explains the rules that apply when an archer shoots a "liner":
He was gracious, praising the host country every chance he could get:
He introduced the archers with a flair not often seen outside of NBA games:
And his victory calls were the best in London:
Most of all, I know that he did a great job at getting me interested in a sport that I really didn't know all that much about. This is a man who's really enthusiastic about a pastime that's not very popular in America. And every four years he pops up on the international stage, gives voice to his enthusiasm, and then goes back home to his normal life. To me, that's what the Olympics ought to be about—good-natured, heartfelt amateurism, and startling little old ladies with the sound of your voice. So well done, George Tekmitchov. You're my Olympic hero. (Well, you and that really old Bulgarian gymnast who competed on Ninja Warrior.) I'll see you in four years.