My Olympic Hero: Iordan Iovtchev, 39-Year-Old, Gray-Haired, Ninja Warrior-Attempting Bulgarian Gymnastics Legend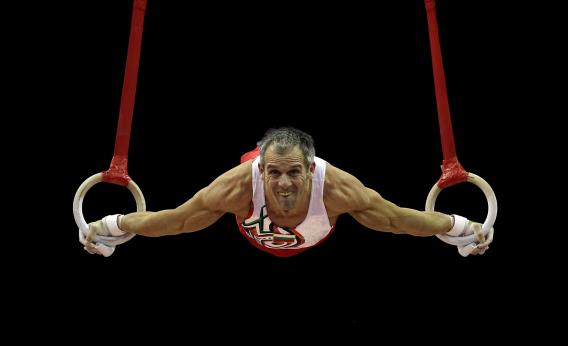 Let's take a minute to salute Iordan Iovtchev, the Bulgarian gymnast who on Saturday earned the eighth and final spot in the men's rings final. Iovtchev, who took silver on the rings in 2004 and bronze on the apparatus in 2000, is competing in his sixth Olympics, more than any gymnast in history. He's 39 years old and looks it: His hair is gray, his face is lined, and he bears an uncanny resemblance to the guy who plays Toby Flenderson on The Office. When he mounted the rings, it seemed for all the world like he was some random dude who had collected a bunch of box tops and won an "Appear in the Olympics for Bulgaria" contest. But Iovtchev turned in a patient, impressive routine, showing great strength as he held his body in poses alternately parallel and perpendicular to the ground. The judges awarded him a score of 15.308, a figure that nobody understands because gymnastics scoring is extremely confusing. Whatever it meant, it was good enough to beat out 60 other, younger gymnasts and advance to next week's medal round.
While Iovtchev is hardly the oldest athlete in London, most of the men and women who are older compete in the kind of sports that involve standing still and riding on top of other, healthier mammals. (One exception: Luxembourg's 49-year-old table tennis player Ni Xia Lian, who lost to America's ping pong sweetheart Ariel Hsing on Sunday.) Emanuele Guidi, a 42-year-old from San Marino, is an archer. Sixty-one-year-old Joan Tomas Roca, Andorra's flag bearer in the opening ceremony, is a trap shooter who first competed at the Montreal Games in 1976. Andrei Kavalenka, from Belarus, is also a trap shooter. He's 57 years old and looks like Kaiser Wilhelm. (Maybe he is Kaiser Wilhelm.) The equestrian events are littered with old people: Australia's Mary Hanna (57), Denmark's Anne van Olst (50), America's Jan Ebeling (53), and my other personal hero, the 71-year-old Japanese rider Hiroshi Hoketsu, who is nicknamed "The Hope of Old Men."
It's almost unheard of, though, for an older Olympian to remain a top contender in a sport that requires sustained aerobic activity. American swimmer Dara Torres made headlines in 2008 when, at age 41, she won three silver medals in Beijing. But Torres had a lot of financial and institutional support underwriting her dream. Iovtchev apparently is men's gymnastics in Bulgaria. He has said that his continued Olympic participation is the only thing keeping the Bulgarian men's gymnastics infrastructure active.
Gymnastics is a young person's game. Just ask 22-year-old Nastia Liukin and 20-year-old Shawn Johnson, the Beijing gold and silver medalists, who are now retired and over the hill. Though male gymnasts can hang on longer than the women, the sport still requires the sort of flexibility and muscle control that disappears with age. In 2001, Iovtchev was strong and flexible enough to make a run to the finals of the grueling Japanese obstacle-course game show Ninja Warrior. ("He will use his chiseled body as a weapon to destroy the third stage," the play-by-play announcer correctly predicted.)
When he returned to Ninja Warrior in 2010, a much grayer Iovtchev didn't make it past the first round after climbing a rope ladder too slowly. Ah, the ravages of age.
Though he may now be too old for weird Japanese game shows, Iovtchev—who is more than twice as old as the fifth-place rings competitor, Russia's Denis Ablyazin—is still strong enough for the Olympics. Though you wouldn't have known it to watch him Saturday, he has admitted that his entire body is in pain—his biceps is "halfway torn" and his wrist is "halfway broken." Most impressive of all, he stayed out until 3 a.m. the night before he was scheduled to compete. (No word on whether, in a savvy veteran move, he spent that time blowing an air horn into the dorm rooms of his gymnastics rivals.)
Iovtchev will compete in the rings finals on Aug. 6. He probably won't medal. Regardless, I'll be watching, and cheering, and hoping he doesn't dislocate a shoulder.