A Blog About the Olympic Games
ESPN's Lack of Coverage of the Paralympics Is Totally Indefensible
If you went to ESPN.com on Thursday evening, you wouldn't even know that Oscar Pistorius exists. In the hours after the race, there were no items about Pistorius on the site's front page. (Among the top headlines: "Jets' owner: Circus label is driven by media," "Holmes: Tebow deal initially floored Sanchez," and "3rd-grader sent home for banned Peyton jersey.") This wasn't an atypical omission: There was no indication on the front of ESPN.com that the Paralympics were happening at all. To find the results of the 100-meter dash, you had to mouse over the "More Sports" flyout menu, then click on "Olympic Sports." At the top of that page is a headline—"Pistorius surrenders another Paralympic title"—that leads to a 100-word wire story. The Blade Runner, it turns out, came in fourth.
ESPN's decision to ignore the Paralympics is perhaps less shameful than TV rights holder NBC's move not to broadcast any of the games live. But ESPN's lack of coverage is still indefensible. There is no full-time ESPN staffer—online, radio, or television—in London to cover the world's second-largest sporting event (4,200 athletes, 165 countries). The Worldwide Leader essentially defines what is and isn't sports news in this country, and the company's call to disregard the Paralympics has relegated the event to eighth-tier status.
Rob King, the editor-in-chief of ESPN Digital Media, says he believes that ESPN is "honoring the event." He notes that there are nightly highlights on ESPN3 and Paralympics images in online photo galleries. David Wetherill's amazing table tennis shot also made the top spot in the SportsCenter Top 10. When it comes to parceling out coverage, King says you have to consider what the Paralympics are going up against: the start of college football and the NFL, the U.S. Open, the baseball pennant races, and NASCAR's Chase for the Sprint Cup. "We're making decisions all the time about things we deliver that can be excellent rather than just check the box," he says. "We had to look at when the Paralympics were happening and where we can deploy folks."
Even if it's unrealistic to expect ESPN to be the all-knowing and all-seeing Sports Panopticon, it's fair to demand more than what we've gotten from the media giant. The Washington Post had a great feature on a swimmer named Bradley Snyder who won gold in the 100-meter freestyle after losing his eyesight in a bomb blast in Afghanistan. The Guardian has a compelling interactive on the physics of running on blades. And most news outlets in the United States and abroad have run something on "boosting," the terrifying practice in which athletes with spinal injuries harm themselves—that can include intentionally crushing their own testicles—in order to boost their heart rates and enhance performance. By comparison, ESPN has had no features on the triumphs of unknown Paralympians, no interactives, and nothing on boosting.
ESPN shouldn't feel compelled to cover the Paralympics out of a sense of responsibility or do-gooderism. It's also understandable that there'd be less coverage of the Paralympics than the Olympics—we've made the same editorial decision here at Slate. And the network surely faces coverage challenges on account of its limited access to video highlights, which have been parceled out primarily to NBC.
But outright neglect is not a legitimate journalistic strategy. Given the scope and importance of the event, the athletes' remarkable stories, and the fascinating cultural and technological angles, ESPN surely could have spared a single blogger to cover the Paralympics. It could have asked Wayne Drehs, who wrote a bunch of great features during the Olympics, to stick around London, or perhaps sent Wright Thompson or some other longform wizard to do a couple of long takeouts on Paralympians. And at the very least, someone could have taken the five minutes to create a Paralympics topic page and a standing link on the site's front page.
In the meantime, the Paralympics blackout has continued this morning, with no content from the games on the home page. Even on that hard-to-find Olympic Sports page, the Paralympics have been completely buried. The splash image at the top of the screen advertises a piece on Allyson Felix's "four tips for a successful fitness regimen." A wire story on Pistorius' 200-meter contretemps is in the fourth position in that top promotional box. After this Sunday, the last day of the Paralympics, that story will likely disappear entirely. ESPN.com readers won't miss it. Why would they, considering they never knew it was there in the first place.
Did You See This? The Greatest Shot in the History of Paralympic Table Tennis
On Friday, Great Britain's David Wetherill matched up against Thomasz Kusiak of Germany in the preliminary rounds of Paralympic table tennis. In the fourth game of the best-of-five match, Wetherill pulled off what was surely the shot of the tournament.
The 22-year-old Wetherill suffers from multiple epiphyseal dysplasia, a congenital disease in which cartilage ossifies. As a result, he plays in Class 6 of the Paralympics table tennis tournament, which is reserved for players with "severe impairments of legs and arms." (The divisions for physically disabled athletes go from Class 1—"no sitting balance with severe reduction of function in the playing arm"—to Class 10—"very mild impairments in legs, or very mild impairment of playing arm, or severe to moderate impairment of non-playing arm, or moderate impairment of the trunk." Class 11 is for intellectually disabled athletes.)
Oscar Pistorius, Accused of "Racing Tall" in 2004, Now Says His Paralympic Rival Has an Unfair Height Advantage
Pistorius' expected coronation in Sundays final did not go as planned. After taking a huge lead in the backstretch, the South African was overtaken by Brazil's Alan Oliveira.
In an interview immediately after the race, Pistorius said Oliveira had an illegal leg up. "Not taking away from Alan's performance—he's a great athlete—but these guys are a lot taller and you can't compete [with the] stride length," Pistorius said. Fellow South African Arnu Fourie, who finished in fourth place, agreed. "Ask anyone out there—does it look out of proportion?" Fourie said. "I think 99 percent of people are going to tell you, 'Yes it does.' "
Allegations of amputees running on unnaturally long legs aren't new in the Paralympics. Back in 2004, Pistorius himself stood accused. In a story for Slate, Felix Gillette wrote that American sprinters Marlon Shirley and Brian Frasure believed Pistorius, then just 17 years old, was "racing tall"—that a "growth spurt" right before the 2004 Paralympic Games in Athens added two inches to his legs. Though Gillette was unable to reach Pistorius, who "was unavailable for comment because he was studying for his high school's final exams," his father Henke "called the allegations 'a bunch of bull.' "
These sorts of controversies are inevitable when bilateral amputees strap on racing legs. Pistorius' lower legs were amputated when he was an infant, so estimates of his natural height are necessarily inexact. In such cases, the International Paralympic Committee determines the maximal permissible leg length using a formula that takes into account the runner's wingspan and the length of his ulna. (The entire process is spelled out on pages 45-47 of the IPC's rules and regulations.)
Oliveira claims that, according to the formula, he's allowed to race at a height of up to 184.5 centimeters (just more than 6 feet). Three weeks ago, he says, he added four centimeters to his legs, making him 181 centimeters tall. "The coaches and I decided to try a higher blade," he told the Guardian. "I tried the new height for the first time last year and it was difficult to get used to them. I decided to try them again earlier this year and it went a little bit better. Three weeks ago, we decided to really go for it."
Pistorius takes issue with both the leg-height formula and its implementation. "The [International Paralympic Committee] have their regulations. The regulations [allow] that athletes can make themselves unbelievably high," Pistorius said after losing on Sunday. "If you look at videos from last year, Alan was shorter than me but now he's taller than me," he explained, arguing that Oliveira and bronze medalist Blake Leeper of the United States (who he also called out as a leg lengthener) should be forced to pick a height and stick with it.

After the race, the IPC released a statement defending its procedures, saying that "all athletes were measured today prior to competition by a classifier and all were approved for competition." Pistorius, though, claimed that "the guys rarely do the measuring in the call room." The insinuation: Oliveira might have swapped in longer legs when the judges weren't looking.
Regardless of whether there was any skullduggery, it seems that Pistorius is wrong about Oliveira out-heighting him. According to the Guardian, "Pistorius races at a height of 184 centimeters because he continues to use blades that are sanctioned for non-disabled competition, despite the fact that he could wear prosthetics that extended his height to 193 centimeters under the IPC rules." That makes the South African roughly an inch taller than his Brazilian rival when they're both wearing racing legs. Oliveira's lengthier faux limbs, though, have helped him close the height gap. On the medal stand, when both athletes are wearing non-racing prosthetics, Pistorius appears to be half a head taller than Oliveira.

There's an obvious irony in Pistorius complaining about someone else's carbon-fiber legs. In 2008, the sprinter was briefly prohibited from running against able-bodied athletes when the IAAF decreed (based on one poorly designed study) that his artificial limbs gave him an unfair advantage.
But just like the governing body that once banned him, it seems Pistorius is wrong on the science. In a blog post on the website The Science of Sport, Ross Tucker explains that it's Pistorius, not Oliveira, who had the stride length advantage. The reason the Brazilian won, finishing in 21.45 seconds compared to 21.52 for Pistorius, is that he had a faster stride rate—that he simply propelled his legs faster than the South African did. Amid all the controversy, one thing is clear: If Pistorius had run as fast in the final as he did when he set the world record in the first round, he would've won the gold medal.
In Praise of Archery Announcer George Tekmitchov, the Unsung Hero of the London Games
Yesterday, I asked which overlooked Olympics story I should feature in my last Five-Ring Circus blog entry. The people have spoken, and the answer is: not cannon shooting. Instead, I will profile the unsung hero of the London Games, the great George Tekmitchov.
You might not know Tekmitchov's name, but if you watched any of the archery events, you know his voice. Tekmitchov, an American who works as an engineer for Hoyt Archery, was working his sixth consecutive Summer Games as the stadium announcer for men's and women's archery. Equal parts commentator, instructor, and hype man, he embodied everything that makes the Olympics great.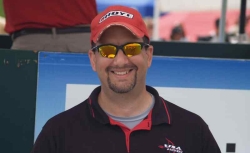 During the first week of the Olympics, when my excitement hadn't yet mutated into exhaustion, I would get up early to watch the live online archery feed. There were no NBC announcers on the feed, so all you heard was the ambient noise and the energetic, knowledgeable Tekmitchov, who maintained a running commentary from the booth as if he were auditioning for a job on SportsCenter.
At first, his announcing seemed really out of place, as if he had gotten lost on the way to a monster truck rally. I kept imagining some little old lady from London waking up early to go see archery because they were the only tickets she could get. Once she settled into her seat, she'd be jolted out of it by Tekmitchov's booming baritone yelling out the score—Eight! Ten! TEEEEENNNNNNNN!—over and over again. But the more I listened, the more I liked his style.
Archery isn't the most dynamic sport to watch in person. You're sitting in the bleachers watching undemonstrative archers shoot at targets that you can't even see. But Tekmitchov—and his occasional partner, an English guy who was also very excitable—made a point of enlivening the proceedings. He was helpful, as in this clip where he explains the rules that apply when an archer shoots a "liner":
He was gracious, praising the host country every chance he could get:
He introduced the archers with a flair not often seen outside of NBA games:
And his victory calls were the best in London:
Most of all, I know that he did a great job at getting me interested in a sport that I really didn't know all that much about. This is a man who's really enthusiastic about a pastime that's not very popular in America. And every four years he pops up on the international stage, gives voice to his enthusiasm, and then goes back home to his normal life. To me, that's what the Olympics ought to be about—good-natured, heartfelt amateurism, and startling little old ladies with the sound of your voice. So well done, George Tekmitchov. You're my Olympic hero. (Well, you and that really old Bulgarian gymnast who competed on Ninja Warrior.) I'll see you in four years.
How to Cash in on Your London Games Glory: A Guide for Endorsement-Starved Olympic Athletes
Congratulations! You've succeeded at your sport and are headed back to your homeland in prime shape to profit from your accomplishments. Be sure to strike quickly, though. Unless you are a swimmer, a gymnast, or a basketball player, your fame will fade. And even then, Olympic gold is no guarantee of a lifetime of endorsement riches. If you're not careful, you could be as obscure as Carly Patterson by October.
Whereas primetime superstars like Michael Phelps and Ryan Lochte don't need much help leveraging their medals into cold, hard cash, the rest of you might find it harder to extract value from your brief window of stardom. Here's a rough guide for how to profit from your Olympic heroics.
Don't take every offer that comes along: You're a champion! Negotiate until you get an offer that aligns with your image. Are you the "cool" Olympian who doesn't take any guff? Well, sir, get busy shilling to the skateboarding crowd. Are you the chaste Olympian? Sell T-shirts saying "I'm waiting for marriage—and for Rio 2016!" The singing Olympian? There are lots of national anthem gigs available at sporting events across America.
Sell your sport: It'll probably be easiest for you to find opportunities that are close to home. And don't be afraid to think big. If you're Reese Hoffa, don't just shill for shot put manufacturers. Why, you can endorse all sorts of shot put accessories: shot put neck chalk, shot put shoes, shot put leggings. There's a multi-hundred-thousand-dollar shot put industry out there just waiting to stick your face on their shot put stuff.
Second-tier foodstuffs are your friend: Not famous enough to make it onto a Wheaties box? Not to worry. There are plenty of other, lesser-known cereal brands that'd probably be happy to have you. Think Malt-O-Meal and Kashi. And though Subway likes to stick with Phelps-level Olympians, you'd better believe that Quiznos would love to have Brittney Reese as the bright, triple-jumping face of their new California Chicken Club sandwich.
Be a hometown hero: Don't overlook local merchants. There's money to be made from mom-and-pop restaurants and dry cleaners. Well, maybe not much money, but you could probably get some free sandwiches and wash-and-folds out of it, if you're a smart negotiator. "I'm decathlete Ashton Eaton, and I send my clothes to ABC Dry Cleaning" is a phrase that will get you clean pants for life.
Start an academy: You can give back to the community and make money by teaching kids the skills that made you a medalist. Rent a warehouse somewhere, paint inspirational sayings on the walls, print up some tri-fold brochures, and wait for the gravy train to get rolling. What aspiring young Olympic female hammer thrower wouldn't want to pay big bucks to attend Amber Campbell's Hammerological Institute?
Take your talents to the people: In pre-broadcast days, it wasn't unusual for sports stars to travel the country in the off-season, lecturing or performing feats of strength and agility to packed houses on the vaudeville circuit. Though the vaudeville circuit no longer exists, there's still plenty of money to be made in street-corner busking. Hand-letter a cardboard sign, find an intersection that's got room for a wrestling mat, and watch the spare change roll in!
Tell the story of your life: If you were ever going to write an autobiography, now's the time to do it—and by now, I mean right now, because people are going to stop caring in a few weeks. As soon as you board the plane, scribble some rough notes about anecdotes from your youth. Then find a competent ghostwriter who can turn your ramblings into a heartwarming narrative, fast! Another strategy is to take an existing Olympic biography—Canadian trampolinist Karen Cockburn's Karen Cockburn: Soaring High, for example—and do a quick search-and-replace, swapping out your name for hers and changing every jump to run, throw, or swim. Trust me, no one will be the wiser.
Become a virtual hero: Lots of Olympians have capitalized on their fame by releasing video games based on their athletic exploits. (Who among us didn't grow up playing Daley Thompson's Decathlon?) With mobile and Facebook gaming so popular, the time's never been better for you to jump on the game train. Find some nerds to handle the coding, and watch as Vincent Hancock's Skeet Meet makes you the next video-game millionaire.
Everything You Need To Know About Olympic Cannon Shooting, and Seven More Stories I Didn't Get Around To Writing
Where do Olympics medalists get the flags they wrap around themselves?: Do they bring them from home, just in case they win? Do they belong to a friend, or coach, or family member? Are they just grabbing them at random from some dude in the crowd who'll never see his flag again?
In praise of the archery announcer, the unsung hero of the London Games: The stadium announcer for the archery competition was an extremely energetic American named George Tekmitchov. This fellow went above and beyond the call of stadium-announcing duty, doing shot-by-shot commentary from the booth, bantering with the crowd during breaks in the shooting, and getting really, really excited whenever somebody won a match. I wanted to write something about this overlooked Olympic star. But then archery ended, and I didn't.
Left Behind: Olympics Edition: Whenever I called a sports federation's office with a question, I'd inevitably get a gloomy, "Everyone's in London. I'm the only person here." So I wanted to call a lot of offices, shoot the shit with the people who got stuck there, and then write about what they'd been doing with themselves.
The weirdness of water polo goalies: Apparently, they're known for being oddballs. Merrill Moses, the goalie for the U.S. men's team, is known as "The Birdman" and does weird bird calls after blocking shots. Do the other Olympic water polo goalies make bird sounds, too? I'm guessing they probably do.
How many horses in the equestrian events come from the countries for which they're competing?: This would take a lot of research and the resulting post would likely be very boring. But the question is kind of funny.
Which sport has the best celebrations? First, I thought it was fencing, because the athletes yelled and waved their weapons after winning a match. Then I thought it was track and field, because the athletes danced and preened after winning a race. Then I thought it was archery, because the archers were probably really excited on the inside.
Some Olympic events have cheerleaders. What's the deal with that?: How long has "Olympic cheerleading" been a thing? How do the IOC and the various international federations decide that a given sport could really be improved by adding cheerleaders? How do you get to be an Olympic cheerleader?
Everything you need to know about Olympic cannon shooting: The closing ceremony of the London Games featured Eric Idle performing "Always Look on the Bright Side of the Life," a performance that was punctuated by a human cannonball. This was perhaps an homage to the 1900 Paris Games, where cannon shooting was a demonstration sport. Was it fun? Did anyone get hurt? Whose idea was it? Why didn't cannon shooting make it to full-fledged sport status?
The USA Crushed Every Other Country in the Medal Count. Why Is America So Awesome at the Olympics?
The Olympics are over—noooooo!—and the United States led all nations in medals with 104, 17 more than second-place China. The London Games are the fifth straight Summer Olympics in which the USA has been at the top of the table. And after placing second in gold medals to the home-standing Chinese in 2008, the Americans regained the top spot with 46, the most for the United States in a non-boycotted Olympics since 1904. What's the explanation for the USA's Olympic dominance?
America is rich, which helps—the countries that are tops in GDP tend to rise to the top of the medal count. But from an athletic point of view, the USA's success comes down to swimming and track and field. More than half of America's medals this year—31 in swimming, 29 in track and field—came from those two sports. Since the modern Olympics began, the USA has won 520 swimming medals—342 more than its closest competitor, Australia—and 767 athletics medals, about four times as many as second place Great Britain.
Swimming is especially important to America's medal ambitions: There were 34 swimming events at the London Games and the USA medaled in 27 of them. When it comes to nurturing and training top-level swimmers, America is the best nation in the world. Elite swimmers here come up through a network of private swim clubs and matriculate at top college programs. USA Swimming, the group that oversees America's Olympic swimmers, is well-organized and well-funded—it pays athletes $75,000 for each gold medal, plus an extra $50,000 for setting a new world record. Really, it would be a shock if the United States didn't win so many swimming medals. And the gap between the USA and the rest of the world would be even bigger if foreign athletes didn't also take advantage of the United States' swimming coaches and support infrastructure.
While American track athletes might not be as speedy as Usain Bolt or as hammer-tastic as Krisztián Pars, they're still good enough to take home a decent haul. As long as the NBA and the NFL exist, American youth will spend their childhoods trying to run really fast, jump really high, and throw things really far. The big question is why China doesn't do well in track and field. China only won five athletics medals this year, four in racewalking and one in women's discus. If the Chinese start taking track as seriously as they take table tennis, America is in trouble.
To top things off, the United States is generally competent in all other sports. There are only three Summer Olympic events in which the USA has never medaled: badminton, team handball, and table tennis. And even with the stars-and-stripes-hating International Olympic Committee banishing baseball and softball from the games, there are still plenty of other sports that America almost always dominates, like basketball and volleyball.
It's easy to say that American athletes are better than other countries' athletes, or that America just cares more about sports than the rest of the world. But that's not true. It's pretty much just that there are a fat load of medals available in swimming and track. And lucky for the USA, the pool and the track are likely to be Olympic staples for as long as the games exist.
What's the Difference Between the 1992 and 2012 Dream Teams? Kevin Durant and LeBron James Played Tougher Competition.
It's impossible to say who would win a game between the 1992 and 2012 U.S. Olympic basketball teams. You can't compare teams across eras, anybody could win in a single game, etc., etc. But the most important factor to consider is that the original Dream Team only broke a sweat in split-squad scrimmages. Michael Jordan, Magic Johnson, Charles Barkley and the gang won by 43.8 points per game in the 1992 Olympics. In the gold-medal game, they won by 32 against a Croatian team with three players who had significant NBA careers: Drazen Petrovic, Toni Kukoc, and Dino Radja. Against Team USA, Croatia's big three scored 63 points on 23 of 43 shooting. The sub-standard filler that made up the rest of the Croatian team netted just 22, a number that didn't cut it against an American squad with seven players in double figures.
This is the great myth about the Dream Team: Even they couldn't totally outclass international players with NBA talent. The difference was, back then, most of the foreigners didn't know how to play. In July 1992, the Washington Post's Michael Wilbon wrote that only four Europeans had at that point made an impact on the NBA: Petrovic, Vlade Divac, Sarunas Marciulionis, and Detlef Schrempf. By contrast, the Spanish team that lost 107-100 in today's gold-medal game has six players—Pau and Marc Gasol, Serge Ibaka, Rudy Fernandez, Jose Calderon, and Juan Carlos Navarro—who've played major NBA roles. And consider how much better Spain would've been if point guard Ricky Rubio hadn't torn up his knee in March.
Given the current state of international basketball, there's no such thing as a close victory that's worth agonizing over. On Sunday, the United States shot well enough to win by 30, making 49 percent of its shots from the floor and 41 percent from three. But just as in 2008, when the USA won by 11 in the gold-medal game, this Spanish team was good enough and savvy enough to keep the game close.
The way the big-man-free American roster was constructed, they could only win big when they trapped and ran the floor. Spain wouldn't allow that. When Chris Paul or Kevin Durant got the ball in the open court, some hirsute Spaniard would commit a tactical foul. Spain also turned the ball over just 11 times, got a bunch of threes from Navarro, and took advantage of its size down low, with the Gasols and Ibaka combining for 53 points.
At the beginning of the fourth quarter, Spain had the lead down to one. But then the USA went on a 17-9 run, starting with five in a row for Paul. Then came a Durant three, two free throws and a jumper from Kobe Bryant, and a dunk and a long three from LeBron James to end all remaining suspense and kill off every LeChoke crack for eternity.
That seven-and-a-half-minute display of shooting, driving, dunking, and defense was the best demonstration imaginable of America's continued basketball dominance. The fact that the 2012 Olympics team needed to go on that run to win gold shows how much the game has grown in 20 years. Yes, the original Dream Team had 11 Hall of Famers, but the best team they played against was a bunch of college kids. We don't know how much the 1992-ers would've been tested against today's competition, but we do have a good sense of the current state of basketball in the United States. The world's best still isn't good enough, but it takes our best to prove it.
Can Lasers Save the Modern Pentathlon?
Baron Pierre de Coubertin, the founder of the modern Olympics, would be very upset to know that modern pentathlon has been relegated to the tail end of the London Games, alongside mountain biking and racewalking and all the other weird sports that nobody wants to watch. Modern pentathlon, which began Saturday and finishes today, tests athletes' skills in five different disciplines—running, swimming, fencing, shooting, and riding. Coubertin invented the sport, and considered it "a veritable consecration of the complete athlete."
Coubertin was one of those impractical gentlemen idealists seemingly so common a century ago. He founded the Olympics in part to bring about world peace by assembling sporting gentlemen from each nation and pitting them against each other in good-natured competition. In a speech to the Sorbonne in 1892, Coubertin articulated his vision:
It is clear that the telegraph, railways, the telephone, the passionate research in science, congresses and exhibitions have done more for peace than any treaty or diplomatic convention. Well, I hope that athletics will do even more. Those who have seen 30,000 people running through the rain to attend a football match will not think that I am exaggerating. Let us export rowers, runners, and fencers; there is the free trade of the future, and on the day when it is introduced within the walls of old Europe the cause of peace will have received a new and mighty stay.
The modern pentathlon was part of that scheme. As Coubertin conceived it, the event would test the skills required of a modern cavalry officer. Part of the idea was that, having faced off against each other in the sporting arena, bonds of brotherhood would be forged between the participants, who would perhaps leave the Olympics less likely to wage war.
The trouble was that nobody else liked the idea. Coubertin proposed the event multiple times, he wrote, and the proposal "had always been greeted with a lack of understanding and almost hostility." (Coubertin had a bunch of weird ideas that nobody else liked. At one point, he wanted to award prizes to the most impressive accomplishments in hunting, mountain-climbing, and aviation in the years between Olympiads. "In all three cases," he wrote, "complete indifference and sometime even positive ill-will without discernible cause" greeted his proposal.)
He finally convinced the IOC to give the modern pentathlon a try, and the event debuted at the Stockholm Games in 1912. A Swede named Gosta Lilliehook won the gold medal, as well as a special trophy of Coubertin's own design: a solid gold plaque "decorated with bas-relief figures designed by the well-known Swedish carver Lindberg," to be awarded to the modern pentathlon champion in each successive Olympics. George Patton competed for the United States, and afterwards said, "Each man did his best and took what fortune sent them like a true soldier, and at the end we all felt more like good friends and comrades than rivals in a severe competition." Coubertin was thrilled with the event, too, writing that "from a purely athletic perspective, the modern pentathlon marked the highest peak of the Olympiad. Nowhere else was muscular effort as intense, nor the selflessness of the athletes as great."
Today, modern pentathlon is seen as "an archaic, exclusive sport that is too expensive to run in many developing countries," and pentathletes are among the most obscure athletes at the games. (This year's bronze medalist, Hungary's Adam Marosi, is a "bespectacled youngster" who says he likes to "read books, have fun with my PlayStation, drive a car, and play with my dog, and, ah yes, I love listening to music, especially the AC/DC.") The event isn't even a true pentathlon any more—in 2008, the Union Internationale de Pentathlon Moderne combined shooting and running into a single event. They also replaced the pistols with futuristic laser pistols, probably in an attempt to attract the Tron: Legacy demographic.
With relatively few competitors and little outside interest, modern pentathlon might not make it past the London Games. But as one of the few surviving elements of the days when the Olympics were a crackpot tribute to naïve, beautiful idealism, the modern pentathlon will be missed by me if it goes. I suspect Coubertin would hate the modern Olympics, filled as they are with professional athletes who train year-round in their respective disciplines. Even back in the Olympics' early days, Coubertin criticized athletic specialization, considering it "fruitless … as far as manly improvement is concerned."
"The individual who truly deserves that name 'Olympian' is the competitor in the modern pentathlon," wrote Coubertin in 1918. "Now that is real all-around athleticism."
Did Caster Semenya Lose the Women's 800 Meters on Purpose?
Russia's Mariya Savinova, the reigning women's world champion in the 800 meters, won the Olympic gold medal on Saturday night. Even so, the Russian got second billing behind the second-place finisher, South Africa's Caster Semenya. In 2009, Semenya won the world title in the 800 as an 18-year-old. Her reward was being kept out of competition for 11 months while her sport's governing body investigated her gender. Back on the track, and racing against women, Semenya spent most of tonight's race at the back of the pack, making her move only in the final 200 meters. It was enough to get her on the podium, but not to win Olympic gold.
After the race, track and field aficionados questioned her tactics. The BBC's David Ornstein said it appeared that Semenya "had more left in the tank." His story quoted BBC commentator Kelly Holmes, who won this event in the 2004 Olympics, suggesting that Semenya hadn't made her best effort: "She looked very strong, she didn't look like she went up a gear, she wasn't grimacing at all. I don't know if her head was in it, when she crossed the line she didn't look affected." Meanwhile, Sports Illustrated senior writer Tim Layden tweeted that Semenya "seemed oddly disengaged most of race and not tired at end."
In her post-race interview, Semenya said, "The body was not really on fire today." But the spring in her step at the end of the race—Layden said she "seemed aerobically relaxed two steps past finish line"—led others to speculate that she had pulled a badminton move and tanked the race. Why would someone intentionally perform below their standard in the biggest race in four years? One South African track and field observer suggested that it might be "scandal avoidance"—her 2009 triumph brought such unpleasant consequences that she'd just as soon avoid further scrutiny, and an Olympic silver medal brings considerably less attention than the gold.
This response was predictable. In fact, Sports Illustrated's David Epstein called it in a piece published days before the final: "If Semenya wins the gold, she is likely to be accused of having an unfair advantage. If she runs poorly, she is likely to be accused of sandbagging the race so as not to be accused of having an unfair advantage."
Epstein summarized the response that followed her high-profile breakthrough in 2009, a year in which she improved her personal best in the 800 meters by more than eight seconds. "The combination of her stunning drop in time, her deep voice, and her armor-like torso elicited venom from some of her competitors," he wrote. It also led the International Association of Athletics Federations to investigate Semenya's gender makeup.
Neither the IAAF nor Semenya's camp have revealed the results of the tests. That doesn't mean that press outlets haven't speculated on them—an "allegedly" here or a "reportedly" there often precedes the conjecture. Here SI's Epstein's version: "the results … reportedly showed that while Semenya has external female genitalia, she has internal testes, no womb or ovaries and elevated levels of testosterone. This means that she has what doctors call a disorder of sexual development, and has some traits that are typically associated with women and others that are typically associated with men."
Semenya's decision not to discuss her hormones and ovaries with strangers likely means that her athletic performance will always be questioned. Is she tanking? Is she being slowed down by hormone treatments? Is she tactically inept? Was her body just insufficiently fiery? I suspect that even if she started every press conference by reciting her estrogen level that day, she'd still be suspect. Described—admiringly—by the New Yorker's Ariel Levy as "breathtakingly butch," Semenya is unapologetically strong and muscular—she's often photographed flexing her biceps, and she made a similar gesture on the medal podium Saturday evening. (A non-standard gender presentation means nothing, of course. I'm called "sir" at least twice a week. That doesn't mean I can run fast.)
At the end of a long blog post at the Science of Sport blog, Ross Tucker encouraged Semenya to open up about the IAAF's findings: "If Semenya is to win people over, as she should … then the secrecy must be lifted." I agree.
Semenya has never run faster than she did the day she won the world title in 2009. If she is sabotaging her races to minimize scrutiny, the tactic is obviously failing—she has already received much more attention than anyone else in the Olympic final. But I suspect that her issues are psychological. Three years ago, the IAAF humiliated her publicly and subjected her to all manner of intrusive physical tests. Track and field's powers that be eventually cleared her to race, but the whispering will continue until she releases the results. If she doesn't want to reveal her medical history to millions of nosey strangers, it might be best for her to stay out of the spotlight altogether. That would be a tragedy, but at least it would end all the muttering.