Björk Invites You on a Psychedelic Journey into Sound in the Video for "The Gate"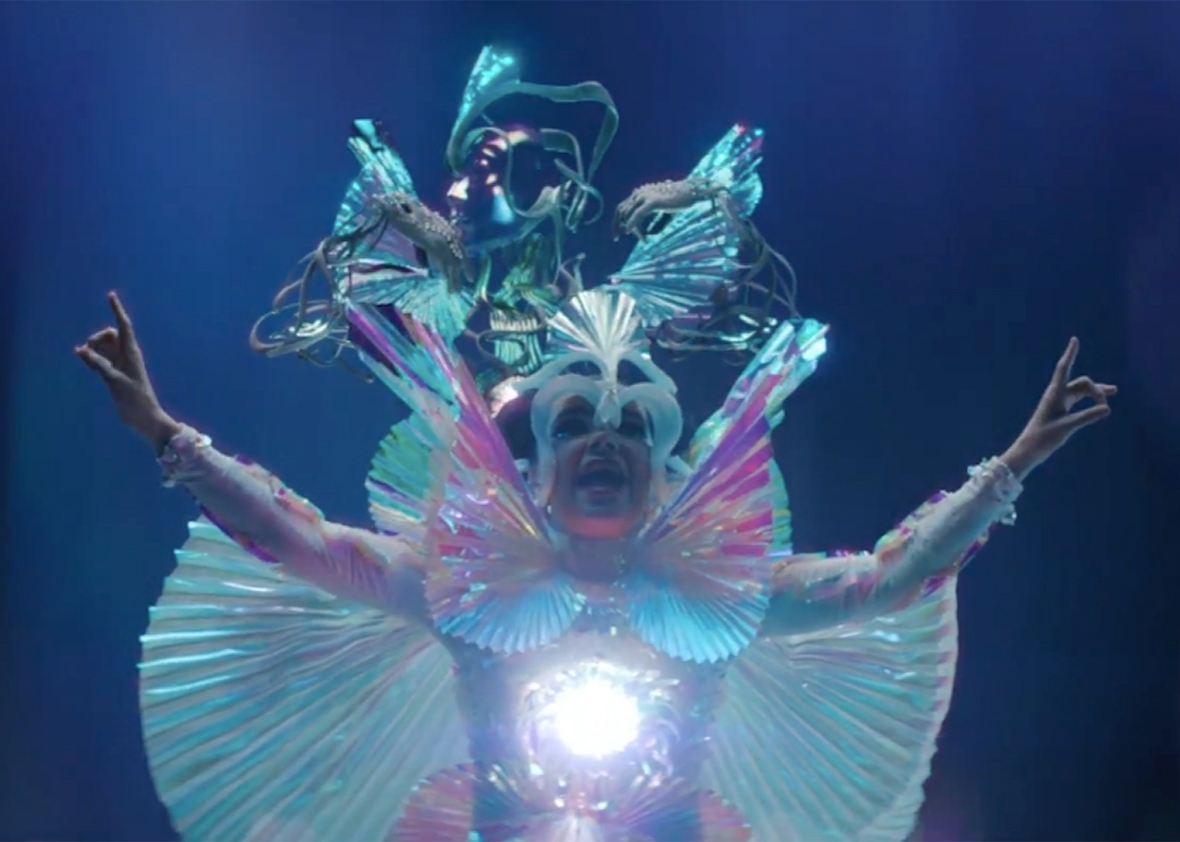 Björk has released "The Gate," the first video from her upcoming album Utopia, and it's half sylvan wonderland, half psychedelic special-effects showcase, and all Björk. The video, directed by Andrew Thomas Huang, opens with a shot that doesn't just embrace self-parody, it becomes spiritually one with it: The camera pans over a landscape of alien grasses to discover Björk, in a flowing peasant gown, playing the flute at the edge of a cliff, while an orrery for some as-yet-undiscovered solar system levitates nearby. But the rest of the video looks less like Skyrim and more like some kind of iTunes visualization: kaleidoscopic images of crystalline structures bathed in the familiar pinks, purples, and blues of an Apple built-in screensaver. The fact that the lighting is synchronized with the synthesizers doesn't make it look less like the kind of thing you'd stare at in a dorm room at three in the morning, is what I'm saying.
Which is not a bad thing at all! Once Bjork shows up in a winged, iridescent gown (designed by Alessandro Michele at Gucci) and starts passing a glowing orb back and forth between her chest and the chest of an all-crystal being, the video moves from basic stoner psychedelia into something more mesmerizing. Huang explains it like this:
"The Gate" picks up where 2015's Vulnicura left off. It is the first glimpse into Björk's utopia. The doorway lies within the wound from Vulnicura, which now appears transformed into a prismatic portal channeled between the chests of two lovers. Not lovers in the quotidian romantic sense, but in a broader cosmological way. As a throughway into Björk's new album, "The Gate" is a declaration of hope sung by a woman refracted and re-formed into a luminous whole.
Three crystalline dancers of different hues, projected from Björk's heart, spinning and merging back into a single person is a very literal visualization of the song's lyric, "Split into many parts/splattered light beams into prisms/that will reunite if you care for me," but that doesn't make it any less gorgeous. And the simple ways the video's images are choreographed to the song at the beginning become more complicated and interesting as the keyboard's initial single notes transition into more elaborate arpeggios and glissandos. By the end, the video for "The Gate" has a lot to offer viewers, whether they're women refracted and re-formed into a luminous whole, lovers in the quotidian romantic sense, or college kids with insomnia. But whoever you are, if you find a way to Björk's utopia, try to send directions back for the rest of us—things are getting bad out here, and the crystals aren't working.