Seth Meyers Says the Only Worse Negotiator Than Donald Trump Is Daffy Duck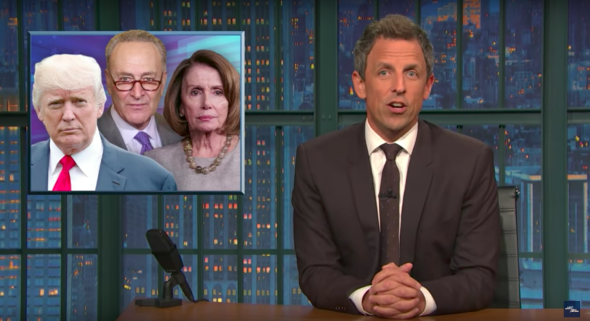 Seth Meyers is here to remind you that Donald J. Trump is not an Independent. He came back for yet another swipe at pundits who claim the president is more like an independent than a Republican simply because he has been negotiating with Democrats.
"Being an independent isn't the same as being a rudderless narcissist," says Meyers. "And in every political sense that matters, he's a Republican."
Trump has now met with Democratic leadership twice, first on raising the debt ceiling to fund hurricane relief and and now to attempt to strike an agreement on DACA, which he hoped to leverage to get funding for his wall. Not only is he definitely still a Republican as he attempts to work with Democrats, he's not even doing a good job at it. Meyers reckons the only person worse at negotiating than Donald Trump is Daffy Duck, and even that is questionable, considering the fact that "Trump initially promised that Mexico would pay for the wall, then he said Congress would pay for the wall, then he said he would trade DACA to pay for the wall, and now he's trading DACA and no one's paying for the wall."
It's reassuring that Pelosi and Schumer appear to have some sway over Trump's thinking on DACA. He's completely changed his tune on the rights of those who arrived as children to remain in the country, although he's been careful not to call it amnesty. Or "amnety," as he called it in a speech from the campaign trail which Meyers dug up.
But maybe we shouldn't be feeling so reassured. When West Virginia Senator Joe Machin spoke to CBS This Morning about his visit to the White House, going into great detail about the shape of the ice cream scoops, he sounded more like a hobo than a senator, as Meyers rightly points out.