Rick Rubin Is Making a Star Wars-Themed Album Featuring Lin-Manuel Miranda and More. Hear Songs Now.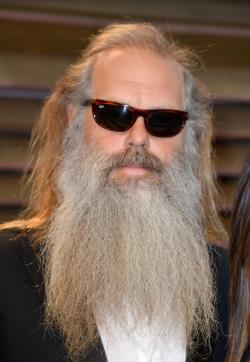 Def Jam records co-founder and noted musical Yoda Rick Rubin has a new project: Bringing a bunch of electronic musicians and producers together to remix Star Wars sound effects into music, on an album tited Star Wars Headspace. According to Pitchfork, contributors will include Flying Lotus, Kaskade, Baauer, Rustie, Shlohmo, Breakbot, and Rubin himself. They apparently got access to Star Wars' rich sound archive—and the J.J. Abrams/Lin-Manuel Miranda collab "Jabba Flow." Their one piece of guidance? "Don't mess with that John Williams, though." In other words, expect lots of R2-D2's bleep-bloops, and none of Williams' triumphant brass bursts.
The album is due out digitally on Feb. 19. The tracklist, via Pitchfork, is included below, along with some sample tunes.
Kaskade: "C-3P0's Plight"
GTA: "Help Me!"
TroyBoi: "Force"
Baauer: "Cantina Boys"
Shag Kava: "Jabba Flow: Rick Rubin Re-Work" [ft. A-Trak]
Claude VonStroke: "R2 Knows" [ft. Barry Drift]
Rick Rubin: "NR-G7"
Bonobo: "Ghomrassen"
Röyksopp: "Bounty Hunters"
ATTLAS: "Sunset Over Manaan"
Flying Lotus: "R2 Where R U?"
Shlohmo: "Druid Caravan of Smoke"
Rustie: "EWOK PUMPP"
Galantis: "Scruffy-Looking Nerfherder"
Breakbot: "Star Tripper"