Kanye West's New Song Is Confessional, Twisted Fantasy-esque, Gorgeous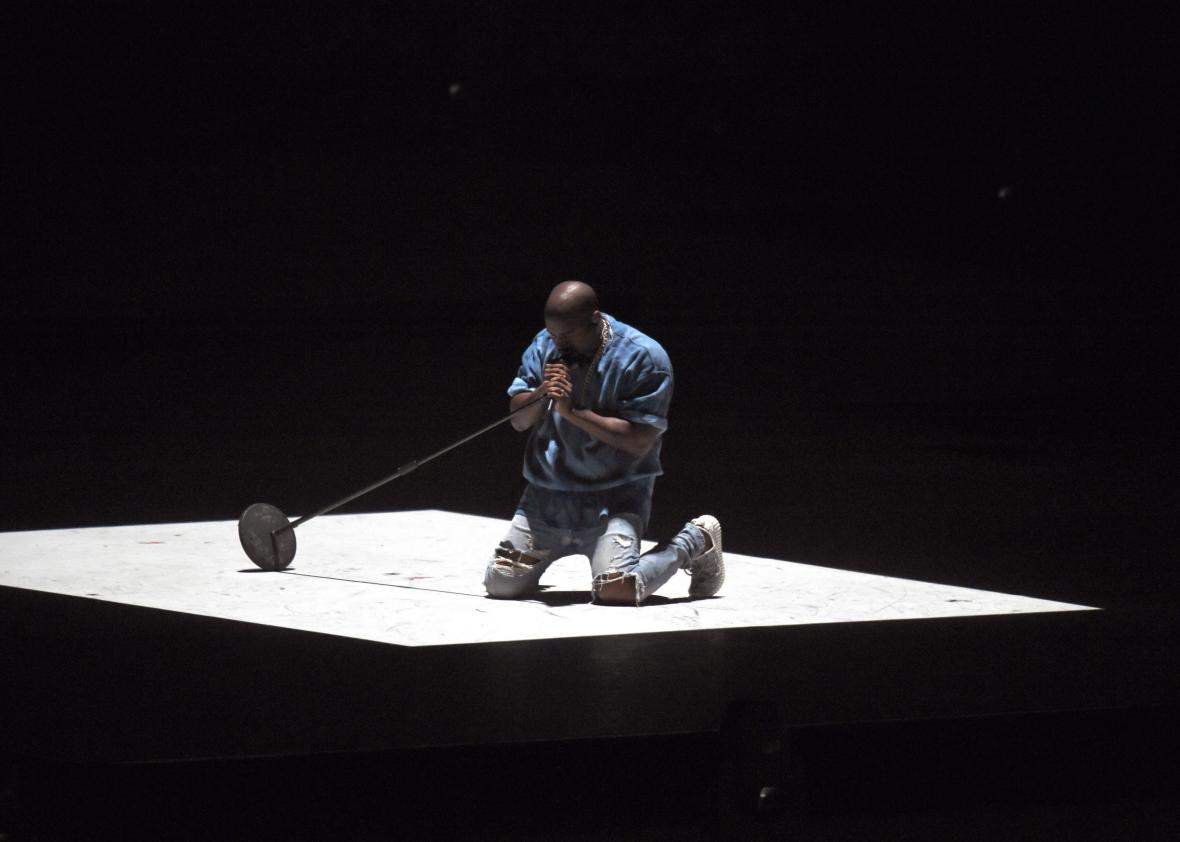 At the beginning of 2015, Kanye West was everywhere, releasing the Paul McCartney collaboration "Only One" on New Year's Eve, teaming up with Rihanna for "FourFiveSeconds," and generally unleashing a new track ("All Day," "Wolves") almost every week. But just when it seemed like a new album was imminent, he disappeared for most of the second half of the year, seeming to focus more on his fashion line than on his album. Even when he shared new track "Facts" last week, it wasn't clear that was changing: The new song felt tossed off, and its lyrics found Kanye (once again) more concerned with the runways than the airwaves.

But after today, there's no doubt: It's Yeezy season once again. Earlier this morning a tweet from West's ever supportive wife, Kim Kardashian, suggested that he would be reviving his old GOOD Friday tradition of a new song each week. This afternoon, West made good on that promise and then some, sharing new song "Real Friends" plus a snippet of yet another.
Each of the prospective Swish tracks we've heard thus far has gone in a different musical direction, and "Real Friends" is no exception, taking West back to the melancholy, vulnerable, conflicted mood of My Beautiful Dark Twisted Fantasy tracks such as "Blame Game." Like "Blame Game," the song is built over a piano loop, and uses the same nifty device of having West's voice alternate with others within the same verse (in this case, the voice of Ty Dolla $ign), as if he has competing voices in his head. While that song was a breakup ballad, here West is struggling to maintain bonds with his friends, and once again everyone is to blame: Kanye for being too busy, his friends for being too opportunistic. "Blame Game" is one of my favorite tracks on Twisted Fantasy, and it's good to hear West back in that mode.

At around 3:40, a high, soaring "ooh" makes "Real Friends" sound like it's about to fade into "Wolves" (my guess is that's exactly what it'll do on Swish), but the SoundCloud version takes a left turn into a snippet of another new track. "No More Parties in LA" at once sounds completely different and could easily have come from the same era: It even features the same Ghostface Killah sample used on "New God Flow," from GOOD Music's Twisted Fantasy follow-up Cruel Summer. Of course, this time West's voice alternates with that of yet another rapper, Kendrick Lamar, and while it's hard to get a good feel for the song from just this snippet, it's thrilling to hear those two giants finally get together. Back in 2010, GOOD Fridays were the most exciting thing in music, and I can't wait to do it all over again in 2016.