Deconstructing Michelle Obama's Bizarre and Amazing Playlist for International Day of the Girl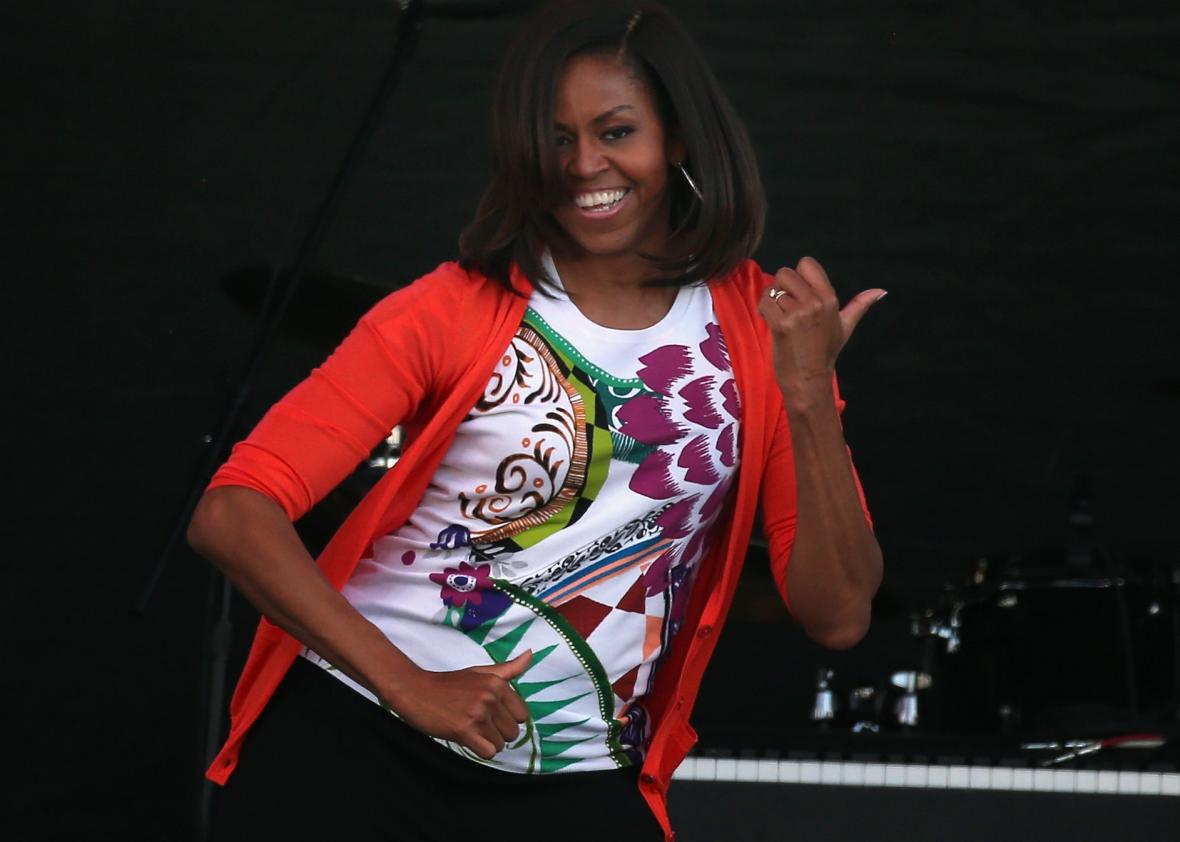 Even though no one buys iPods anymore, a famous person's customized playlist remains one of our favorite ways to feel as though we're getting a glimpse into the depths of their soul—or at least as though we can judge them on how good or bad their musical tastes are. We know that Bill Clinton and George W. Bush are boomers through and through, and that Barack Obama's summer playlists are full of soul. And as of this week, we know that Michelle Obama (and/or a focus group commissioned by her staff) likes her female empowerment to be both old-school and totally hip. In honor of International Day of the Girl, the first lady has dropped an eclectic Spotify playlist:
What to make of this potpourri of inspirational jams? For one thing, it's overwhelmingly black, not unlike her husband's recent playlists. And secondly, it's equal parts on point and incredibly bizarre. It opens, unsurprisingly, with a track from one of her famous friends, "Run the World (Girls)" by Beyoncé. (Neither this, nor the uber-repetitive Destiny's Child hit "Survivor," which shows up later, are the Queen B's best girl-power anthems by any stretch of the imagination—whither "Flawless," or "Independent Women"?—but such crowd-pleasing choices are understandable.) Obligatory female icons like Mary J. Blige and Diana Ross make appearances, though with less conspicuous song choices. And the playlist concludes with Aretha Franklin's "Respect," because, duh. (Ditto re: "Doo Wop (That Thing).")
But the playlist occasionally veers into some delightfully surprising and baffling territory. The Fergie-led party track "A Little Party Never Killed Nobody (All We Got)" (from The Great Gatsby) and the Jessie J.-Ariana Grande-Nicki Minaj collaboration "Bang Bang" will make you wonder which 22-year-old intern Obama and her team consulted while making this playlist. (Or maybe Sasha and Malia had a say?) The appearance of "No Scrubs," with its lyrics disparaging men "hanging out the passenger's side of [their] best friend's ride, trying to holler at me," feels particularly relevant at a time when catcallers are rightfully being put on blast in the media. And it's not just an all-female affair, either: Nico and Vinz (the duo most famous for their summertime hit "Am I Wrong?") sing a song non-gender-specific in its appeal and message of empowerment.
If the playlist has a theme, it concerns unequivocal yearning and aspiration, with songs that speak to the hope that Barack campaigned so successfully on nearly eight years ago. As if to cover as many bases as possible, Obama features no less than three Broadway tunes, all of them "I Want" songs in the classic musical theater tradition, from Dreamgirls, Wicked, and hip-hop-laden Hamilton. Each protagonist in those respective songs makes known their determination to break free from societal expectations and live their dreams—a message that every girl and woman can certainly relate to and take to heart.