Barack Obama's Summer Spotify Playlist Is Surprisingly Wonderful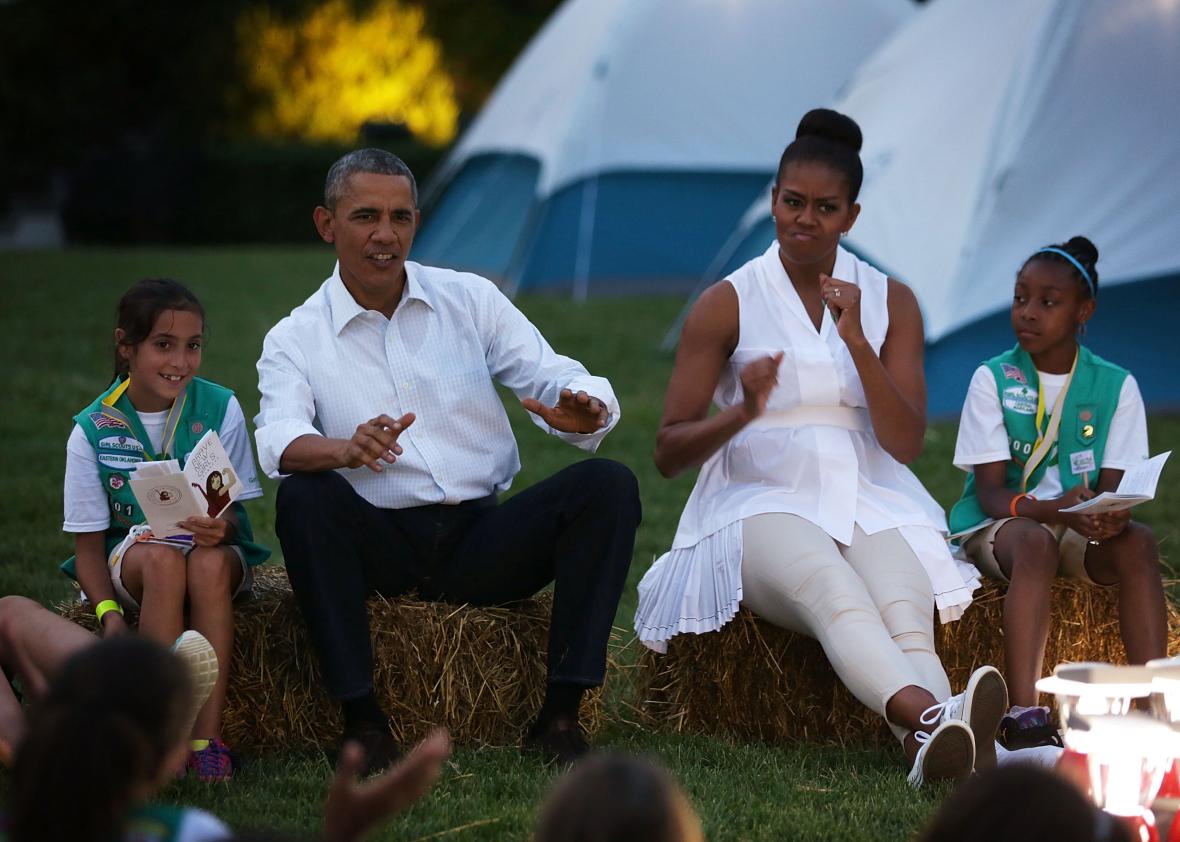 What role Obama himself played in selecting the songs is impossible to know. Politicians' music choices are famously focus-grouped, and the POTUS's own past public playlists have been pretty transparent in their political pandering. No doubt he got a little help from his staff this time around, as well. I hope I'm not underestimating the president by assuming he isn't a longtime Mala Rodríguez or Okkervil River fan.
In short, these feel like the summer playlists of a man who has no more elections to win. From the upbeat Motown of the Temptations' "Ain't Too Proud to Beg" to the loose funk-rock of The Isley Brothers' "Live It Up, Pts. I & II" to the wistful hip-hop of Reflection Eternal's "Memories Live," the POTUS's daytime playlist deftly hops genres and eras without sacrificing continuity. Bona fide summer classics like Sly and the Family Stone's "Hot Fun in the Summertime" and the Rolling Stones' "Gimme Shelter" are outnumbered by lesser-known gems like Low Cut Connie's "Boozophilia" and John Legend and Andre 3000's "Green Light." One of the only questionable inclusions is from Coldplay, and even they don't lack talent, just self-awareness. Besides, any missteps should be forgiven and forgotten by the time you get to Howlin' Wolf's rowdy, rumbly 1960 recording of "Wang Dang Doodle."
The nocturnal playlist is one for a summer night in, not out on the town. (One imagines it's been a while since Obama hit the clubs.) It kicks off with some Coltrane, pivots to Beyoncé, and alights on Van Morrison's "Moondance" before settling into a soulful groove with cuts from the likes of Al Green, Lauryn Hill, Ray Charles, and Nina Simone.
Read into the lyrics a bit and you might be tempted to conclude that the president is feeling a little world-weary these days (Bob Marley's "So Much Trouble in the World"), and maybe a little wistful (Otis Redding's "I've Got Dreams to Remember"), but mostly, well, pretty good (Simone's "Feeling Good"). Put on the White House's playlists this weekend, and I bet you will be, too.