Watch the Women of SNL Try to Outdo When Harry Met Sally's Fake Orgasm Scene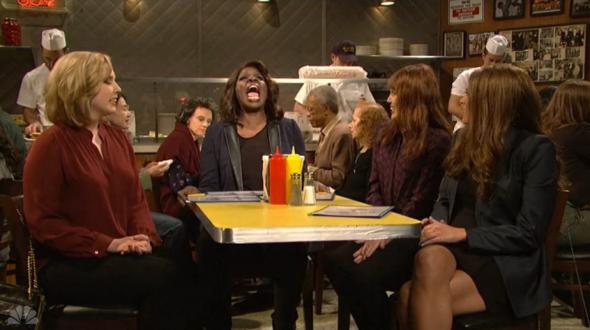 One of the many joys of SNL's season premiere was the spotlight it shone on Leslie Jones, who became the oldest person to join the show when she was promoted to featured player last year. Jones was everywhere on Saturday, skewering the white maleness of late night TV and stealing Weekend Update, but perhaps her best moment came in this spoof of When Harry Met Sally's fake orgasm scene.
The sketch sees Jones, Miley Cyrus, Cecily Strong, and Vanessa Bayer seated around the Katz's Delicatessen table at which Meg Ryan unleashed the made-up moans heard around the world. They decide a tribute to Ryan is in order. Cyrus and Strong submit noble imitations, but then it's Jones' turn, and her unfettered, digressive performance turns the bit into a brilliant one-woman show. Enjoy.