SNL's Season Premiere Was Genuinely Pretty Great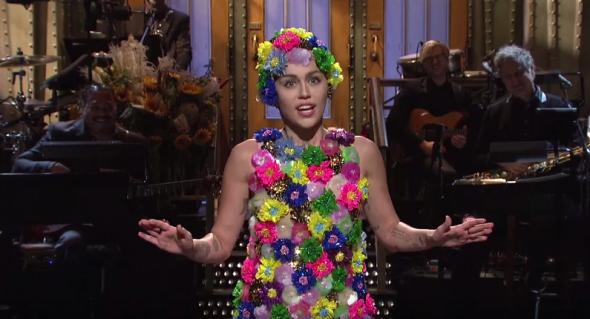 Every Saturday, at the tail end of prime time, with the help of an awkward celebrity or two, SNL attempts to make a drowsy, cynical audience laugh for an hour and a half. It has been attempting this for 40 years now, to mixed results. Nostalgia has brightened our memory of the show's early days, but in today's inspired, oversaturated, and diverse comedy scene, Lorne Michaels' institution has swiftly become The Show That Shall Not Be Praised.

But let's praise it a little. SNL's 41st season is the first in three years for which there was no major cast turnover, and its premiere was a welcome return to the fast, loose, persistently topical sketches that are the show's calling card. That's not to say the usual hiccups didn't occur: They did, as they always will. The work that goes into making comedy—into capturing a laugh or executing a premise—is never so apparent as on SNL, which is why its failures feel transparent and its triumphs feel predictable. The show has to please a network audience, sketch aficionados, and everyone in between, but Saturday's opener, more than most episodes, accomplished that near-impossible objective. The highlights:
The episode's cold open saw Taran Killam debut his Donald Trump impression, which deploys heavy squints, heavier pouts, and vaguely Vito-esque elocution to conjure the image of our Republican frontrunner. Killam beat out several colleagues for the honor of aping Trump, and his mimicry pairs nicely with Cecily Strong's nutty depiction of wife Melania. It wasn't the night's best take on the businessman, though—that would be Hillary Clinton's brief, gleeful mocking of her opponent.
Miley Cyrus has hosted SNL three times now, so the show knows a thing or two about playing to her strengths. Rule number one: Let her sing. After some limp one-liners and the usual reminder that—surprise!—she smokes pot, Cyrus opened the night with a sunny "My Way" cover that memorialized all the memes, misfits, and 15-minute celebrities that fueled the summer news cycle. The song was Miley's best moment as host: Her sketch acting was stilted, and her later performances, in which she sported an ill-advised, Rastafarian Rapunzel look, were uniformly uncomfortable.
The episode's political theme continued, and possibly peaked, with this ad for "the only dementia medication designed for 11 specific people." The medication is "Abilify"; the dementia is "wanting to be President"; the 11 people are the looniest Republicans running for office. Some of the cast's strongest talent—Kate McKinnon, Bobby Moynihan, Beck Bennett—do terrific work here skewering Mike Huckabee, Jim Gilmore, Rick Santorum, and their respective spouses.
This fake film trailer revived the episode after a bloated Weekend Update. A companion piece to last season's "Beygency" sketch, it stars Aidy Bryant and Vanessa Bayer as best friends who wake up in a dystopian world wherein Taylor Swift's squad has subsumed most of the planet's population. That conceit is hard to mess up, and Kenan Thompson is especially good as the roving derelict who's lost two daughters to Swift's spell.