What Critics Said About Jon Stewart When He Took Over The Daily Show in 1999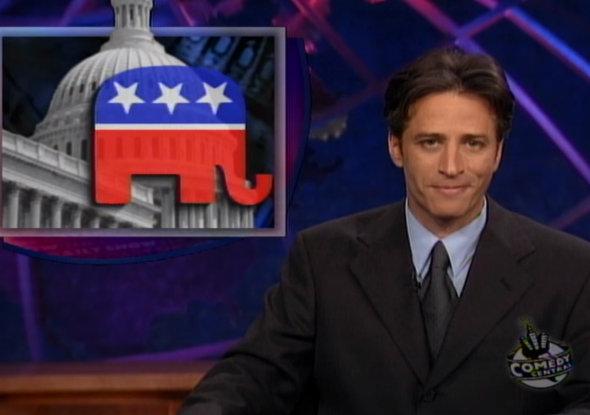 This article originally appeared in Vulture.

During Tuesday's taping of The Daily Show, Jon Stewart announced he would be leaving his post later this year. "Seventeen years is the longest I have ever, in my life, held a job, by 16 years and five months," he said. "But in my heart, I know it is time for someone else to have that opportunity." For almost two decades Stewart, alongside Stephen Colbert, ruled the satirical-news game and pioneered information dissemination in an age when many—especially younger viewers—tend to eschew traditional media outlets. But did anyone recognize Stewart's comic potential when he took over The Daily Showfrom Craig Kilborn in 1999? We've taken a look through the archives to find out what critics and writers thought of the new host in his first year on air.
"Mr. Stewart holds it all together deftly. He interacts with the correspondents far more than Mr. Kilborn ever did, sending the message that even though its official name is now The Daily Show With Jon Stewart, the show is a team effort rather than a star vehicle. His celebrity interviews are sharper and funnier than Mr. Kilborn's were." —Peter Keepnews, the New York Times
"Much more cutting edge is Jon Stewart, the new host of Comedy Central's showpiece program The Daily Show (10 p.m., Monday-Thursday). By constantly proclaiming himself uncool, while wearing some snazzy dark-toned clothing and delivering hyper-aware jokes, Stewart shows himself hip to how cool it is to self-deprecate. In his first two programs replacing Craig Kilborn Monday and Tuesday, Stewart's downtown persona was a contrast to Kilborn's, reminiscent of the smartest and sometimes most smug guy in the frat house. But Stewart's early overeagerness, his evident desire to do well, was not at all in keeping with current notions of cool. ... But Stewart still seemed uncomfortable running the show, a mock newscast that splendidly blends jokes written off of current events and a series of field reports that satirize TV newsgathering. The new host laughed at the jokes, instead of taking his cue from the deadpan style of its correspondents such as Stephen Colbert and Beth Littleford. ... Yet it is hard to imagine Stewart, with a track record as a first-rate comic writer and performer, and as a pretty sharp talk-show host, not being very good on it when he settles down a bit." —Steve Johnson, Chicago Tribune
"Kilborn—with his frat-boy good looks and self-parodying smirk—was an appropriately arrogant comedy pitchman for the show, in which digs at news makers can at times feel punitive. Stewart doesn't have the same mean bones in his body. He's a stand-up comedian from New Jersey whose act has always been marked by literate, self-deprecating swipes at his own Jewishness, for one. He dresses in black, and his comic hero is Woody Allen. 'It won't be the same show. Some people will like it less,' he says of taking over Kilborn's post." —Paul Brownfield, Los Angeles Times
"Jon Stewart's debut as host of The Daily Show was so seamless you'd hardly know he was new to the job. ... The only segment marring Stewart's debut was Beth Littleford's interview segment with four of the diminutive actors who played munchkins in The Wizard of Oz. Her questions—about dwarfs and the size of their genitals, among other things—came off as needlessly mean and anything but funny. ... Judging by the way the studio audience welcomed Stewart Monday night—with riotous laughter and applause—The Daily Show fans will soon forget about Kilborn, if they haven't already." —Austin Smith, the New York Post
"There were some awkward moments as Stewart dealt with the many rapid-fire demands of his new post. ... Other segments, though, were more promising. The writing, especially when accompanying real-life news footage, was sharp as ever, with Stewart deftly delivering some very funny lines. 'Strom Thurmond, ears still ringing from the Big Bang,' was the start of one such sentence, and I was laughing too loudly to catch the rest. The best news of all, so far as The Daily Show with Jon Stewart and its new host are concerned, is that Stewart, in the words of the common grade-school assessment, plays well with others. With as strong a contribution as he made on opening night, it looks like it won't take Stewart long to adjust to his new surroundings and role." —David Bianculli, New York Daily News (not archived online)
"Jon Stewart's newscast parody The Daily Show truly nailed this election's weird mix of absurdity and incompetence—was its Indecision 2000 campaign moniker prophetic or what?—proving the best tonic for our collective election nightmare." —Eric Deggans, St. Petersburg Times (not archived online)
"Comedy Central's The Daily Show barely crinkles an eye each weeknight when it hails itself 'the most important news show ever,' a boast that's absurd only if you never consume the media it's parodying ('All the news that's fit to print,' 'The most watched news magazine on television')." —Drew Jubera, the Atlanta Journal and Constitution (not archived online)
"Now The Daily Show is hosted by the poster boy for the Failing Upward Movement, Jon Stewart—a man who has managed to sink so many talk shows his middle name should be 'U-boat.' I no longer watch The Daily Show, and neither do any of the other mental patients." —Chris Rywalt, Teevee.org
Here's a look at Stewart's first night behind the fake news desk:
And we'll complete this retro roundup with a bit that includes Colbert (sorry if it hits you in the feels):