Listen to the First Single From the Mountain Goats' New Album About Pro Wrestling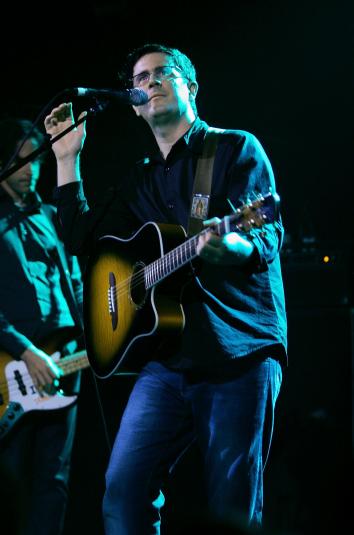 Last we heard from John Darnielle, the lead singer (and sometimes sole member) of the Mountain Goats, he had just written his first novel, Wolf in White Van, which earned a National Book Award nomination and critical praise (including in Slate). Now Darnielle is back to songwriting, having announced an upcoming Mountain Goats album called Beat the Champ, which will be about the pseudo-sport of professional wrestling. "I wrote these songs to re-immerse myself in the blood and fire of the visions that spoke to me as a child, and to see what more there might be in them now that I'm grown," explains Darnielle on the Merge Records website.
The deceptively cheerful first single from that album, "The Legend of Chavo Guerrero," gives you a good idea of what he means by that. A ballad in the purest sense, "The Legend of Chavo Guerrero" tells the life story of Salvador Guerrero III, aka "Chavo Classic," who was a regional National Wrestling Alliance champion in the 1970s and '80s. With characteristic humor and poignancy, Darnielle revisits his youthful admiration of the wrestler:
I hated all of Chavo's enemies, I would pray nightly for their death.
Descending like fire on the people who deserved it most,
Almost completely unknown outside of Texas and on the West Coast,
He was my hero when I was a kid.
You let me down, but Chavo never once did.
Have a listen, and get excited for more wrestling songs when Beat the Champ is released on April 7.