The Top 10 Producers of 2014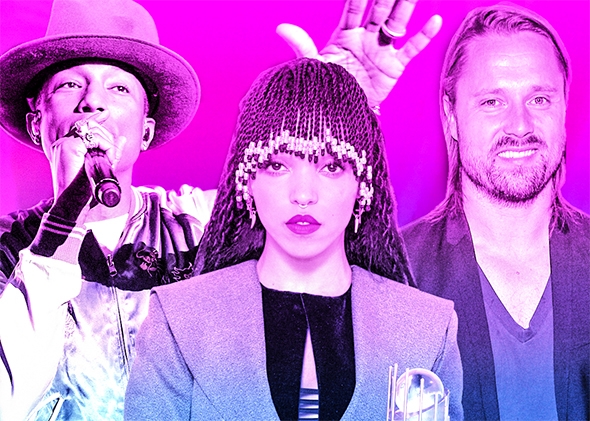 It's no secret that in 2014, popular music is often as driven by the producers as it is by the songwriters and performers. This is not a bad thing: Some might long for the singer-songwriter days of the late '60s and a few surrounding years, but they're unlikely to complain if you put on the best of Phil Spector, Rick Rubin, Quincy Jones, or The Corporation. Besides, even the Beatles had George Martin.
So who were the producers who shaped the best sounds of the last 12 months? In the same spirit of collaboration used to make these records, we polled some of the best thinkers who write for us about music and came out with the list below. While we're still hoping to see more women behind the mixing boards, we agreed on almost everything.
Though, like many women in music, she often isn't given the credit she deserves for it, FKA Twigs (Tahliah Barnett) has architected the bulk of her jarring, unique sound. Together with a handful of collaborators (Arca, Emile Haynie, etc.) she co-produced nearly every song on her star-making debut album, LP1—even taking full control behind the soundboard on its haunting intro, "Preface." And when she's not busy directing eye-popping commercials for Google Glass, she's lending her production skills to other newcomers like Chicago rapper Lucki Eck$. —Dee Lockett


His name isn't yet as "household" as some of the others on this list, but this 21-year-old up-and-comer out of Atlanta had an absolutely monstrous 2014. With his productions for artists like Young Thug, Migos, ILoveMakonnen, and others, Metro Boomin laid the trackwork for some of the most buzzed-about voices in music. If you're a rapper with no album and an improbably huge Q rating, chances are you've worked with him. —Jack Hamilton


December 2014 marks the 10th anniversary of "Since U Been Gone," the impeccable Kelly Clarkson hit now widely credited with sparking a decade-long centrist pop revival. It's also the record that effectively broke Lukasz "Luke" Gottwald as a top-drawer producer-writer; that Max Martin collaboration took him from playing guitar on Saturday Night Live and producing assorted hip-hop tracks to defining the sound of radio pop, both together with and (mostly) apart from his mentor. Luke had another dominant year on the Hot 100: Early in the year he scored back-to-back No. 1s with Katy Perry's "Dark Horse," a song that featured Luke's favorite rapper Juicy J; and Pitbull's "Timber," a song featuring Luke's now-estranged protégée Kesha. (This year the pair exchanged nasty lawsuits, with Kesha accusing Luke of abuses including sexual assault, and Luke alleging that Kesha was trying to extort him in order to get free from her contract.) But Luke has also kept one foot firmly planted in hip-hop, and on that front he actually had a somewhat underrated year: Nicki Minaj's "Only," Wiz Khalifa's "Stayin' Out All Night" and (natch) Juicy J's "Low" were all produced by him. —Chris Molanphy


We easily could have ranked the man born Karl Johan Schuster alongside his mentor, elder, collaborator, and fellow Swede Max Martin. But history shows it's advisable to regard Martin's joined-at-the-hip partners as their own people. (Before Shellback, the last guy to learn at the foot of the popmeister and then move onto his own insanely successful career was Dr. Luke.) Even if you subtract Martin, and all the Taylor Swift smashes they co-produced, from Shellback's ledger, he's had a couple of very strong years, working solo or with different collaborators for such acts as Icona Pop, Cher Lloyd, and Tove Lo. In late 2014, Shellback took a big victory lap with Maroon 5's "Animals," which was U.S. radio's most-played song for most of November and December. —Molanphy


If you consumed culture in 2014, there's a high likelihood you spent much of the year feeling pretty sick of Pharrell, a testament to his prolificness and mind-boggling ubiquity. He released a hit solo album, reached the top of the charts with "Happy," produced tracks for artists ranging from Ed Sheeran to T.I., co-wrote the score to a terrible movie (Amazing Spider-Man 2), and curated the soundtrack to a video game (NBA 2K15). Back in March, a Bay Area radio station played Nelly's "Hot In Herre"—a song Pharrell wrote and produced in 2002—for three days straight, without interruption. It was that kind of year for Pharrell. —Hamilton


Atlanta's Mike Will (professionally known as Mike WiLL Made It, legally known as Michael Williams) took a slight step back after his outrageously successful 2013, but his 2014 was still pretty huge. One of the world's foremost trap evangelists, Mike Will makes sonically enormous beats with stuttering snares, rattling hi-hats, and thundering bass, best exemplified this past year by Rae Sremmurd's mega-infectious "No Flex Zone." Few names connote more power and excitement when dropped at the start of a track, and at only 25, Mike Will has already emerged as one of the most significant producers of his generation. —Hamilton


Max Martin may have produced more No. 1s than anyone else in 2014, but the biggest sound of 2014 was West Coast producer DJ Mustard's. Just ask the producers who Xeroxed it for the Song of the Summer ("Fancy"), the unofficial sequel to "2 On" for Tinashe ("All Hands on Deck"), and Migos' highest-charting hit ("Fight Night").
None of these imitators were as truly successful with the sound as Dijon McFarlane himself. (Yes, that is his real name.) "Fancy" may have stolen the top spot on the charts, but "2 On" is on nearly every critic's list of the best songs of the year, and YG's My Krazy Life, the apotheosis of the Mustard sound, is one of the most acclaimed albums of the year. Then there's hip-hop radio smashes "Or Nah," "Don't Tell 'Em," "No Mediocre," and "Na Na," and the even better Kanye co-productions "IDFWU" and "Sanctified," all built around the same Mustard signatures: Sparse, syncopated three or four-note synth lines, a few very precisely placed handclaps or finger snaps, and usually a chant of "Hey!" to get you bouncing out of your seat. ("Fancy" had that, too.) In 2014, even when the songs didn't start with his ubiquitous producer tag, it still sounded like it was "Mustard on the beat." —Wickman