Is Beyoncé the Future of Digital Cinema?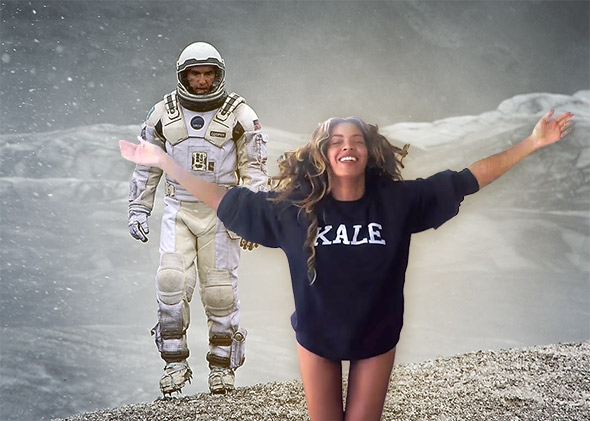 This month, two major events in the history of cinema occurred. On Nov. 5, Christopher Nolan released Interstellar, a space epic he shot on endangered Kodak film stocks, crafted to take full advantage of the possibilities of the IMAX theater experience, and presented to the world with great fanfare as a return to classical filmmaking. And on Friday night, Beyoncé released "7/11," a music video she seemingly shot on her iPhone, crafted to take full advantage of the interactive possibilities of Twitter, Vine, and Tumblr, and presented to the world while it wasn't paying attention.
Nolan's visually breathtaking magnum opus may be a call-to-arms, but "7/11," for all of its GIF-ready practical effects and tossed-off, on-the-run craftsmanship, feels a bit like a revolution. Interstellar may have resurrected the arts of a different age, but it also feels like it's addressing the audience of a different age. Queen Bey, on the other hand, knows her subjects well. She's made a joyful, living, shareable piece of digital art that's fully of its moment, and I wonder if it's not a little more awe-inspiring.
Despite Nolan's Lazarus Mission to save celluloid, this has been a great year for the digital. From Steven Soderbergh's techno-turn-of-the-century series The Knick to the steely, hyperreal surfaces of David Fincher's Gone Girl, filmmakers have explored a digital aesthetic that goes far beyond the superhero movie and even the space of the movie theater itself. As Paul Schrader recently argued in Slate, the digital turn isn't just about embracing the grain and definition of the digital image, it's about exploring new tools, reimagining the theatrical experience itself: "Some [movies] you watch on your wrist and some you watch in an IMAX theater. Some you pay for in different ways. Some you participate in. It's all movies to me." Film is dead, long live cinema.
And what a life cinema has if it looks like whatever Beyoncé is doing in this video! Appearing virtually out of nowhere, "7/11" predictably broke an Internet that had only just been fixed after its recent run-in with Kim Kardashian. Viewers immediately began extracting and circulating GIF sets, screenshots, and Vines of Ms. Carter and her pals having the Greatest Slumber Party of All Time. But this isn't just about the viral culture of the Web, it's about the way that "7/11" incorporates that culture into its bones.
Loopability is the "7/11" video's primary aesthetic characteristic. The viewer-response culture of Twitter is always on the lookout for moments that can become GIFs or Vines, and, by Saturday morning, MTV had already posted, "The 27 Most Mind-Blowing GIFs from Beyoncé's New '7/11' Video." But "7/11" is already made of GIFs; it Vines itself. When she claps on the balcony or twerks on the chair in the bathroom, the looped image comes built into the texture of the video. "7/11" is a series of pre-manipulated moments, moves and visual non sequiturs that you immediately want to see again in part because you've already seen them rewound and repeated before your eyes. If you've watched "7/11" once, you've watched it at least twice.
This interactivity produces a sense of viewer ownership—tech-savvy Twitterers were surely marking time-stamps for their GIFs even on first viewing—but it also showcases a different type of ownership that defines the era of digital cinema: "7/11" is a selfie. Most, if not all, of the video seems to have been shot on Beyoncé's iPhone (or was it a GoPro?), sometimes with the aid of a handy "selfie stick." It's low budget, hand-held, and features non-professional actors like Jay Z and Blue Ivy—if there was ever a moment to compare a Beyoncé video to the Mumblecore movement, this is it. We may have an inflated understanding of what everyday life in the Knowles-Carter household is like, but it doesn't seem like a stretch to say that "7/11" is what "ordinary" looks like for Beyoncé. At the very least, it's the kind of first-person visual statement that the accessibility of digital cameras has enabled over the past two decades and that has now come to define its aesthetic.
And then there's the dancing. There's so much here to see, but it's the group slow-motion breakdown on the balcony—"Girl, I'm tryin' to kick it witcha"—that appears around the 1:50 mark that I think really captures what's going on. It's easy to automatically associate digital aesthetics with CGI robots and the aboriginal tribes of James Cameron's colonial imagination, but the original digital aesthetic is the home movie. And never does that aesthetic of mundane reality feel more alive than when it's showing us something that looks unreal. (Consider the uncanniness of the found footage horror film.) Beyoncé and her dancers, here, are the special effects—slowing down time, recapitulating the fast-forward-and-reverse editing of the video in their very movements. Their physical existence, captured with the home movie technology of the iPhone, is the spectacle.
The earliest films ever made were non-narrative short-subjects that focused on magic tricks, the fascinating gestures of performers, the spectacle of everyday life. Whether they were "trick films" that made bodies appear and disappear through simple edits or "actuality films" that showed semi-documentary instances of life as it is lived, scholars refer to these early works as "attractions," defined by their direct address to audiences, their exhibitionism, and the sense of awe they produced in spectators. But you don't need a 19th-century cinematograph—or an IMAX camera—to re-create the cinema of attractions. It's an aesthetic, not a technology. And "7/11" is a spectacle straight out of that tradition, one of a growing number of lines drawn from cinema's birth to its present. In that sense, Christopher Nolan's right: Sometimes the future looks a lot like the past.