Nicki Minaj Is Very Clear About Her Relationship With Drake and Lil Wayne on New Single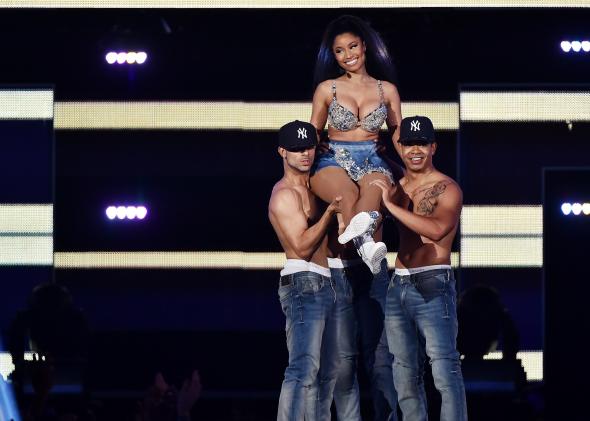 On Monday, Nicki Minaj became only the latest artist signed to Young Money to have their album delayed. (Sometimes it seems like the only artist who doesn't see delays is Drake.) The Pinkprint, her long awaited third album originally scheduled for November, has now been pushed back to Dec. 15. Disappointing as that news is, she's softened the blow today by serving up the album's next single, "Only." But though its title might suggest otherwise, the song is far from a solo effort for Minaj: joining her on the track are labelmates Drake and Lil Wayne as well as frequent collaborator Chris Brown—marking the first time former enemies Drake and Brown have ever appeared on a song together.
Right from the top, the song's much more hard-hitting than previous Pinkprint singles "Pills N Potions" and "Anaconda." Over a Dr. Luke, Cirkut, and J Mike-produced minimalist beat that's not all that far from fellow Young Money posse cut "Senile," Minaj gets straight to the point, addressing haters who have suggested that her rise stemmed from anything more than her talent. As she raps in her opening line, "Yo, I never f--ked Wayne, I never f--ked Drake/ Oh my life, man, f--k's sake."
​
Not content with letting Minaj do all the talking, though, both Drake and Lil Wayne add their two cents on the matter, each driving home the point that they've never had sex with her. But, as Nicki does in her own verse, Drake also fantasizes about what it'd be like if they ever did ("And the other day in her Maybach/ I thought goddamn, this is the perfect time/ We had just come from that video").
"Only" isn't the best lyrical effort from any of the parties involved—Brown's hook feels particularly uninspired—and it's not even the best collaboration we've heard from Nicki, Drake, and Wayne (remember "Bed Rock"?). But it's enough to keep my interest piqued in what both The Pinkprint and Wayne's forthcoming Tha Carter V have to offer—whenever they might arrive.