Watch The Wire Cast Reunite for an Hour-Long Conversation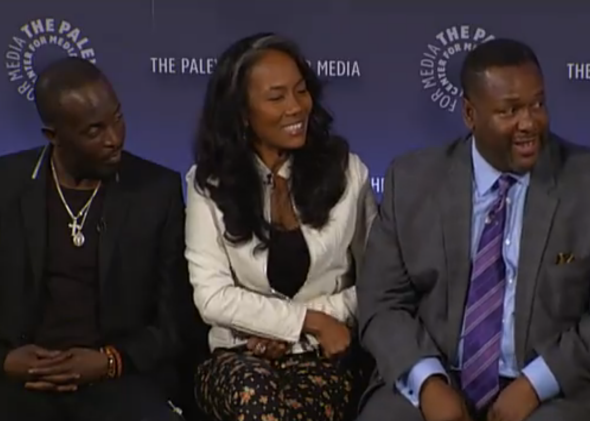 On Thursday night, as part of the Paley Center for Media's PaleyFest 2014, the cast of The Wire reunited for an hour-long panel discussion, which you can watch in full above. Though not everyone could attend—Dominic West and Idris Elba chimed in via video messages—the panel included the show's co-creator David Simon and executive producer Nina Kostroff Noble as well as cast members Michael K. Williams (Omar), Wendell Pierce (Bunk), Sonja Sohn (Kima), Seth Gilliam (Carver), Jim True-Frost (Prezbo), John Doman (Rawls), Lawrence Gilliard, Jr. (D'Angelo), and Jamie Hector (Marlo). More cast members—Tristan Wilds, J.D. Williams, Bob Wisdom, and Michelle Paress—were seated in the audience.
During the discussion, as Vulture notes, Michael K. Williams admitted feeling "bitter" about the show's location shift in Season 2 from the Baltimore projects to the docks, saying that he asked Simon then, "How come when we made this show hot, you want to give it to the white people?" Bigger—if hardly unexpected news—came when the panel's moderator, Alan Sepinwall, asked Simon about the temptation to revive the show. "We gave it an end," Simon said. It sounds like fans will have to settle for HBO's planned remastered rebroadcast of the series.