Stream Four Great New Songs From Ariana Grande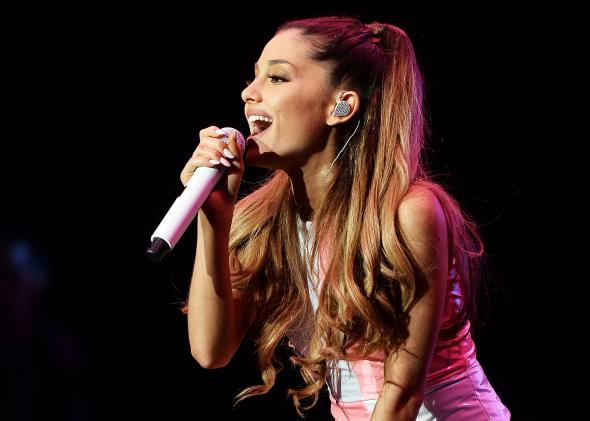 In case it wasn't already established from Ariana Grande's hugely popular debut album, she's a pop megastar in the making. Grande is set to release her follow-up to Yours Truly next week, and we've already heard a few of its tracks: her summer smash "Problem" and her Zedd collaboration "Break Free"—currently both in the top 10—and most recently, her soulful Big Sean duet, "Best Mistake." So far, she's three for three and, today, MTV has previewed four more new songs from the album that include some of her best work to date.
The first, "Love Me Harder," which features Canadian singer The Weeknd, is a sizzling track (another co-produced by Max Martin) that sees Grande command her lover in a smoldering tone to do better if he wants to stay with her. The Weeknd steps in to plead that she knew what she was getting into before teasing her with a bit of his typically sensual shtick— "Can you feel the pressure between your hips?/ I'll make you feel like the first time"—in terms that reflect the album's reportedly more mature direction. After some back and forth, Grande has the final word: "I'm gonna leave."
"Be My Baby" is even better. With its unconventional production (by Cashmere Cat), it's the kind of song I imagine Aaliyah might've gravitated toward, and it works surprisingly well for Grande, too. She adorns the track with her Mariah Carey-esque sky-high falsetto while trying a somewhat seductive style, singing suggestively about wanting a man who knows how to "drive [her] crazy."
The last two songs are more aligned with the big ballads Grande's known for, but they have far more depth than anything she's ever done. One of them, "A Little Bit of Your Heart" is a devastating track with several poignant lines ("I heard a little love is better than none") that, believe it or not, One Direction's Harry Styles co-wrote. Grande also wisely squeezed in a Ryan Tedder-crafted pop gem, "Why Try," for which radio play seems inevitable. From the sound of these four songs—and everything else we've heard—it seems that Ariana Grande could have one of the best albums of the year.