Nicki Minaj Releases Remix, Demonstrates Her Superiority Again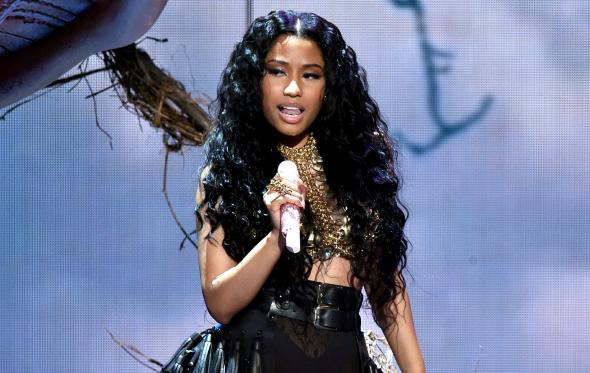 If Nicki Minaj's recent tweets are anything to go by, we're getting closer and closer to her long-awaited third album, The Pink Print. In the meantime, she's released yet another out-of-the-blue freestyle. Several times this year Minaj has collaborated with lesser-known artists by recording freestyles over their underground hits—Young Thug's "Danny Glover," Lil' Herb's "Chi-Raq," PTAF's "Boss Ass Bitch." Her latest, a remix of newcomer Rae Sremmurd's Mike Will Made It-produced track "No Flex Zone," once again demonstrates Nicki's superiority over her peers.
As with "Lookin' Ass Nigga," Minaj delivers a tongue-twisting verbal assault that seems to be aimed at her competition. "You are my son, like an episode of Maury, like an episode of ER/ Bitch, I'm hotter than the D.R./ When it comes to rap skills, nobody wanna see her," she raps. And she may have taken another subtle swipe at Iggy Azalea: "Wonder when they bite me," she asks, "do these bitches teeth hurt?" Unlike the album's more somber first single, "Pills N Potions," this is Nicki at her most agile and ruthless. As she brags in her freestyle, she really has been "running this game for five years."
Advertisement

TODAY IN SLATE
Technocracy
Forget Oculus Rift
This $25 cardboard box turns your phone into an incredibly fun virtual reality experience.