Talking Earnestness, Abortion, and Marcel the Shell With Obvious Child Star Jenny Slate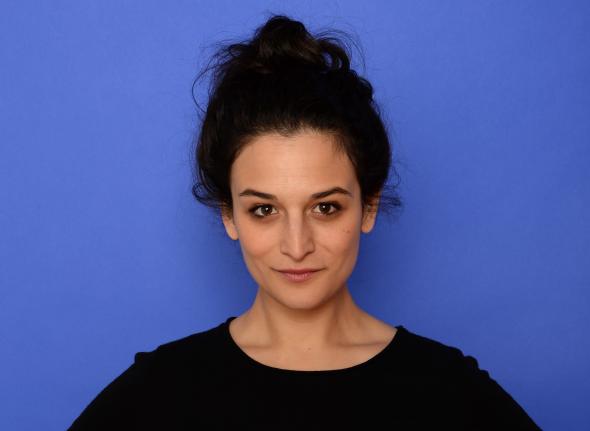 "That … can be really gross." Jenny Slate is considering a mayonnaise-slathered lobster roll from a stand at Brooklyn Bridge Park's Smorgasburg food fair on a very warm May afternoon—an order whose potential digestive diciness she cheerfully acknowledges. "Street shellfish!" She goes for it anyway.
Slate, 32, is best known for her brief time on Saturday Night Live. In 2009, during her very first episode as a cast member, she accidentally uttered "fuck" instead of a broadcast-friendly substitute and was not invited back for a second season. Slate is beloved in the alt-comedy world (her ­second-biggest claim to fame is for voicing a one-eyed talking shell named Marcel in two charming stop-motion animated shorts), and so she didn't want for work, exactly, after the SNL mishegoss. She's done voice work on Bob's Burgers, had recurring roles on Bored to Death and Parks and ­Recreation, and been hired as the scriptwriter on the upcoming Looney Tunes film from Warner Bros. She also did her own independent stuff, like last year's very non-viral web series "Catherine," a tonally experimental workplace drama that takes place in a curious world where every banal exchange seems charged with ominous, unreadable importance. "We started to write it almost as a game," she says. (The other half of that "we" is her husband, ­director Dean Fleischer-Camp, with whom she also created Marcel.)
"Catherine's" asceticism and focus on craft at the expense of audience seem in part like a response to that very public flameout on SNL. "I wasn't strong enough to tell myself it was okay, and I walked around with that kind of filthy, filthy embarrassment cloak on for a few years," Slate says. "I guess I chose to pay penance for quite a while."
But now, at last, Slate's got a couple of star turns. Starting in July, she'll be a ­regular on the FX series Married, in which she plays the much younger, chronically insecure wife of Paul Reiser's laid-off record executive. And she's starring in ­Gillian Robespierre's Obvious Child, out June 6, which is a sweet-spirited romantic comedy—about abortion. Her character, a single stand-up comedian on the rebound from a bad breakup, gets pregnant after a drunken one-night stand and not only dares to consider the procedure—a taboo for the genre—but matter-of-factly pencils the date (Valentine's Day) into her calendar and goes through with it. Slate doesn't see the film as crusading for abortion rights but rather for nuance. "One thing I think our movie fights for, and I will fight for as a person, is that it's a woman's right not just to choose but to have complex feelings about that choice," she says.
The movie is set in Brooklyn, the borough where Slate lived for seven post­collegiate years before moving to L.A. in 2012. Marcel lives with the couple there in a special container, wrapped in cotton balls. "His eye fell out, and that was bad, and then there's, like, California, of course, and that's terrifying to me," she explains protectively. "He never gets touched. There's nobody like him."
Slate, who is dressed in a bright-orange jacket and jeans, eyes the swarming crowd, looking for openings for more food and, if possible, alcohol. No luck. "I don't think people are just like brown-bagging it on the rocks. But that's what we could do!" she says, pointing to the East River shoreline. We head to a nearby wineshop and grab a bottle of screw-top red.
Slate grew up idolizing performers like Madeline Kahn, Carol Burnett, Gilda Radner, and Judy Garland, whom she first encountered in a brief airline—magazine profile at the age of 8. "The article before it was a detailed story about the Manson murders. It was all about Hollywood. And I remember thinking I want to be in the nice one, not in the dirty one," she says. "When you get older and people tell you other things about Judy Garland's life, you become devastated."
SNL was a similarly disillusioning experience. "Thirty Rock's a romantic place, and there are so many romantic things about it. The costumes have been there forever. You look in a pair of pants, and in Sharpie it says GILDA in them," Slate says of her time on the show. "But it was a really weird disappointment when I got there and realized how foolish it was that what I expected it would be was from the expectations of a 7-year-old. And that they didn't actually want my creative input as a woman."
We walk back to a bench near the water to drink our wine, the Statue of Liberty in the distance. The view gets Slate, the middle child of a potter mother and a poet father, talking about family and heritage and a long-ago trip to Ellis Island, where she saw her great-grandfather's name on a wall: "Benjamin Slutkovitch. Really good that they changed it, though," she says, picking at a congealing samosa we'd grabbed as a second course. "Slutkovitch would have made high school even harder." Her maternal grandfather, Lester—"owned a candy factory, always smelled like candy"—told Jenny, as she sat singing in the bathtub one day, that she would grow up to be a great Jewish actress like Sarah Bernhardt. It seems to have made an impression. "There's a whole thing now in the entertainment industry that's like, 'You need to write for yourself. Those are the people that are really valuable.' And it's just like, I don't want to! I just want to act!" Slate says. "It also says, 'You're not attractive enough or good enough that we would just let you act.'"
The sun dips over Ellis Island, and Slate's phone begins to jangle. She's got to go but insists I take home the rest of the wine, which amounts to about a third of the bottle. While we made that dent in it, she kept trying to further clarify her off-kilter comedic philosophy. She mentions, variously, her deep identification with Animaniacs, the "biodome of creativity" she's built with her husband, and her allergy to sarcasm as a strategy. "I just really like it when things are earnest," she says earnestly. "Recently, some shitty pop star used one of my tweets in her Twitter bio. It was from New Year's. 'I'm happy to be a person, and I'm going to make the most of it.' " Slate is getting worked up. "Like, well, I hope you feel that way, but find a fucking way to say it yourself, idiot! Go to college!" She polishes off the wine in her plastic cup. "I don't like that. Especially when it's something I had said and it was a genuine, beautiful feeling that I had when I was on mushrooms."
*This article appears in the June 2, 2014 issue of New York Magazine.